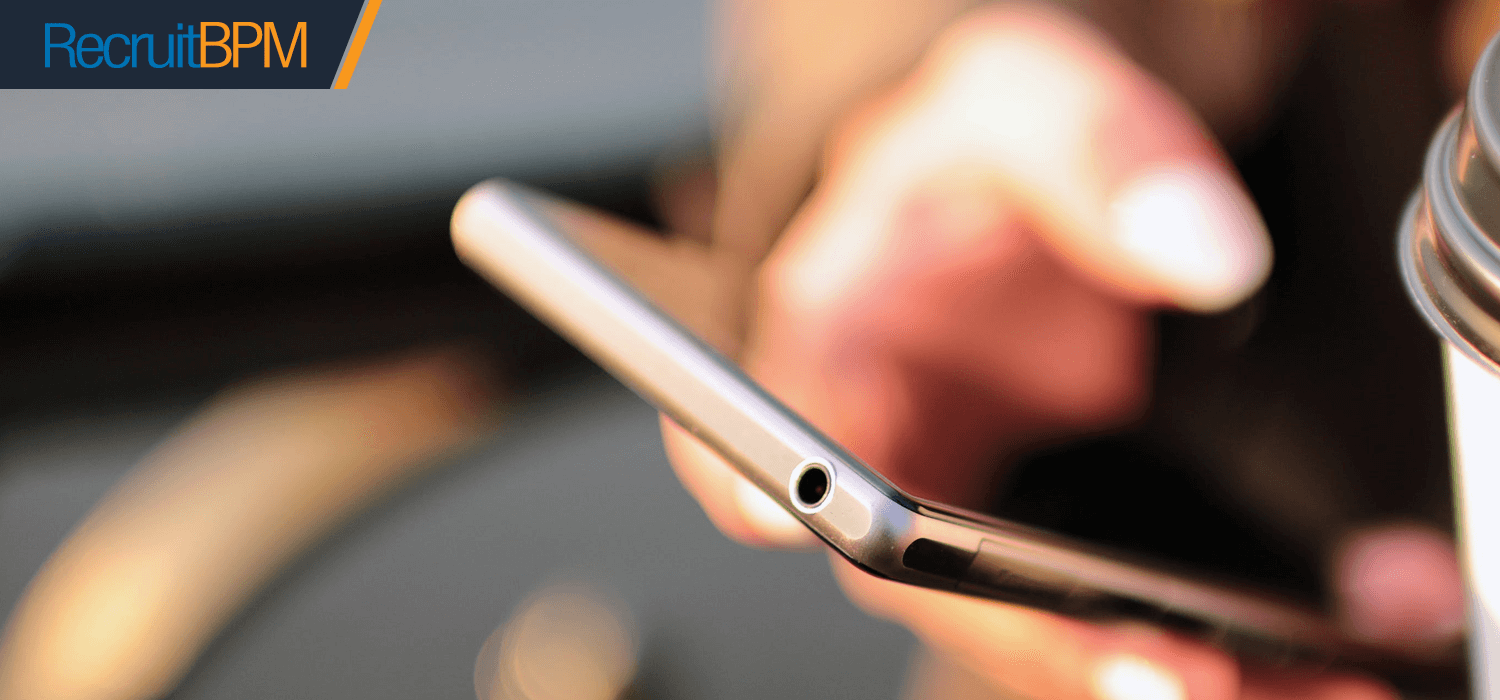 Communicating with the Candidates as well as with the customers has become more complicated in the wake of COVID-19. The good news is RecruitBPM is here to offer the right solutions to speed up and bring ease to their recruiting process. Fortunately, when it comes to communicating with the hiring staff, a majority of staffing agencies want to wield the power of text recruiting . With the arrival of mobile devices, lengthy job hiring processes are part of history.
Hiring managers are going for the power of text messages to speed up the pre-screening process, manage interviews conveniently, Speed Up Recruiting process and cut down candidate pools much more quickly.
Since it is already established that one of the most powerful recruiting tools at a company's disposal is text messaging. The good thing is that you are now enabled to speed up the SMS process by leveraging the automated text messaging technology to your advantage, as you can send the text to numerous recipients with just a click. So, here are the top ultimate benefits you will be getting for your company by using RecruitBPM while using SMS to hire new employees for your Staffing Firm:
Customized Contact Lists With Text Recruiting:
An automated text messaging program enables you to generate a customized list of recipients and you can send different messages to each list. Such lists may consist of candidates' credentials and/or their stages in the recruiting process. Besides, whenever there is a need you can also send personalized messages to the candidates. On the other hand, if you do not wish to send customized messages, you have the option of sending the same message through an automated texting program to the recipients on your list.
Expedite Communication With Text Recruiting:
Most often when you dispatch a text message, it is more likely that your targeted recipient will receive it immediately. Furthermore, a majority of people keep their phones with them most of the time, consequently, these messages have a probability of being read immediately. This can prove to be quite advantageous and handy particularly when you are in need of communicating time-sensitive information to a new hire quickly. In addition, it also enables the recipients to leave an immediate reply to your messages, making the communication process faster. One of the many perks of frequently using text messages is the expedite communication through out the recruiting process, which helps to develop the team you need more quickly.
Flexible Communication Process:
When it comes to the recruiting process, you can use text messaging to perform many recruiting functions. At the starting of the recruiting process, you can utilize text messaging to invite numerous candidates to apply for open positions. Moreover, you can keep them informed regarding the statuses of their applications and call them for interviews. After scheduling an interview through text, you can also employ text messaging to send reminders. Likewise, you can also give feedback to the applicants. After recruiting an applicant, you can continue availing text messaging to help with the onboarding process.
---
---
Convenience and Efficiency:
In the earlier days, majority of human resources departments in Staffing Agencies used to rely on email to communicate with job applicants. Unfortunately, quite a big chunk of emails every so often end up in the spam folder. Thus, resulting in many lost opportunities for the recruiters as well as candidates. On the contrary, there are fewer chances for text messages to be lost.
For the reason that recipients necessarily choose to participate in text messaging programs, your messages may not have as much competition when it comes to the recipients' attention. Furthermore, when other channels like email aren't suitable, auto texts enables quicker means of communication. Hence, by investing more in automated text messaging, your company can easily boost up the efficiency of the recruitment process. Moreover, using an auto text messaging for recruiting can help you save valuable time and efforts.  You can utilize these saved efforts to achieve other company goals.
Increased Reach With Text Recruiting:
Most of the job seekers are prone to using smartphones. So, text messages is a common routine for most people. In reality, a majority of cellphone users scan them for messages all day long. When you opt for text messaging for communication, it will definitely reach to your targeted recipients efficiently rest assured. If you are intending to . Text messaging in an outstanding tool to move prospective candidates through the application, interview, and onboarding processes effectively. It automates the manual functions and brings the efficiency in the hiring process that your company requires.
Text to Recruit
Recruiting the most suitable candidates is one of the most important aspects of any business field. Research shows that 70% of applicants incline to apply for job position while using their mobile devices. Text recruiting has become an important part of the recruitment process, where you send text messages (aka SMS Recruiting) to search and hire the most suitable candidates. Whereas, SMS is comparatively a new method to hire candidates for Recruiting Firms, it is going rampant everyday.
With RecruitBPM's mobile recruiting, companies can easily target their candidates with text messages to get the most fitting candidates. This will help in the results of increased ROI on your strategy.  Along with leaving the candidates and employees contented when they communicate with your company.