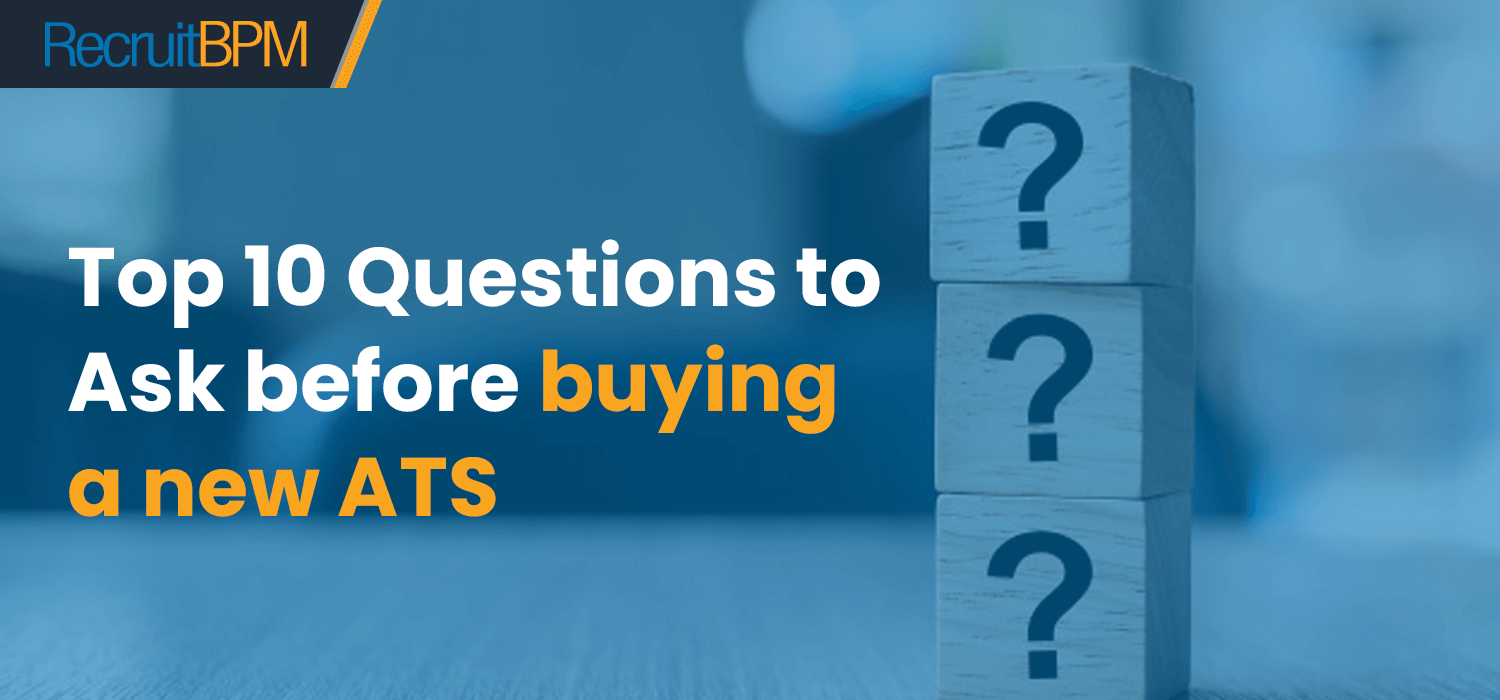 Purchasing a new ATS but confused about which one to buy. You need not to worry because this article carries the solution for your problem.
Using an efficient applicant tracking system can enable you to streamline your entire recruiting and hiring efforts. Besides letting you automate specific features of your recruiting process; it helps you to devote more time to developing relationships with the candidates, consequently hiring the right candidate for you. Some of the  outstanding applicant tracking software consist of the following features:
An identified and mobile-friendly career portal
Software and job boards integrations
Applicants management system
Job library
Advanced search competencies
Effective communication management tools as such email templates, communication logs, integrated calendars, and auto-capture of applicant responses
Report and analytics including KPIs and EEOC
Passive candidates' database
Tools for onboarding
Job requisition
Comprehensive applicant profiles
Compliance features for capturing and storing the confidential data
Role-based user access and custom workflows
And the list goes on…..
Top 10 Questions Before Purchasing a New ATS (Applicant Tracking System) Software
Since acquiring talent is a ruthless process. Therefore, there is a higher focus on technology. The organizations must evolve to overcome the new challenges that come across during their recruiting and hiring processes. While hiring you need to be more active to successfully attract, screen, and recruit the best talent.  To engage and manage the most qualified job applicants, the right applicant tracking system can offer you a competitive edge. Therefore, before buying an applicant tracking software you need answers of certain questions.  We have made a list of these questions that you must ask before purchasing a new ATS:
Does the ATS allow me to do my own reporting and obtain management intelligence?
An exceptional ATS is the one that helps the recruiter with guaranteeing that they are offering compelling evidence and record-keeping to assist the hiring decisions. It is obligatory that the data should be exportable. Moreover, it should validate critical decisions. Decisions like being able to receive more applications with lesser resource associations or how much are the expenses of the events. This decision will ensure that whether the hiring efforts are worthwhile or not. For strong management intelligence, go for machine learning technologies as they provide better reporting tools. These tools can aid with informed talent acquisition decisions in real-time. Thus, introducing more simplicity in management reporting.
Does your ATS offer accurate data and auditable decisions on candidates?
Recruiting for the majority of the companies proves to be a fast-paced process of their business. As the new opportunities come up frequently, the recruiters have to sift through hundreds of thousands of applications in the process. Clearly, error rates from depending on piles of paper or manually added excel trackers are very high. Such methods not only make the decisions hard to justify, but they are also incompetent and malfunctioning. Hence, an end-to-end ATS plays a vital role in validating all data and ensuring each decision-made is auditable. Especially when GDPR comes into play, an ATS is a must. So ensure before purchasing a new ATS that it offers accurate data automation.
Can your ATS ensure quick identification of potential talent?
When the competition in the job market is becoming fiercer with every passing day, the increasing talent scarcity is a critical issue. In fact, a majority of CEOs had been expressing their concerns regarding the accessibility of major skills in the future. An efficient ATS has the ability to make use of built-in insight tools (like RecruitBPM's Reporting and Analytics tool) to fulfill your major requirements with the data being provided in an application and identify the cream of the crop for you immediately.
Is the ATS strong and versatile enough to meet my business requirements?
It is of utmost importance to make sure that the ATS you are going to use is robust with a proven track record of its effectiveness – particularly when the matter is related to security and maintenance. When it comes to supporting multiple recruiting needs and explicit organizational requirements, the versatility of the ATS holds great importance. Hence, it is imperative to make sure that the Applicant Tracking System you buy comes with effective security commitments and includes critical integrations you may require like assessments, mobile capabilities, or job board sourcing to hold up the management of registration and feedback at recruiting events.
Does the ATS have the ability to ensure a great candidate experience?
The first and foremost priority of every company is the brand reputation that they carry through into the hiring process. Candidate experience holds fundamental importance to it and the recruiting process should operate similarly as the company offers its services to the customers. The ATS plays a fundamental role in offering positive candidate experience and for this, it must automate the process to guarantee that candidates never have the feeling of being in the dark with the help of devoted candidate communication centers and self-service tools to make sure companies never lack in interacting with the participating candidates. On average, RecruitBPM provides a 97.5% candidate satisfaction rate across its customer base.
Does the ATS offer ease-of-use to let me get the hiring managers to embrace it?
Other than the main HR and resourcing teams, you are in need of an ATS that can be as easily utilized by the hiring managers. An ATS with the ease-of-use is more likely to get high satisfaction scores from its users as well as the candidates. Since it enables enhanced engagement on both sides, it is also crucial to verify that the ATS is supported by the best-in-class back-up and account management. A good ATS assists with troubleshooting of any possible issues. Supplementing technologies also counts. Such as, RecruitBPM offers a mobile compatible app that makes registrations, check-ins, feedback, and many more recruiting functions easily accessible for both recruiters and candidates from anywhere.
Is the ATS capable of ensuring equality and diversity in my candidate pools?
Each company is aware of the importance as well as the need of promoting equality and diversity in its workforce. Yet this can be easier said than done to track in an ATS. Smart recruiting technologies help the companies to necessarily monitor the level to which their applications are able to deliver diverse candidates with compliant processes. Focus on the ATS that provides reporting consisting of candidate responses to equal opportunities questions that can assist the recruiters to customize their appealing efforts and expand search for more applications from specific gender or ethnic groups that have not taken into consideration the position previously. An efficient ATS will assist you to strategize and evaluate any customized events you run to establish these objectives.
Does the ATS have the ability to ensure a continuous attraction and engagement focus?
Even if the application is in the system, an ATS doesn't stop working – it is more than a place to store the data. The recruiters need to focus on an Applicant Tracking Software that offers an end-to-end pinpointing indicating attraction and engagement materials that keep the candidates interested. Moreover, the ATS must offer simplified management of the recruitment process so that the time-bound recruiters are able to make engagement their number one point of focus. An effective ATS comes with the integration of  tools. These tools can help with this crucial communication from the early phases of attraction right through to the onboarding phases. Candidates are never required to move from the application pages on the site but still have the feeling of being continuously encouraged in this way.
Can the ATS help to reduce my administrative workload?
One of the major distractions for any resourcing team can be the immense administrative duties. Whereas an ATS helps as a fundamental in redesigning the processes. Hence,  before purchasing a new ATS, go for an Applicant Tracking System that can help you to save admin costs, for example, time used on postage, printing, managing event registration desks, and the other back-office workloads. An efficient applicant tracking system will lend a helping hand to the recruiting teams of the companies to realize their ROI and modify their methods of working so that they have more time to concentrate on the tasks they like undergoing engagement activities and encouraging the best talent! Make sure your ATS vendor provides proof that its technology will lessen the administration tasks and guarantee time efficiencies and optimal utility of resources so they can concentrate less on dreary tasks and more on talent engagement.
Can your ATS help me drive operational ROI effi­ciencies?
A pivotal aspect of consideration for the companies while purchasing a new ATS should be its capacity to return on investment (ROI) at every phase. Time-saving, cost-cutting, decreased manual works, and streamlined flows are just few of the examples to quote. A competitive ATS provider will try its best to deliver personalized calculations of prospective ROI savings to help developing business cases.
You can ask as many questions as you want to before purchasing a new ATS. With RecruitBPM your questions are already addressed in our FAQ Section Please visit. If you have any other questions please ask right away. We would love to help you to find the world's best Applicant Tracking System according to your needs.