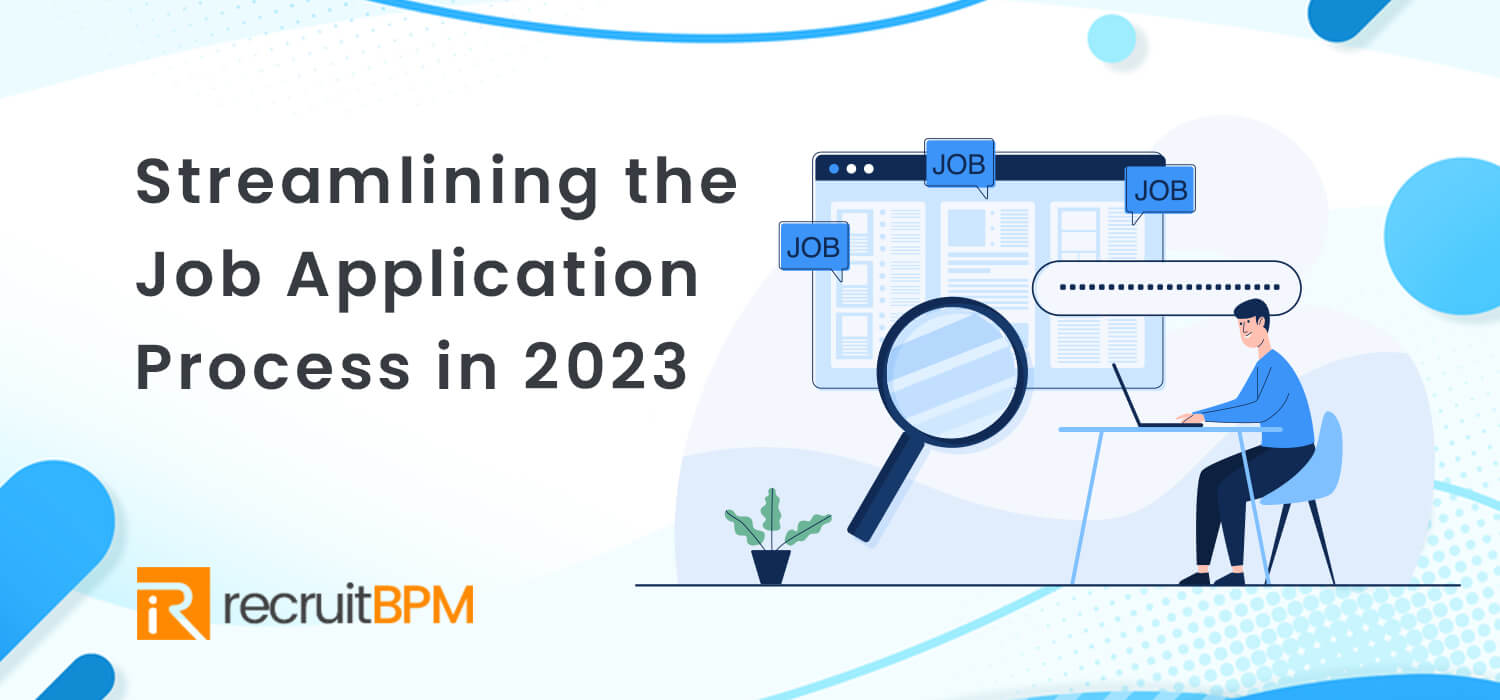 Streamlining the job application process in 2023
Picture this: It's 2023, and the job application process is finally streamlined. You've spent countless hours perfecting your resume and updating your online profiles to make sure you stand out from the competition. You're confident that you have a good chance of landing an interview with one of your dream employers.
But then comes the dreaded moment when you submit your application – it's been rejected without so much as a glance! You feel like all those hours were for nothing, and now you must start over again from scratch.
It doesn't have to be this way! Prepare before submitting job applications to increase your chances of success in the competitive job market. These systems will not be implemented until 2023.
This article will provide guidance on how to make the job application process work in favor of job seekers. It should not be a source of frustration.
How does the job application process work?
There are different ways a candidate can apply for the job. Here are some of the most used methods of job application.
Online Application
Online application is an increasingly popular method of applying for a job. Technology and digitalization are increasingly being used by companies. Online applications are helping them to streamline and optimize processes.
Video Applications
Video applications are a way to apply for a job. Send a video to the employer. In the video, explain why you are the best fit for the job.
Show them that you are the right person for the job. It usually takes less time than other ways of applying and makes it easier for employers to see who you are.
Paper Applications
Paper applications are still used by some companies as part of the job application process. Submit a copy of your resume to the employer. Include any other relevant documents, such as a cover letter.
Make sure the documents are printed. Complete and accurate completion of the paper applications is necessary. This will enable employers to make an informed decision on your candidacy.
Cold Calling or Emailing Employers Directly
Cold calling or emailing employers directly is another way to apply for a job. Reach out to the employer. You can do this by phone or email.
Explain your skills and experience related to the position. It can be a great way to get noticed if you don't have many connections in the chosen field.
Social Media Platforms
Social media platforms have become a popular way for job seekers to find employment. Job seekers can improve their opportunities by creating an online profile on sites such as LinkedIn, Facebook, and Twitter. This profile can showcase their skills and experience to potential employers.
Social media platforms offer advantages to candidates. They can network with people in their desired industry. This gives them access to exclusive job postings and other opportunities.
Additionally, candidates can promote their work through these platforms, providing evidence of their skills and abilities.
What is wrong with the current job application process?
The current job application process is inept due to different reasons. Here some reasons.
– Lengthy process
The current job application process is often lengthy and time-consuming. It can take days or even weeks to complete the entire process, from submitting the initial application to receiving an offer.
The lengthy process can be discouraging for potential applicants. They may not want to wait such a long time for a response.
– Lack of feedback from employers
Most employers do not provide feedback. Investing time and effort in an application is often not enough for success. Candidates are often left in the dark as to why their application was not successful.
Lack of communication can cause frustration for job seekers. They are not given the opportunity to learn how to improve their applications. This lack of information can prevent them from making their applications better in the future.
– Unclear expectations
When applying for a job, it can be difficult to know what employers are looking for. Companies often fail to provide clear job descriptions and expectations for the role. This leaves potential candidates unsure of what they need to do to stand out from other applicants. Lack of feedback adds up to the candidate's frustration.
– Unequal opportunities for people with different backgrounds
Unequal opportunities have created many barriers for people with diverse backgrounds when applying for jobs. These barriers are preventing them from competing on an equal footing with other applicants.
Studies have found that people from minority backgrounds often face discrimination in the job application process. Employers are more likely to select applicants with more "traditional" resumes and qualifications.
Shortlisting high volumes of candidates is a problem
When the job is posted online, recruiters might receive too many job applications. It's impossible to discern the wheat from chaff in this scenario. Recruiters might end up selecting too many candidates which will result in delay and frustration for applicants.
Reasons why streamlining the job application process is necessary
1. Reduced Time-to-Hire: Streamlining the job application process helps employers reduce their time-to-hire. This allows employers to quickly evaluate suitable candidates and make a decision more quickly. This can help them to fill open positions more quickly, improving productivity and cost efficiency.
2. Increased Quality of Candidates: By streamlining the job application process, employers can attract higher quality candidates who match their requirements better. This will give them the information needed to choose the best candidate for the job. This will lead to a successful hire in the long run.
3. Improved Employer Branding: A simplified job application process impresses potential candidates. This increases the chance of them recommending the organization to others. This helps the organization build its brand reputation over time.
4. Enhanced Efficiency: Streamlining the job application process simplifies things for employers and applicants. Unnecessary steps, such as manual form filling and additional paperwork, can be automated with modern technology.
This removes extra time and effort for both parties. Eliminating wasted time increases overall efficiency. This makes it simpler for employers to select the right candidate quickly.
Ways to Optimize the job application process
Recruiters often face similar kinds of challenges when it comes to the hiring process. Here are some tips which can be useful to optimize the job application process.
Use alternative application method: Think beyond traditional resumes and consider other forms of applications such as video interviews, online portfolios, or digital questionnaires to make the process simpler and more efficient.
Use automation tools: Automated recruitment software can be used to automate mundane tasks associated with job applications such as screening resumes or scheduling interviews. These tools can help employers save time while also ensuring a consistent experience across all applicants.
Consider Data Analytics: Analytical insights generated from the job application data can provide valuable insights that employers can use to identify opportunities for improvement in the recruitment process.
Make it user-friendly: Make sure your job application process is user-friendly and accessible from various devices and operating systems. Ensure that the interface is easy to use and understand so applicants can navigate easily through the application process.
Keep the candidate's experience as a priority: Make sure to prioritize the applicant's experience and ensure they have a positive impression throughout their journey with your organization. Provide clear communication and guidance, as well as timely follow-up to ensure they feel valued and respected.
Provide feedback & stay in touch
Recruiters should not stop communicating with the candidates during the hiring process. This way they might loose potential candidates. Make communication easier for your candidates. Keep candidates in loop and provide status updates.
Employers can make their job application process more efficient by using these tips. This will create a better candidate experience and improve the outcomes of talent acquisition.
What changes can be expected in 2023 when these new systems are implemented?
Well, come 2023 we'll see a much more efficient and user-friendly job application process. Candidates will be able to apply for jobs without feeling frustrated or overwhelmed.
Applying for jobs should be easy and stress-free. Employers should have systems that encourage timely follow-up with candidates. They should also provide feedback throughout the hiring process.
Organizations can use an Applicant Tracking System (ATS) to store applicant information electronically. This system can also automate key processes, such as resume screening, interviewing, and shortlisting applications.
This new system will eventually create a better candidate experience while also streamlining the recruitment cycle. All these changes can revolutionize the job application processes in 2023.
Ultimately, companies can benefit from a shorter time-to-fill rate and more accurate recruiting decisions. Employers can use the new systems to find the ideal candidate for their needs. This is a cost-effective solution.
It is clear that, in 2023, changes are coming. Employers must keep up with the latest technology and tools. This will ensure their recruitment processes are efficient and effective.
Investing upfront may be needed. However, in the long term, organizations will benefit from improved talent acquisition results. This will be worth the investment.
Overall, these changes should create a positive impact on both employers and job seekers alike. Therefore, this transition period is one that everyone should look forward to!
Tips for Job Seekers
The job application process is increasingly becoming digitalized and automated. It is essential for job seekers to stay updated. They should get to know new technologies and processes before they become popular. This will help them stay ahead of the competition.
Here are a few tips that job seekers can use now to get ahead of the game and increase their chances of getting hired:
• Research the tools employers will be using for recruitment – Researching which tools employers will use in the future can give you an advantage. This knowledge will set you apart from other candidates who may not have done the same research.
• Get trained on the latest technology – Learning about emerging technologies can be beneficial. Taking courses or attending workshops can give you an advantage when applying for jobs. You will be better equipped with knowledge of how these technologies work. This will make you stand out from other candidates.
• Build a portfolio showcasing your skills – Demonstrating your technical expertise in the job application process can help you stand out from the rest.
• Network with other professionals–
Stay connected with others to stay up to date with changes to the recruitment process. Gain insight on what employers are looking for in candidates.
• Stay up-to-date with industry trends – Keeping abreast of current trends related to recruitment technology will show that you're committed to staying ahead of the curve.
• Use social media strategically– Using platforms like LinkedIn, Twitter and Facebook can be an effective way to connect with potential employers and demonstrate your professional qualifications.
• Tailor your resume– Customize your resume for each job application to ensure that it meets the criteria listed in the job posting. Use keywords and phrases from the description to give yourself a better chance of being selected for an interview.
• Engage with online resources– Take advantage of websites like Indeed or Monster to research companies and find potential job openings. Additionally, look into career coaches or online courses to learn more about the application process and how to make yourself stand out from other candidates.
• Network– Making connections in your industry can be a great way to get noticed by potential employers and open up new opportunities for you. Use social media, attend networking events, webinars, etc.
By following these steps now, job seekers can increase their chances of success when new technologies enter.
AI Recruitment Streamline Job Application Process
AI-powered tools have revolutionized the recruitment process, making it simpler and more efficient than ever before.
AI automation enables recruiters to quickly identify candidates with the most suitable qualifications for a job opening. By scanning resumes automatically, they can easily identify the skills and experiences that match what they're looking for. This eliminates manual labor and reduces costs associated with recruiting by up to 80%.
This technology can also identify which prospective employees are likely to remain in their job for a longer period. As a result, employers can make more informed hiring decisions.
Furthermore, AI-driven recruitment solutions provide employers with powerful insights into their performance over time. Companies can track how many applications they receive, as well as which types of candidates are most successful in landing jobs. Recruiters can use this data to optimize recruitment efforts. This will ensure the best outcomes from each hiring cycle.
Use RecruitBPM to streamline your job application process
We at RecruitBPM understand the importance of streamlining the job application process. That's why we offer an AI-driven recruitment solution that simplifies the entire process from start to finish. Our system makes it easy to manage multiple job postings, evaluate incoming applications, and select the best candidates for your team.
Our unique suite of features allows employers to manage every step of the job application process with ease. With RecruitBPM, employers can:
– Create custom job postings tailored to their needs, including required qualifications and skills.
– Automate the screening process by setting criteria for applicants such as minimum experience or certifications.
– Receive real-time notifications when new applications arrive so they can review them quickly and efficiently.
– Review applications in detail with automated scoring and highlighting of keywords or phrases that match the criteria set by the employer.
– Compare applicants side by side with detailed profiles that include qualifications, experience, skills, and more.
– Set up automated interviews via video call to further narrow down the selection process.
– Hire the most suitable candidate with a simple click of a button – no paperwork needed!
RecruitBPM's AI technology helps employers speed up the job application process. This saves time and ensures they hire only the best candidates for their team.
RecruitBPM is the best tool for streamlining your job application process. It gives employers access to powerful insights, easy-to-use features, and control over every stage of the recruitment journey. From initial screening to final selection, RecruitBPM provides an efficient recruitment experience.
RecruitBPM also provides a seamless experience for applicants. Candidates can upload resumes and job applications with ease. They can track their progress through the recruitment cycle. They can also receive status updates in real time.
This helps to keep everyone on track and ensures that candidates are kept informed throughout the entire process.
RecruitBPM has an intuitive dashboard. This dashboard enables employers to track key performance indicators easily. Examples include application volume and applicant satisfaction scores. Integration with other popular platforms helps to create a comprehensive view of the recruitment process. This allows for better decision making.
Try RecruitBPM today and take back control of your recruitment cycle!