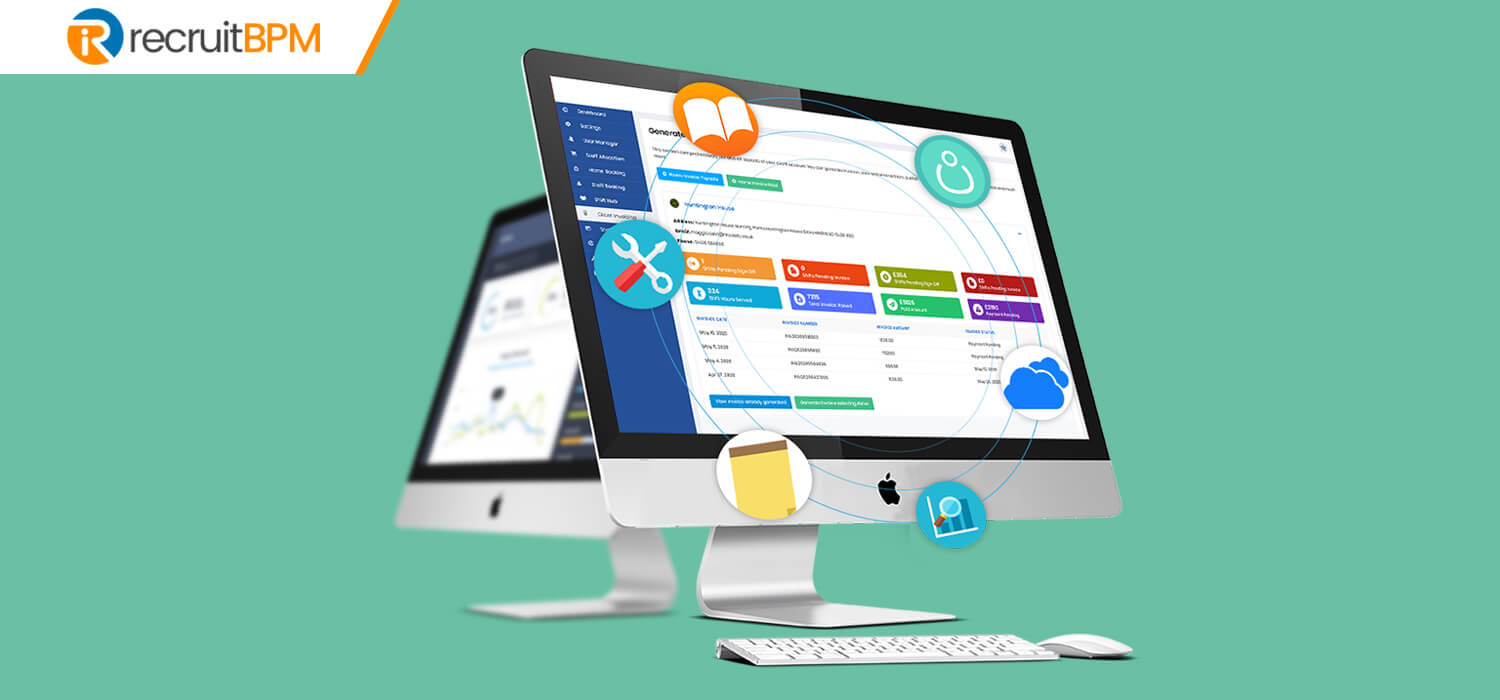 The recruiting process has turned out to be extremely cut-throat in the current business world. Employment agencies are in huge competition with other businesses to search for top-notch talent, whereas other companies are also bound to sift through numerous resumes to get their hands on the best candidates. It's very usual and acceptable to have several applicants against a single vacant position, however, searching through hundreds of thousands of resumes is a very tiresome and time-consuming job. The best solution to deal with this kind of problem is to employ cloud-based staffing agency software.
What is Staffing Software?
Staffing software consists of a vast variety of mechanisms that are utilized by the employment agencies as well as HR departments of other businesses for automating and optimizing their routine activities. These activities of the staffing agencies include but are not limited to their recruiting process, sourcing and managing the talent pool for their corporate clients, and their recruiting workflow. When it comes down to efficiently coordinate with both applicants and commercial clients, recruiting software can be of great use to the recruiters during the entire recruitment process.
Benefits and Application of Staffing Software
With the application of staffing software, recruiters can perform numerous tasks. To describe it clearly, staffing agency software helps the recruiters and HR professionals to continue strong relationships with their candidates, ensure excellent candidate experience, and boost corporate customer and employee engagement. To be more specific, the software helps in:
Reducing/eradicating manual workload

Saving and managing candidate data

Automating recruiting workflows

Increasing productivity and candidate quantity & quality

Expedite the recruiting process

Refining communication process

Reducing recruiting expenditures

Increasing businesses
In addition to it, the above-mentioned list signifies the advantages, or actual benefits, of using staffing agency software. To elaborate further, we are also going to list out the important features of staffing software to help you understand how to achieve these targets.
Essential Features of Staffing Agency Software
Are you still indecisive to select a staffing agency software? Well, to help you in reaching a constructive decision, we have listed a few of the features of recruiting software that is essentially helpful for the recruiters and HR professionals:
Applicant Tracking System (ATS)
The most essential feature of any on premise or cloud-based staffing solution is an applicant tracking system. When it comes to dealing with multiple key recruiting tasks simultaneously, an ATS is the right choice to achieve your targets as it can help in:
Resume management

Sourcing of applicants

Tracking of applicants

Assessment of applicants
To summarize it in the most essential sense, you can manage the whole recruiting process with the help of an ATS. Moreover, most of the applicant tracking solutions come paired with artificial intelligence and automation to speed up the process.
Customer Relationship Management (CRM)
Another indispensable feature of a staffing solution is CRM software. Customer relationship management software is particularly used to provide improved client experience. It organizes the client data, keeps an eye on potential business prospects, and more. In relation to staffing software, the fortes of CRM solutions vary according to the needs of the companies. Yet in the most basic sense, they assist in managing and strengthening client relationships. Such as, to make sure that you are in agreement with your clients, you can easily save the data regarding client contact and future events in the CRM.
On the other hand, staffing agency software CRM may be utilized solely to improve candidate relationships or to focus on the sales pipeline. Such as the sales CRM can be used to keep track of prospective volume for job leads. It is of great significance to identify your business needs to help you in deciding precisely what CRM functionalities you are seeking in the staffing software.
Integrations
Integrations enable staffing agency software to acquiesce to other third-party software or applications that can be used by the recruiters and HR professionals during the hiring process. This synchronization lets the users have all the data in one place, along with increasing visibility, saving time, and making certain that all of the processes are centralized. Below is a list of a few essential integrations that every staffing software entails:
Email
Staffing agency software with email integration allows you to scan and organize your emails from within your staffing solution platform. This makes your email communication with both clients and applicants quite easier. Although, there are a few staffing agency solutions that don't entail email integration at all, yet many of the others come with advanced capabilities like bulk/mass email.
Calendar
Staffing software including calendar integration lets you have all-time access to each of your scheduled events. Moreover, you can also schedule appointments within the platform. Having in place a staffing agency solution with calendar integration is useful for you when you want to provide the candidates with a link that can direct them to your calendar so they can set up an interview in your open slots.
Job Board
This integration is indispensable for the success of modern HR professionals and recruiters. Staffing software with job board integrations expedites the matters of advertising open vacancies and sourcing applicants.
Social Media
HR professionals and recruiters use LinkedIn and other social media platforms to search for potential applicants. For them, a staffing agency software with social media integration is the solution. Some of the staffing solutions have cutting-edge tools to let you search through the social media platforms for passive applicants.
Vendor Management System (VMS)
A vendor management system (VMS) is a special feature that is not in every staffing software. If you have plans to utilize a VMS along with your staffing agency software, the better option would be going for a solution provider that offers synchronization of both systems.
Background Check
A staffing agency software that holds a partnership with a trustworthy background check provider can be extremely useful in terms of saving your time during the hiring process.
Analytics and Reporting
Analytics and reporting are extremely useful users especially when it comes to using them to improve their ROI and processes. With reference to staffing agency solutions, these reports generally consist of insights and data relevant to the productivity of recruiters or the average duration of time to filling an open position, these are a few to name.
The Cost Index
Coming to this point, you may have been thinking: how much will a staffing agency solution cost you? Although we cannot offer you a direct question considering it depends on your choice for the solution and your staffing needs. However, we can offer you some useful information. Following are some important factors that can help you to estimate the pricing:
Company size/Number of users

Industry specialty

Customizations

Candidate volume

Data storage requirements
Are you still concerned regarding the cost of the staffing solution? Read our article Best Applicant Tracking System for Small Businesses, to explore the best and cost-effective alternative for the advanced staffing software.
Software Selection
Now that you have understood the way staffing software perform. We need to get insights into another topic before choosing the desired staffing solution. Naturally, the process of selecting any solution must begin with understanding and working out the requirements. Following are the questions you should take into consideration when assessing and comparing different solutions:
What is the potential future of your business? Does the software have enough scalability to expand along with your business?

What integrations does it offer? Does it have the potential to integrate all the software you want to use or currently using for your recruiting processes?

Does it have the capacity to run your hiring processes more smoothly and efficiently? Will it bring easiness to completing your day-to-day recruiting tasks?

Does the solution have the necessary tools to refine your candidate experience? Will it be efficient enough to boost your applicant volume?

What are your hiring fortes, temp employees, permanent, full-time employees, or all of them? Are accounting functionality and candidate tracking functionality equally important?
So, when you are prepared to get your hands on the right staffing solution, don't forget to check out RecruitBPM! Our Applicant Tracking Software allows you to deal with the unnecessary fuss about your recruiting process. You can easily manage your hiring without wasting your time and money.
 Start a Free Trial now or Request for a Demo to Learn how We are changing Staffing Agencies' Hiring Process.