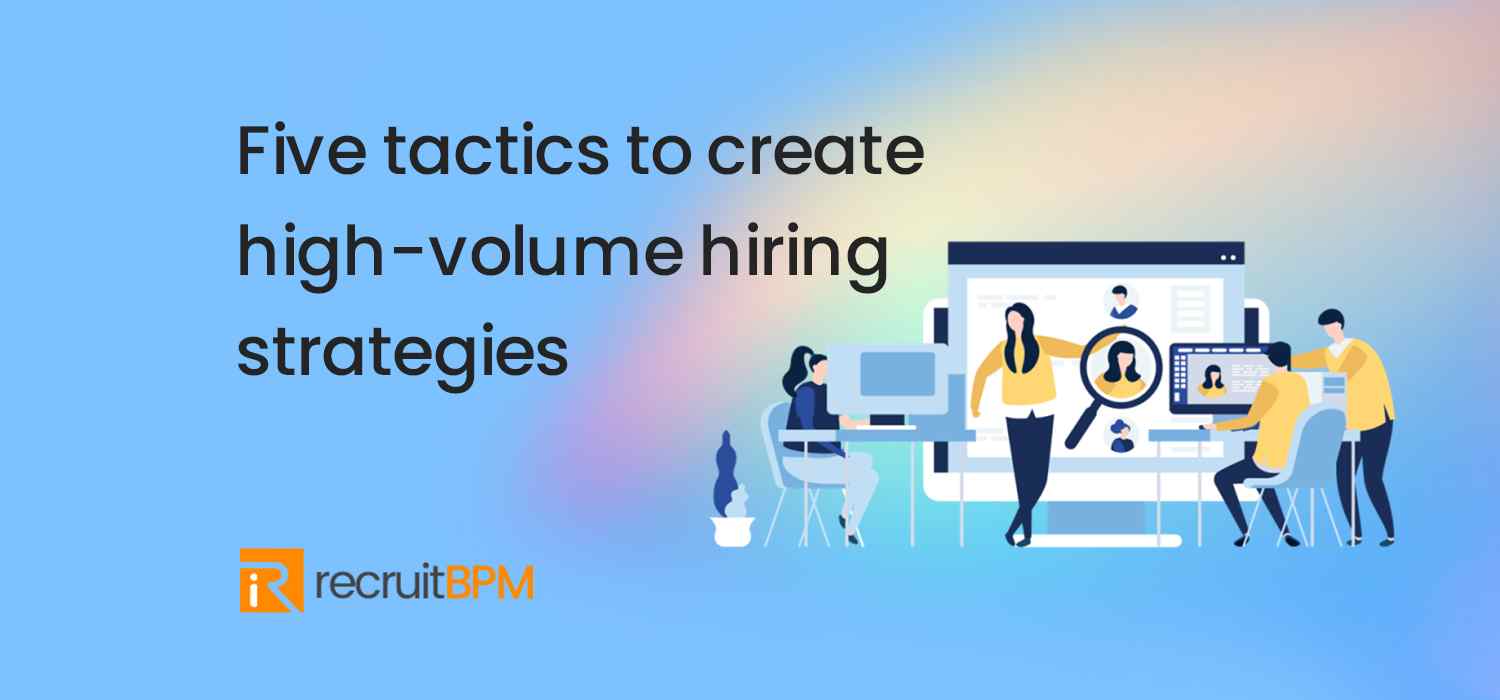 No matter the years of experience you may have, high-volume recruiting is a test. As new technology rolls in and the economy fluctuates, the best tips and tricks for hiring strategies constantly change. While you want to weed out the best candidates from virtual heaps quickly, high-volume recruiting leaves no room for mistakes. Normal job postings typically bring in under 50 applicants, while high-volume postings bring in over 250 applicants.
Staffing firms that draw in qualified candidates via looking through job postings, glancing through many portals, and planning screening calls are overwhelmed with the work, cost, and time it incurs. Regardless of how fluctuating the economy can be or the number of recruits you really want to acquire, organizations can make progress through the right hiring strategies through high-volume recruiting with the right interest in key strategies and abilities.
Hiring Strategies | High Volume Recruiting
High-volume recruiting is the act of employing for countless open positions in a given time span. It may vary from hundreds to thousands of positions annually. Normally in enterprises such as retail, the requirement for an enormous volume of new workers owes mainly to occasional recruiting, new store openings, or fast development in the associations. Jobvite reports that while the normal job posting draws in under 50 candidates, the typical high volume recruiting strategies draw in excess of 250 candidates.
For this purpose, we have compiled below five hiring strategies that you can practice in order to attract a high volume of applicants.
Dig Your Successful Candidate's Inclinations
When it comes time to showcase your employer's brand, it tends to be useful to make a stride back and take a look at your offer according to the perspective of your prospective candidate. It is frequently observed that recruiters take up their corporate dialect & jargon thereby conveying a mission that falls short for a candidate who needs to learn it in a language that they can comprehend.
Accelerate Your Sourcing with Talent Re-discovery
Talent rediscovery is the act of mining your current pool of resumes to find past candidates to fill them for open positions. A CareerBuilder survey observed that perhaps the greatest difficulty businesses face with their recruiting managers is the inability to check candidates in their own candidates' pool/in-house talent acquisition. This hurdle is unjustifiable when you think that the applicant tracking systems were, in the first place, designed to overcome this inefficiency.
In spite of the fact that your ATS might permit you to utilize keywords and Boolean strings to look through existing resumes, the outcomes are normally limited. This makes it troublesome or even difficult to match past candidates to an open position, except if you are utilizing a dedicated talent rediscovery tool.
The question that arises is, how does this innovation work in your favor? For example, if you want to hire a full stack developer, after entering a job portal of a current job, the talent rediscovery calculation will consequently separate each resume in your ATS to find the top matches.  The current job market trends make this innovation especially useful. Numerous organizations focus on reskilling and creating inner talent to fit open positions. Acquire better replacement in your labor force to supplant the abilities and requirements in your present talent pool.
Refine Your Employer Brand
Focusing on your employer's brand might be the first thing to worry about in your hiring strategies in bulk hiring. Irrespective of the intended hiring volume, the absence of a distinguished employer brand will cause resentment. Practically half of the employees, in fact, said they would not work for an organization with a questionable standing. Therefore, featuring your core values and mission statements is crucial to appeal to prospective candidates.
Refine your whole recruitment process from beginning to end with respect to your candidate's perspective. Employer branding assists candidates in choosing a better pick when most of the variables (responsibilities and benefits) are similar. Assemble what your group knows to be valid with regard to the organization's qualities, and interview representatives, either explicitly or implicitly, to elicit their viewpoint. Be very eloquent about how candidates can grow themselves, personally and professionally, by working for your organization.
Wield The Right Technological Tools
Innovation is the first thing that comes to mind when it comes to hiring strategies for high volumes. You can profit your organization by wielding cutting-edge innovation patterns and market trends. You must quit squandering energy and monetary resource on inconsequential tasks. Rather, you should be spending your resource on the main meaningful aspects of hiring strategies.
For instance, an ATS does not just oversee candidates' information. It also organizes it into specified categories based on factors like experience, skills, etc. This hiring strategy is conducive to analyzing candidates and their competencies. It also liberates recruiters from having to stretch far for the purpose of developing sound hiring strategies. Consequently, this helps in expediting the overall recruitment process. The AI integrations in hiring strategies help in developing the talent pool, candidate screening, and hiring processes. These tools can ultimately perform everything from the start of the application process to the candidates landing their desired jobs.
Promote Employee Referral Program
Good employees generally enjoy competent professional networks. You must proactively persuade your current employees to recommend experts for desired open positions. This is particularly important when it comes to high-volume recruiting strategies and approaching candidates swiftly. Incumbent employees have a better understanding of your professional culture. Therefore, they are in a better position to recommend suitable candidates for your open positions. Moreover, the current employees are also able to convey the expected challenges and opportunities to your prospective candidates. Hence, you should employ a conducive briefing approach to attract potential candidates to save resources from both ends.