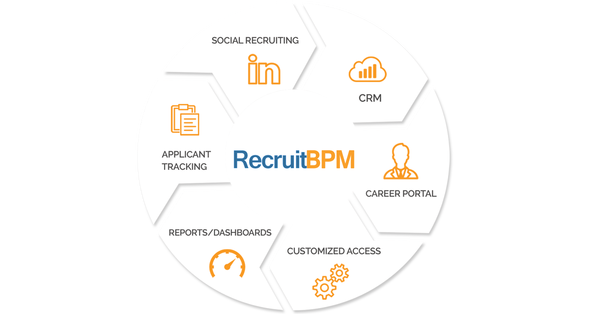 We're proud to announce a completely revamped RecruitBPM! On June 1st, we released a new, updated version of our revamped  RecruitBPM Applicant Tracking System and CRM software. Designed by leaders in the staffing industry, our new platform is tailored to fit the needs of staffing firms and employment agencies. X-Release is a cloud platform, fully scalable, end-to-end ATS and CRM solution. Moreover, you can try it free for 30 days.
Over the past few years, we've been rigorously developing new features, listening to feedback from our customers, and keeping an eye on the needs of staffing industry. Consequently, we've been able to continuously update RecruitBPM to stay ahead of industry trends.
However, you might have been unaware that we were also simultaneously developing a completely redesigned platform (dubbed X-Release by our developers). Moreover, X-Release keeps every aspect of our original platform alive, while also introducing new features and a completely re-tooled User Interface.
Updates in Revamped RecruitBPM?
Like the original version, X-Release is also a comprehensive end-to-end Applicant Tracking System with CRM functionality included. It retains everything that users love, but there's so much more to explore in X-Release. Following is the  run through of what you should expect from revamped RecruitBPM
Customization
You choose what information is displayed, so you can have a fully tailored ATS experience.
Quickview
Open any window, application-wide, without having to leave the screen you're on.
Improved and Intuitive workflow
Receive, Submit, Interview and Place Candidates with one simple click.
Direct Indeed Resume Searching
Now all users can source prospective candidates directly through the massive database of Indeed (even if you don't have an Indeed account)
More Efficient Database Editing
We admit that editing an entry in the original version of RecruitBPM was a bit cumbersome. So, the X-Release features a brand new quick edit function that allows you to edit details on the fly.
Career Portal
X-release has an all-new Career Portal. With our redesigned, customizable Career Portal, your candidates can easily apply  to your open positions. Of course, all candidate applications will parse directly in to your RecruitBPM Candidates module.
Tired of having to click the back button over and over just to get to a page you previously visited? Now you'll have an easy-to-operate history of actions you've taken within the portal. With a simple click, you'll be able to navigate to important pages in your workflow.
Advanced Search
Completely retooled Search and Advanced Search functionality, in addition to the ability to search within columns inside individual modules. This will lead to a much more efficient workflow for all users.
Mail Chimp
RecruitBPM is now fully integrated with Mail Chimp.
Final Thoughts
All of these major updates come along with tons of micro details and bug fixes. We hope this will lead to a much better user experience for all of our valuable customers. We have already started transitioning many of our existing customers from the original software to the X-Release platform. So, we expect to have all your current customers moving to the new platform before June 19, 2017,   However, if you're an existing customer and you haven't been upgraded to our X-Release. Don't worry! we will be reaching out to you to ensure your transition to our latest technology goes off without a hitch.
Moreover, we will be offering free demos and walkthroughs of X-Release for any existing customer who requests it. Contact support@recruitbpm.com for more information.