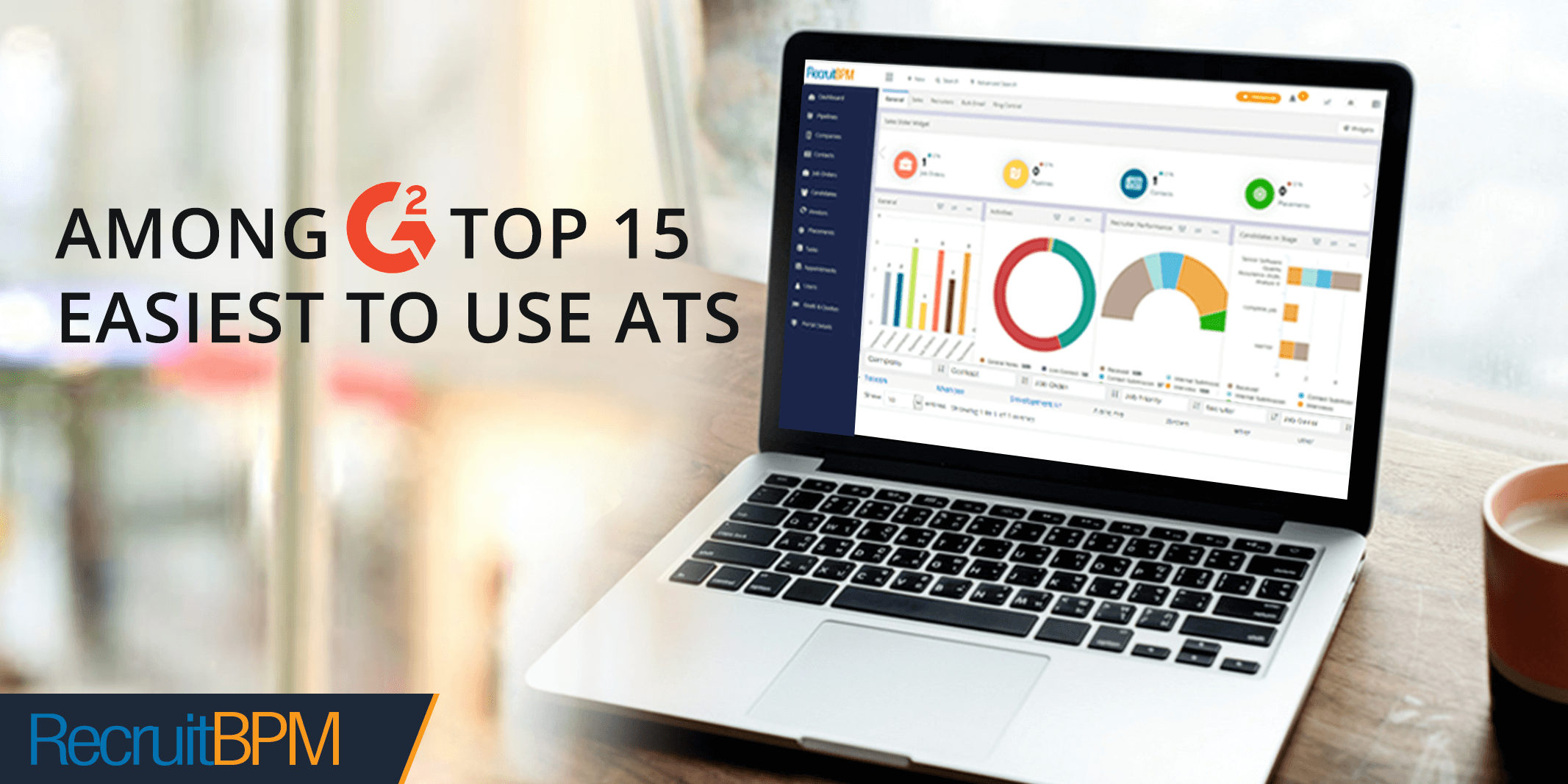 RecruitBPM ATS has been ranked by G2 (formerly known as G2Crowd) as easiest-to-use and high performer software among Applicant Tracking Systems and Recruitment Marketing. We feel privileged and delighted to have nominated for this honor and construe these analytics as direction for future product marketing strategy.
These rankings are mainly based on user satisfaction scores, employee growth, and digital presence. In addition, we are highly grateful and humbled by the feedback of our amazing clients, who took some time from their busy schedules and reviewed RecruitBPM ATS. Here are some details about the G2's ranking analytics and customer reviews who helped us rank among the top leaders of the industry.
What Makes RecruitBPM's ATS Standout Among The Rest
Easiest to Use
The total usability score of real user experience given by G2 to RecruitBPM is 8.8 among different customer segment breakdowns. 95% of users acknowledge that the product is meeting the requirements of their hiring process and it's much easier to use. Moreover, almost all the clients have found it extremely easy to set up and manage the admin panel. G2 analytics about overall usability score:
Ease of Admin 99% of Category Avg 86%

Ease of Use 95% of Category Avg 86%

Meets Requirements 95% of Category Avg 86%
One of our prestigious clients says, "The ease of use and that they are continually adding more features to it right now such as job distribution, social media links, importing of jobs, candidates, background check services, etc."
Here are some more views of our customers:
"Ease of use, intuitive interface, customer support, easily interfaces with other sales tools. RecruitBPM ATS has combined call tracking, email tracking, pipeline, lead monitoring, and call-list generation all under one system."
"We had a great implementation experience with RecruitBPM. The support has been super attentive and proactive in checking our understanding of each section of the application and ensure the best implementation for our company."
"Super easy to use, extra-intuitive & highly robust CRM & Applicant Tracking Sys."
Trending among High Performers
G2 rank products of Applicant Tracking System (ATS) category based on data tracked from the G2 product reviews and data accumulated from online sources like product website and social networks. Further, there are various aspects of the ranking report that G2 provided based on categories, business sizes, significant attributes and phase segments. In the Recruitment Marketing category, we rank 16th among a total of 91 products.
RecruitBPM ATS has been ranked overall under the Mid-Market industry size at number 38th of total 383 products where the average is 89%. Furthermore, above 97% of the users rated RecruitBPM ATS with 4 and 5 stars which consist of 99% of Ease of Setup, 95% rated for Quality of Support, 92% reviewed for Ease of Doing Business, whereas 89% of our trusted clients have rated us as Likely to Recommend product. Overall analytics of G2 are below:
Quality of Support 95% of Avg 86%

Ease of Doing Business With 92% of Avg 87%

Ease of Setup 99% of Avg 83%

Likely to Recommend 89%
Product Going in 100% Right Direction
Another significant award for which our customers ranked us 100% is Product Going in Right Direction. The category average of this award is 77% which is calculated by a proprietary algorithm. We are grateful to all of our users for their trust and confidence in our product.
The G2 reviews show the trust and reliance of our clients in continuous improvement and advancements of RecruitBPM ATS. Such as, "RecruitBPM is one of the best ATS systems. It obviously does all the basics, but they continue to innovate into the product. In addition, it has a lot of features that help improve and facilitate the recruiting workflow. A definite recommend to other recruiting professionals out there from me."
Feature Comparison
G2 also rated the ATS products on the basis of Feature Comparison, which represents the reviewers' overall satisfaction with each feature of a product.
The table below shows the analytics of user satisfaction with the features of RecruitBPM ATS in percentage: