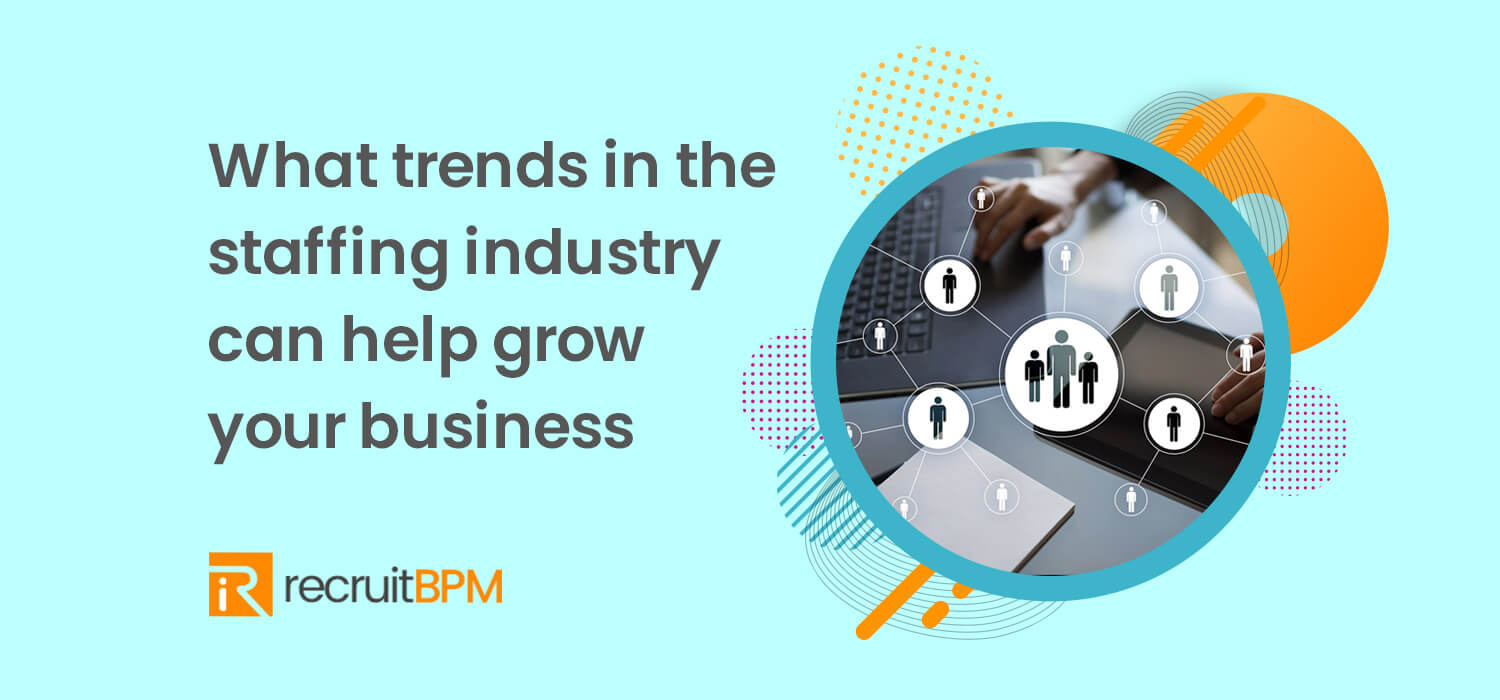 Following the COVID-19 pandemic, the staffing industry has been forced to adapt to numerous changes. These changes were inevitable to meet the demands of today's labor market and environment. One of the most difficult challenges has been the requirement to transition to remote work. Even now, when the worst of the pandemic is behind us, many businesses still rely on remote work/hybrid work approach. Virtual interviewing is undoubtedly a trend that will continue in the coming years.
Every business must keep up with current trends in order to survive. Many staffing agencies are now wondering what changes are on the horizon in this post-pandemic world. In this article, we'll look at what these changes are and how you can successfully guide your agency through them. Some of these staffing trends have been around for a while, while others are new to the field. In any case, consider them in the context of your current business structure and future plans.
Everything revolves around your employer's brand
From your company values to your application process, employer brand is everything that makes you stand out. Building a compelling employer brand through consistent, positive experiences across touch points is critical in today's staffing landscape. Be deliberate in your messaging for social media, emails, your website, blog, events, and interviews. They all contribute to how candidates/clients perceive your brand and influence whether or not to work with you.
Online Recruiting
Virtual recruiting was already on the rise before COVID-19, but the pandemic has given it a significant boost. It is now the primary recruiting method for many businesses. This involves not only the online search for candidates but also virtual interviews and onboarding processes. It is beneficial to both employers and employees, allowing the hiring process to be accelerated, streamlined, and simplified.
This trend is expected to continue and become even more prevalent in 2022. Staffing firms that can adapt and improve their virtual recruiting process will undoubtedly gain a competitive advantage over their slower-moving competitors.
Automation
Automation is now standard practice. Leading staffing firms have already implemented automated processes in critical areas of their business to increase efficiency, productivity, and provide a better experience for both candidates and clients. What's happening now is an evolution of that technology, with the goal of creating a fully integrated engagement engine across the talent lifecycle, powered by automation.
Next-generation automation goes beyond triggered emails and SMS to deliver a seamless, polished experience. One feature of this next-generation technology stack? A conversational AI assistant, also known as a chatbot. Recruiting chatbots collect data, screen candidates, and have personalized conversations around the clock.
Improve Your Marketing Strategy
As the workforce floods with digitally native candidates in the age of technology, one constant in how professionals look for partnerships and candidates look for work is an online search. According to our most recent surveys, 93.4 percent of candidates use social media in their job searches. Furthermore, 74% of recruiters intend to increase their use of social media in the coming year. Both job seekers and employers spend a lot of time online, so if you haven't already, investing in digital marketing is a must. According to one survey, 86% of recruiters believe that recruitment is becoming more similar to marketing.
Diversity and inclusion
Diversity and inclusion is another growing area of focus for HR leaders, and it has a direct impact on talent acquisition and recruitment. According to statistics, businesses with a diverse workforce and an inclusive workplace have higher productivity and profitability. Many organizations want to increase the diversity of their workforces. For this purpose, recruiters are in charge of identifying and including a broader range of candidates in the talent pool.
These objectives may pose difficulties, such as a racial or gender bias for or against certain candidates, as well as ignoring highly qualified and experienced candidates.
Artificial Intelligence
The use of artificial intelligence (AI) to improve methods of sourcing, identifying, and engaging talent is one of the fastest-growing areas of talent acquisition software today. These include intelligent talent platforms like RecruitBPM, job-posting platforms, chatbots, and natural language processing (NLP). AI is also used to reduce bias in the identification, selection, and hiring of candidates.
In contrast to RPA, which performs a large number of manual, repetitive tasks, AI can perform intelligent tasks such as reviewing resumes for specific skills, characteristics, or keywords. When combined with RPA, AI can help recruiters review a large number of job boards, process documents, and read and process data from those sources.
Recruitment chatbots can assist candidates by engaging them and providing information about jobs as they search. NLP assists organizations in writing job postings and offer letters that are more accurate, appealing, and free of inappropriate language that may discourage some candidates from applying. It also enables chatbots to respond to people in a user-friendly and accurate manner. Furthermore, machine learning adds continuous improvement to AI, which means that the software becomes more effective over time.
Integration of Sales CRM and ATS
Your processes are inherently more effective and easier to use when your sales CRM is integrated with your candidate CRM and ATS (rather than having to buy and manage dozens of semi-connected applications). Furthermore, by integrating sales and marketing automation into your company's CRM, staffing firms can expertly match open job reqs to candidates, as well as implement automation sequences and drip campaigns to nurture sales leads and existing clients.
You conveniently can get a blueprint of your operations and pipeline when all of your records can connect/communicate with easily. Candidate records that are linked to each of the jobs (and companies) with which they have been associated.