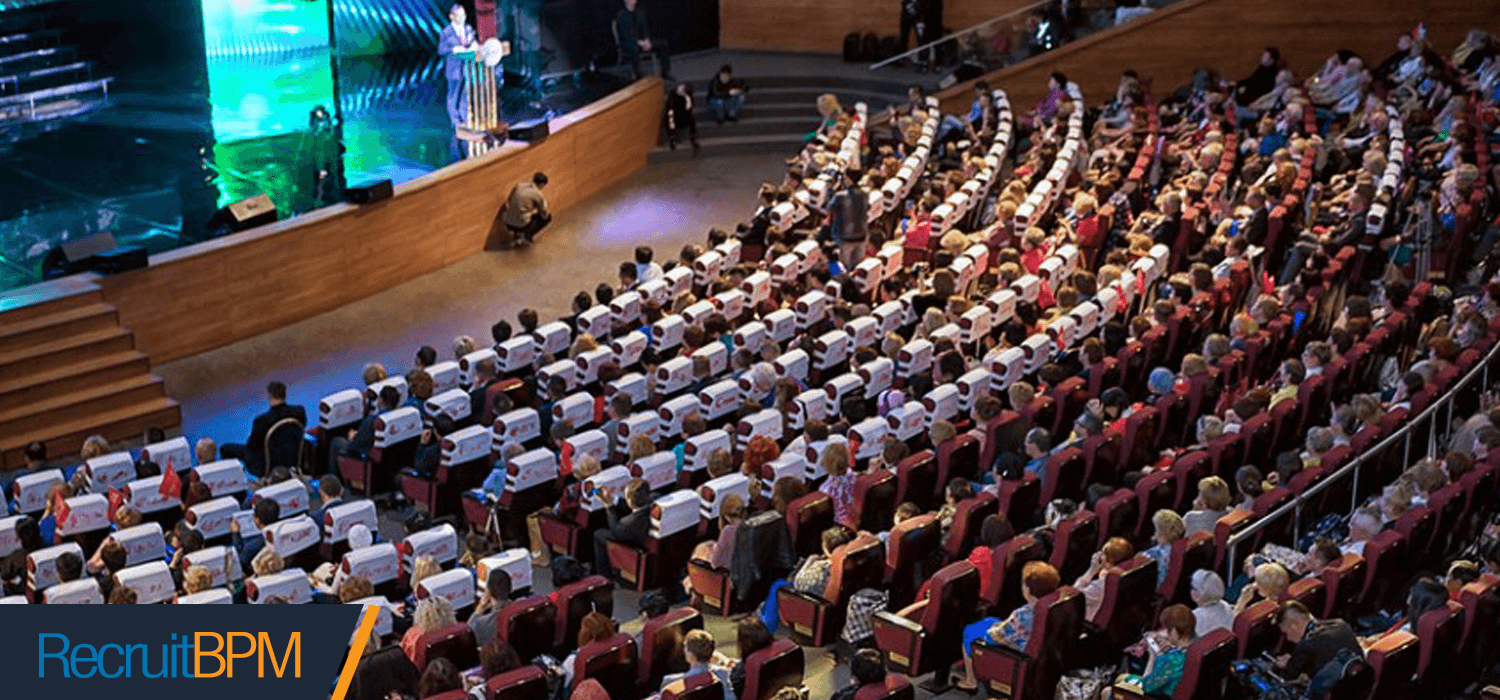 The recruiting and staffing industry much like other business fields are constantly developing, everchanging, and taking on different trends. As a recruiter, you need to stay up to date regarding the latest happenings in the business world. Luckily, it has become very simple to do so, on account of the various talent acquisition events and recruiting conferences which are held every year.
But what's not so simple is to decide which event is worth attending. After all, there are a lot of them and each event is different from the other. Hence, to make it simpler for you to select, we have summarized 10 of the top 2019 recruiting conferences. Let's have a look at the list of top 10 staffing and recruiting conferences of this year:
SIA Executive Forum
February 25-28, 2019, Austin, Texas
For almost 30 years, SIA had been organizing the award-winning Executive Forum. This event offers guidance from the best speakers on a vast range of HR and recruiting topics. The aim is to benefit the staffing firm owners and senior-level executives to effectively extend their business. As for 2019, they are arranging sessions under the topic of Breakthrough Leadership, offering the CEOs, owners and senior level staffing executives with crucial insights. These strategies will help leaders take their leadership, and organizational development to next level. This outstanding executive conference will combine the inspirational and prominent speakers, focused group discussions on a vast variety of topics. Start your year with interesting insights, business intelligence, and in-depth informative sessions planned for the executive leaders for small to mid-sized and enterprise businesses. For more details and registration, click here.
Unleash
March 19-20, 2019, London | May 14-15, 2019, Las Vegas
Intended for the professionals who are determined to unleash the talent of their people. This annual series of conferences concentrates on the techniques through which the HR professionals and business heads can develop and sustain such employees who are completely ready for the future. Two events mark the 2019 calendar i.e. the Unleash Conference and Expo (March 19-20, London) and Unleash America (May 14-15, Las Vegas). Each of the two will be covering an extensive range of related issues. Whereas, the focus will be on on the front-line technology and the effect of artificial intelligence and digital transformation. In the past conferences, prominent speakers such as Simon Sinek, Sir Richard Branson, Arianna Huffington, and Mo Gawdot were involved. Without a doubt, this year will also include inspirations from the motivators and achievers of the similar abilities.
ERE SourceCon
March 19-21, 2019, Seattle Washington
SourceCon was originally developed by sourcers and recruiters to deliver effective information and insights regarding sourcing best practices. ERE SourceCon is a place to gain an understanding of the tools and strategies to practice faster sourcing along with achieving improved results. You will learn from the experienced professionals and will know how to identify the right candidates. The speakers will be sharing their own experience as from what trials and ordeals they have been through. Further, learn what strategies they used to tackle these problems in their careers. They will be sharing their knowledge, experiences, and perceptions which will be useful to your own career development.
Furthermore, you will be able to make yourself acquainted with strategies to effectively manage diversity in your sourcing, automation of your sourcing procedure, brand establishment, how to get most out of your recruiting software, and how to mend the unproductive recruiting solutions. To register for this incredible conference, click here.
TempNet Annual Recruiting Conferences
March 20-23, 2019, Las Vegas, Nevada
TempNet aims of providing the autonomous staffing agencies with a competitive edge compared to the giant national-level recruiting organizations. This year, at the first bi-annual conference of TempNet, the attendees will be acquiring guidance regarding marketing strategies, internal staffing resources and tools, mutual industry challenges. Furthermore, you will get guidance on how to develop and manage a competent recruiting agency. (Note: This conference is only meant for the members of the TempNet Staffing Association. If you want to go for its membership, click here.)
HR Transform
March 26-28, 2019, Las Vegas, Nevada
The city of Las Vegas is going to host another of the top recruiting conferences of 2019, HR Transform, which is particularly for the executive-level professionals, people in talent acquisition and CEOs of HR-focused startups. There are going to be nearly 200 speakers who will be addressing the attendees of this conference in more than sessions focusing on the prospects of work and how to utilize today's best techniques and strategies to prepare for the future. This conference will be covering all aspects of human resources, counting onboarding, employee retention, organization culture, and workplace benefits. Moreover, there will be time allotted to executive roundtable discussions, networking, and checking over the modern, greatest talent acquisition and management tools and products.
SHRM Talent Recruiting Conferences and Exposition
April 8-10, 2019, Nashville, Tennessee
Its amongst the many annual events organized by the Society for Human Resource Management (SHRM). This  talent conference and expo is a top-level informative and learning occasion for the recruiters and HR managers engaged in strategy development. Further, its also an exceptional opportunity to accumulate some of the professional development credits (PCDs). There are more than 80 sessions listed in the agenda including various themes. Themes such as pay transparency, the cost of internship programs, and candidate evaluations, are only a few to name. The attendees can develop their own schedules according to their requirements and interests. The exposition is also an excellent one for those attendees who are enthusiastic to get a hold of the newest HR software solutions. Further, along with networking with inspirational professionals.
StaffingTec 2019 Recruiting Conferences
April 9-11, 2019, Nashville, Tennessee
StaffingTec is a wide-ranging conference which encompasses all aspects of staffing, including recruiting and sourcing, sales and marketing, back office, and performance management. This year's conference offers an opportunity to the attendees to learn about the effect of the modern technologies on the staffing industry. It helps to discover innovative staffing technology solutions with highest ROI. Further, discover to network with over 300 peers to learn from their experiences in the staffing industry. What's more to it? Its a brief and comprehensive guide  in to help the attendees to decide how the conference experience can be advantageous for them.
ERE Recruiting Conferences
April 22-24, 2019, San Diego, California | October 14-16, 2019, Washington D.C.
Presented to the recruiters and HR managers by the same people organizing SourceCon, the ERE Recruiting Conferences are going to be held twice in 2019. First in April in San Diego whereas the next one will be in October in Washington D.C. This prominent conference will be bringing together the greatest intellects in the people business and includes sessions. Sessions will include prominent speakers, closed roundtable group discussions, and proactive workshops custom-made for talent acquisition professionals. The purpose of this conference is to bring around the entire recruitment team. Enthusiastic enough to get more information regarding how to deal with workplace harassment, how to create innovative job descriptions. Then this is definitely the one for you.