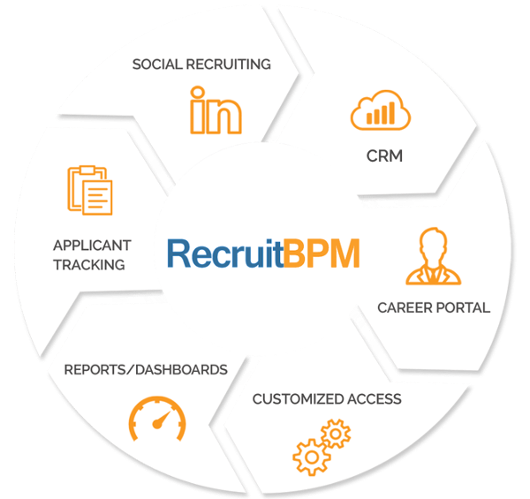 A top applicant tracking system is crucial for establishing meaningful connections. Secondly, building strong relations with the consumers might be the most important practice for any top business. Positive relationships play a vital role in receiving worthwhile feedback from a product's users, and it is hard for a business to innovate without a foundation of trust between itself and its customers. Prolonged periods of negative relationships can cause a product to fail before it even gets a chance to succeed.
As a new player in the cloud-based ATS market, RecruitBPM is acutely aware that user feedback is essential to our growth as one of the top applicant tracking systems. The RBPM Client Relationship team is always aware of our consumers. Moreover, client feedback has pushed RecruitBPM to place an enhanced CRM system into our platform. We believe that our new features and customization options will push RecruitBPM to new heights as one of the best applicant tracking systems on the market.
Innovate Top Applicant Tracking System with CRM Features
Our team focused on the major advantages of a CRM and develop a top applicant tracking system. RecruitBPM was able to take an exact approach to update its ATS software without being forced to reinvent the wheel.
The central purpose of expanding RecruitBPM's ATS software to include CRM features is to reorganize and modernize the processes of client communication. This superb feature can improve the handling of contacts linked with specific companies, advertising, engagements, and help manage client services.
RecruitBPM's CRM software gets the most out of its ATS console, communication tools, and integrations to provide company leaders an all-inclusive outlet of actions. It puts users in total control of so they can run their business swiftly. Encountering targets and deadlines are obvious roadblocks in today's professional ecosphere. But the RBPM platform ensures our consumer's upcoming tasks and goals are in a simple, user-friendly ATS module structure. RecruitBPM has recently released newly developed configurations that emphasize team association and a refreshed platform panel.
RBPM is aiming to improve customer experience with these three key features.
Firstly, adding Office365 integration to our Interview Scheduling.
Secondly, deploying an upgraded Combined Notes platform.
Thirdly, revamping Analytics APIs and data breakdown.
RBPM Microsoft Office365 Calendar and Google Calendar Integration
You spoke, we listened. Many of our clients called for an enhanced calendar integration in our top applicant tracking system. Moreover, we made this addition in order to simplify the RecruitBPM work cycle. All of our clients now have access to advanced calendar syncing inside our cloud-based ATS.  Moreover, Users will be able to view the availability of their team and of open meeting areas without ever leaving the RecruitBPM Platform. We're confident that this will allow us to remain one of the best (free!) applicant tracking systems on the market.
RBPM Application Data through Analytics API and additional support
RecruitBPM's APIs permit the top applicant tracking system to become a virtual staffing and recruiting operating system. It also enhances the functionality of the system to understand our user's precise needs. With this release, our fresh API Analytics help to organize a large amount of data that our client's product.  It is highly optimized for better and easier reporting with data analysis. Data is the backbone of the hiring cycle process and RecruitBPM serves this task with even greater precision than most.
Email Integration API to Track & Sync Your ATS Contacts
There has been a lot of wasted time spent on making your work-flow perfect. RecruitBPM's Email API integration lets you sync & track your candidate's and contact's emails. The advantage of email API integration is to automate Microsoft 365 and Gmail email services.
Like any good product, RecruitBPM is constantly evolving. This is why its the top applicant tracking system for organizations, recruiters and HR managers. We are a work in progress as we appreciate all feedback that our clients can give us. Moreover, we have an upcoming upgrade (dubbed "x-release" by our developers) to our free applicant tracking system. We are very proud of the RecruitBPM's progress. Lastly, we are proud of the fact that our clients consider RecruitBPM ATS as one of the best ATS in the market.
If you're a member of an organization that is in need of top applicant tracking system, and you'd like to try RecruitBPM's free ATS platform, contact us to schedule a demo today!