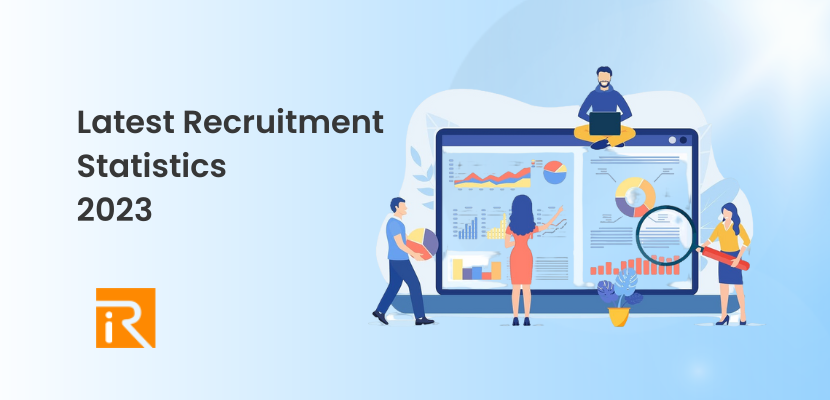 Many job seekers are passive despite job search websites and social media platforms being available. Recruiters play a crucial role in accessing this untapped potential. Our research indicates the following:
73% of potential candidates are passive job seekers. They are employed and interested in learning about new job opportunities, but reluctant to apply.
94% of hiring professionals who use ATS (applicant tracking system) report that the software has enhanced their recruitment process.
On average, a company spends $98 per day on a vacant position.
It takes an average of 42 days to fill a job vacancy.
60% of applicants abandon their online job application midway due to excessively lengthy or complicated application forms.
High-quality candidates are only available in the job market for an average of ten days.
To provide more in-depth analysis, we have broken down the data as follows:
General Recruitment Statistics
Recruitment involves evaluating the fact that most candidates are not actively looking for jobs. Studies show that 73% of potential candidates are passive job seekers, but 87% of them are willing to consider new job opportunities offered through active recruitment.
The average job vacancy lasts 42 days, which is longer than the typical 30-day active job listing. A vacancy that lasts 42 days can result in a loss of $4,129 on average.
While only half of employers use ATS, which is software that tracks job applicants, at least 78% of those who use it find that it makes the hiring process easier.
Recruitment Statistics By Strategy
Recruiters have different strategies to stand out from other companies and job boards, and with most candidates being passive job seekers, there is a lot of potential to tap into.
According to research, 84% of companies use social media for recruiting. Social media platforms are used to attract 87% of non-management salaried employees, 82% of management employees, and 55% of non-management hourly employees. However, social media is less effective for recruiting executive or upper management employees, as only 45% of them are recruited through social media.
Social Media Recruitment By Job Level
Job seekers highly value knowing the potential salary range upfront, with 70% wanting this information in the first message from a recruiter. This is because money is the primary motivator for 67% of job seekers, and recruiters risk losing engagement if they are not upfront about salaries.
Referrals are an effective way to find the best hires, with 88% of businesses reporting that their top hires come from referrals. In fact, potential candidates are 46% more likely to accept InMails when referred by current employees, and 65% of contingent workers found jobs through referrals.
A strong employer brand can reduce recruiting costs by 43% and turnover by 28%. This is important because almost 50% of workers will not work for a company with a bad reputation.
Direct sourcing is becoming increasingly popular, with 39% of companies using contingent workers relying on this method to find candidates, and 23% planning to implement it in the future. Direct sourcing can reduce hiring costs by up to 30% and speed up the hiring process.
Recruiting through employees' networks can increase a company's talent pool by tenfold. Fortunately, most employees are willing to refer their network for free, with 67% doing so to help friends or their company, while only 6% do it for monetary or recognition reasons.
Why Employees Refer Job Candidates?
Recruiters contacting applicants can speed up the hiring process, with 89% of applicants accepting job offers more quickly when contacted by a recruiter. This is beneficial for companies, as the average cost of a job vacancy is $98 per day.
Social professional networks are the top source of quality hires, and LinkedIn is one of the most important social media sites for networking. In fact, over 75% of recent job changers used LinkedIn in their decision-making process.
Recruitment Statistics By Job Seekers
Successful recruitment is heavily influenced by the preferences and behaviors of job seekers. Our research reveals the following statistics:
In 2021, 52% of workers considered changing jobs, with 44% actively planning to do so. This highlights the potential impact that recruiters can have on the job market.
Cultural fit accounts for around 10% of the hiring decision, with the other 90% being based on skills and abilities. However, cultural fit is more important in certain fields, such as tech, where up to 59% of recruiters have rejected candidates due to a lack of fit.
A lack of salary transparency is the most frustrating aspect of job searching for at least 50% of job seekers. Other common complaints include canceled or postponed interviews and being "ghosted" by recruiters.
Please refer to the chart below for additional reasons why candidates withdraw from the recruitment process.
Why Job Seekers Drop Out Of the Recruiting Process
Job seekers heavily rely on social media, with 79% of them using it for job searching. However, social media presence can make or break a candidate's chances of getting hired, as 21% of employers are less likely to consider an applicant without any social media presence, while 54% have rejected a candidate due to content found on their social media profile.
Although 41% of job seekers use job boards to find new opportunities, networking still remains a more effective way to land a job, with up to 80% of jobs filled through personal and professional connections.
Online job applications are also on the rise, with 45% of candidates applying for jobs online. Moreover, the COVID-19 pandemic has increased the demand for remote jobs by 460%.
Mobile devices have also become a popular tool for job searching, with 94% of job seekers using smartphones to research job openings. Many applicants are now using mobile devices to send emails during the recruitment process, with about 75% sending emails and 50% filling out entire job applications via mobile.
Recruitment Trends and Projections
Recruiting is becoming increasingly important, and with the rise of online activity and remote work, the recruitment process must evolve. To improve recruiting performance over the next five years, 68% of recruiters believe investing in new recruiting technology is the best way. Recruitment software has had a positive impact on the hiring process, according to 94% of recruiters.
The COVID-19 pandemic has caused 70% of professionals to believe that virtual recruiting will become the new standard, and 81% agree that it will continue post-Covid. As a result, interviews have become 86% virtual. Diversity is an important factor in recruiting, as agreed by 77% of professionals, and remote work can help increase geographical diversity among applicants by 20%.
Recruitment Statistics By Common Issues
There are some negative trends associated with recruiting, such as 75% of recruiters experiencing candidates changing their minds before being hired. The lengthy hiring process is a major reason for candidate drop-outs, which can take up to 42 days. Experts suggest hiring a candidate within 10 days to avoid losing them to competitors. A significant 39% of candidates decline a job offer because they received another offer.
At least 74% of recruiters face hiring competition, which is linked to the time it takes to hire a candidate. If a candidate has been waiting for 15 days to hear back from a recruiter, they are more likely to accept a job offer they received yesterday. At least 72% of employers find it challenging to acquire skilled candidates, which is at a 15-year high, meaning 7 out of 10 companies are struggling to hire skilled candidates.
Conclusion
Recruiting is a crucial factor in the process of finding and hiring the most qualified candidates. With the majority of potential candidates being passive job seekers, it is important to have effective recruitment strategies in place to attract top talent, especially since many employers struggle to find skilled candidates.
However, not all recruitment strategies are equally effective. The most successful recruitment methods typically involve being transparent about salary information and utilizing referrals and social media.
Research shows that 84% of companies use social media for recruitment, 70% of job seekers want to know about salary range during their initial communication with a recruiter, and 88% of businesses report that their best hires come from referrals.
The recruitment industry continues to evolve with the advancement of technology, leading to the emergence of new strategies. The current trend towards virtual recruitment, which 70% of professionals believe will become the new standard, reflects not only the impact of the COVID-19 pandemic but also the potential direction of future recruiting practices.