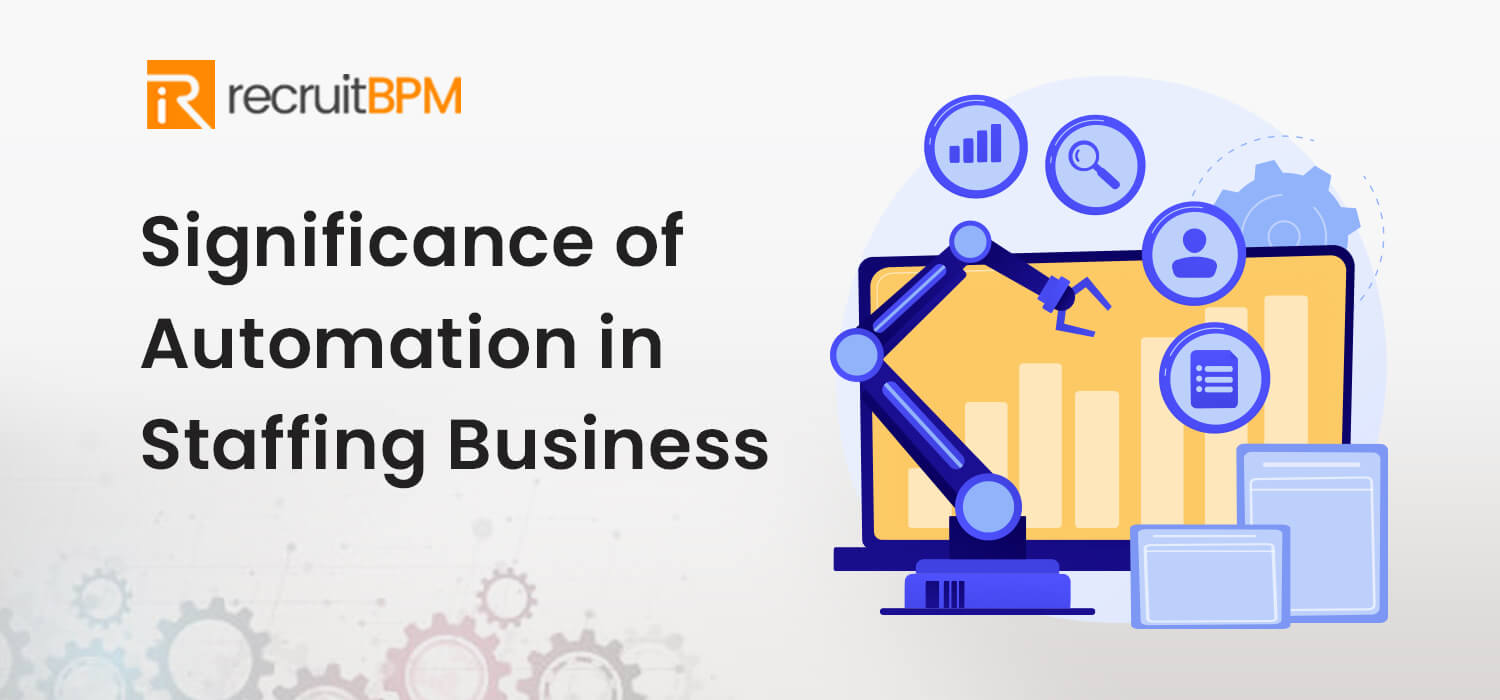 If you work for or run any talent hunt company, it is inevitable that the question of incorporating automation in staffing business must've popped through your mind at some point. Naturally, one begins to ponder over questions like:
Why do I need to integrate automation into my staffing business?
Does automation in staffing business effectively means that I don't need recruiters anymore?
How and what are the tasks that fall under the umbrella of automation?
How much expense would it require if I welcome automation in my staffing business?
Continue reading this article if such questions also intrigue you. Here you will find some of the most important answers you're looking for when it comes to automation in staffing Business and how it can elevate your overall business productivity.
Significance of Automation in Staffing Business
Over the past few years, the recruiting landscape has greatly changed. The traditional practices that once were fruitful are futile today. In this contemporary era of advanced recruiters, the hiring industry has gone completely dynamic. Recruiting is no longer considered as an easy job. Every stage of candidate life cycle i.e. sourcing, screening, selecting and onboarding demands deliberate attention to the details. The delicacy pertaining to these steps makes it even more critical to be properly addressed.
Fortunately, yes you're right, that's exactly where automation finds its way into the hiring process. In the following pages, you'll find a brief of some of the benefits of automation in staffing business.
Time Leverage
Time is known to be the greatest of all forms of currencies. Especially when it comes to the hiring sector, recruiters are extremely short of time since they continuously need to work and find top talent for their clients before somebody else does. A study conducted by LinkedIn suggests that about 40% of the work time of any recruiter is spent on tasks pertaining to other departments. Therefore, by incorporating automation in staffing business, recruiters can better organize their time by automating various human based errands.
Enhanced Candidate Experience
In the contemporary digital world, big data rules everything. Application and data driven practices have made their way in every niche or industry. Likewise, automation in staffing business has also led to data driven culture in the hiring industry especially when it comes to enhancing the candidate experience. The competitive nature of the recruitment industry calls for recruiters to provide state of art candidate experience to their applicants. Because obviously, if an organization follows substandard practices towards their candidates, most likely they would instantly bounce off towards competitors at any minor inconvenience. According to a survey conducted by LinkedIn in 2021, more than 58% of candidates affirmed to have rejected a job offer owing to the absence of a pleasant candidate experience.
Robust Feed-back Loops
For any system to work better in favor of it, follow up and feed back loops must be an integral part of it. Likewise, when it comes to recruitment market, getting back to your candidates and clients does wonders. For instance, many a time, we as humans miss out on important emails due to human error. That's where when automation in staffing industry comes in; a simple automated follow up email to a potential candidate can help you save plenty and time and monetary resources. According to Zippia, a whopping average of $4700 is spent on a single hire in US. So, if automation in staffing business can help bring down this number without having to put a lot of efforts, it's clearly a big win for you.
You just had a quick run through of few striking benefits of incorporating automation in staffing business. Now let's discuss few approaches of how you can implement automation in staffing business:
Automated Screening Process
Recruiters, anywhere in the world, understand the drag of screening hundreds of thousands of candidates every day in order to fill a single job position. However, if you introduce automation in staffing business, narrowing down to a list of most suitable candidates becomes quite easier.
The significance and application of applicant tracking systems in the hiring industry is like truth under the finger nails. However, through the implementation of automation in staffing business, you can conveniently and automatedly post your job listing on multiple online venues including social media channels like LinkedIn, Facebook, Indeed, Glassdor and many other. Moreover, you can also concatenate such listings to integrated job boards as well by simply introducing automation in staffing business.
Read more about Applicant Tracking System here
Automated Communication Channels
When it comes to the recruitment industry, effective and timely communication serves as the cornerstone to successful hiring. The absence of efficient communication during hiring not only leads to an unpleasant candidate experience but also serves to vandalize the company's name. If a person is already at your door in search of better employment opportunity, the last thing he expects from you is to add more stress to it.
On the contrary, if there's an automated process that can assist recruiters in managing communication with their candidates and clients, it greatly serves to optimize the overall recruitment process. With the help of such automation in staffing business, recruiters can update their candidates about their status and also prompt call-for-action emails. Ultimately, this can lead to better candidate experience and bring more leads to the recruiters.
Automated Interview Schedule
By using staffing automation, you can simplify the scheduling of interviews, allowing candidates to schedule their interviews at times that work best for them. You can let candidates know what time slots are available. In this way, candidates are able to schedule or reschedule their interviews without interrupting the work of your team. Last but not least, integration of ATS and CRM will let you see every step in the hiring process and monitor all activities from one place.
About RecruitBPM
RecruitBPM is a market leader when it comes to optimizing candidate redeployment rates. Our ATS is cost-effective, and time-saving software. It is a data-driven dashboard that keeps all the essential information on track. Request a free demo ATS today to check out the features of our Applicant Tracking Software.