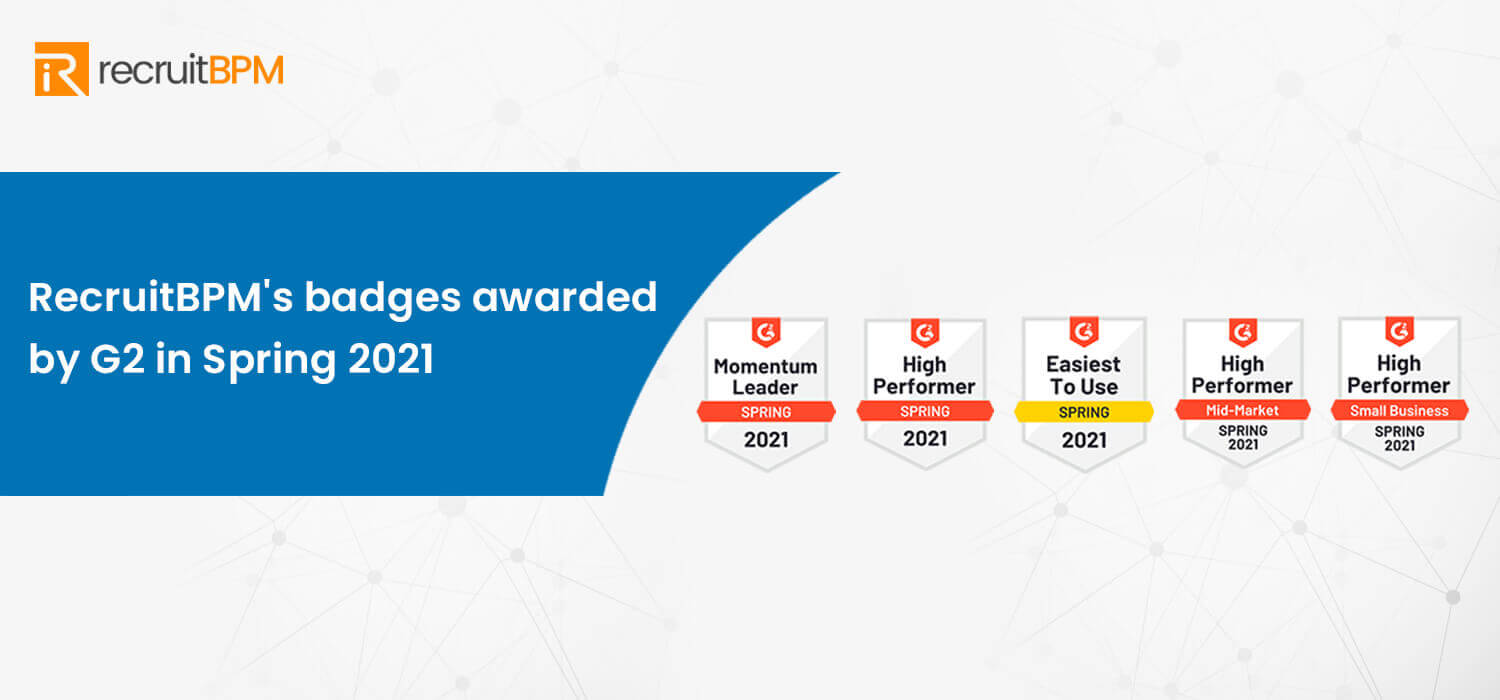 Here at RecruitBPM, we value every single review given by our valuable customers on external platforms. These reviews give us an honest understanding of our product and where we stand in the marketplace.  These also help us drive the novelty process when planning the roadmap of our future. What our customers say about us to the wide world matters and impacts every aspect of our business. We emphasize on learning from the user experiences so that we can achieve our goals as being the best recruitment and staffing solution.
Awards
RecruitBPM, an industry-leading recruiting and staffing software, has earned five distinguished awards and named "High Performer" in G2's Spring reports for Mid-Market and Small Business categories for the year 2021. Not only this but we are proud to further announce that we have been awarded with 'Momentum Leader' and 'Easiest to use' badges as well. RecruitBPM received the High Performer award in three different categories including:
Recruitment Marketing
Staffing
Applicant Tracking System
As a top performer, we average 4.8 out of 5 stars and shine brightest on Ease of use, Quality of support, and Ease of setup.
About G2 and High Performer
Off all the software review platforms, G2 is one of the most popular and trusted platforms where people share their opinions and experiences on different software products. Every quarter, G2 publishes an extensive and detailed report that highlights the best solutions in various categories available in the market. G2 assesses software providers based on their presence in the market and customer satisfaction and recognizes high performers.
As summarized by our valuable customers, RecruitBPM helps many staffing and recruiting firms to deliver their staffing tasks hassle-free. Our ability to serve our customers by listening to them and anticipating their needs makes us proud and honored to be recognized by G2 as one of the best solutions in the marketplace.
What our customers say about us:
Read Product Reviews at G2: Business Software and Services Reviews