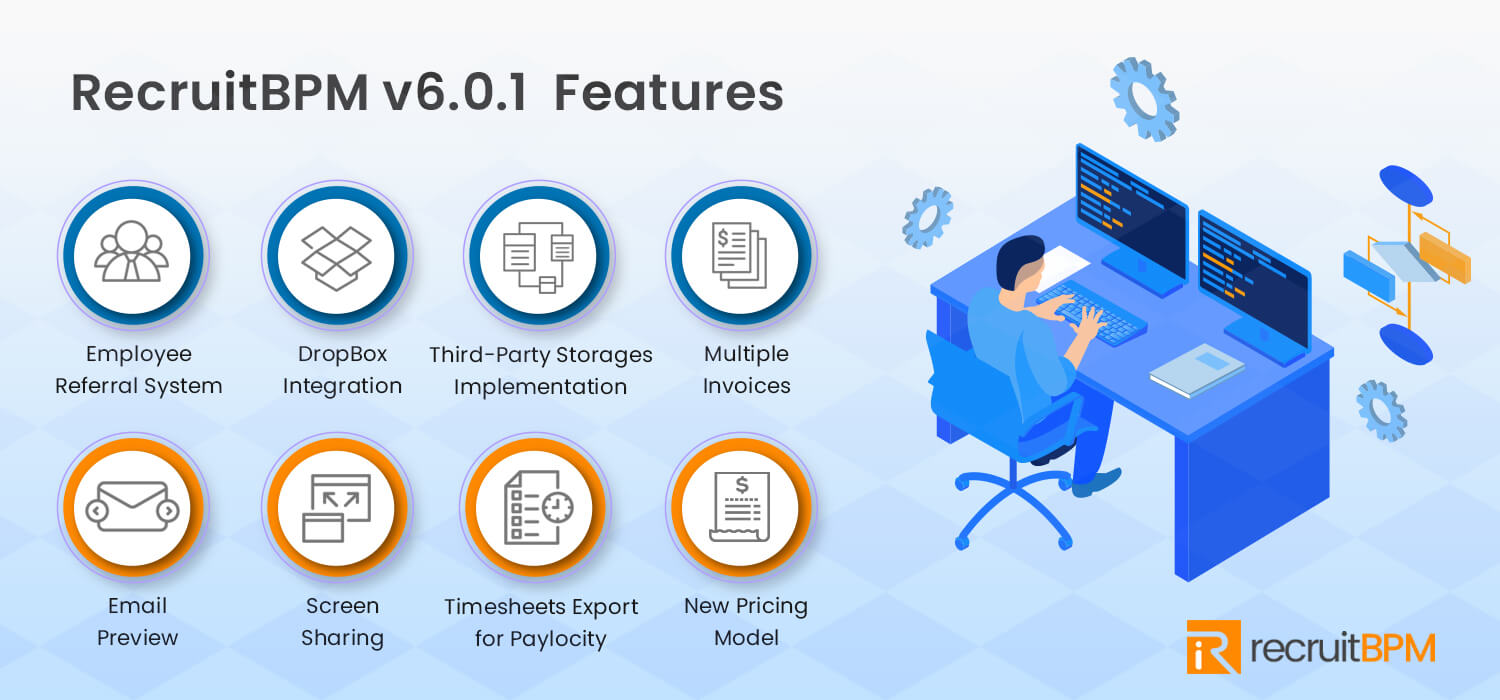 RecruitBPM is focused on deploying some of its new features. A glimpse of new features (RecruitBPM v6.0.1) has been released for clients to review where RecruitBPM is heading.
RecruitBPM v6.0.1  Features
Employee Referral System: 
An employee referral system has been developed. It will allow recruiters and hiring managers to refer candidates to specific jobs and also allow candidates to refer other candidates to the specific job.
DropBox Integration: 
Integration with the DropBox has been done on RecruitBPM for the ease of users to upload any file they want to upload directly from their DropBox account and can save any of the resume or documents to their DropBox account.
Third-Party Storages Implementation:
 Integration with Dropbox, Google Drive and One Drive improved in the RecruitBPM. In addition, third-party storage integrations are now available app-wide to be used with resumes, documents, invoices, timesheets and many more.
Multiple Invoices: 
Multiple Invoices functionality has been developed to work with the time and expense system. Now a user can generate multiple invoices.
Email Preview: 
Application wide access to email functionality. Now you preview every email you send from RecruitBPM with a click of a button.
Screen Sharing:
RecruitBPM v6.0.1 introduces the  screen sharing feature in live video interviews. All the participants of the live video interview can share their screens.
Timesheets Export for Paylocity: 
Now it has functionality for exporting timesheets directly into Paylocity. You can export timesheets to Paylocity with one click of a button.
New Pricing Model: 
In RecruitBPM v6.0.1, a new and improved pricing model is now available. We have now volume-based pricing. Moreover, you'll need to payless in case you have multiple users. Likewise, there are more slots for it. Please review the pricing update here https://recruitbpm.com/pricing.