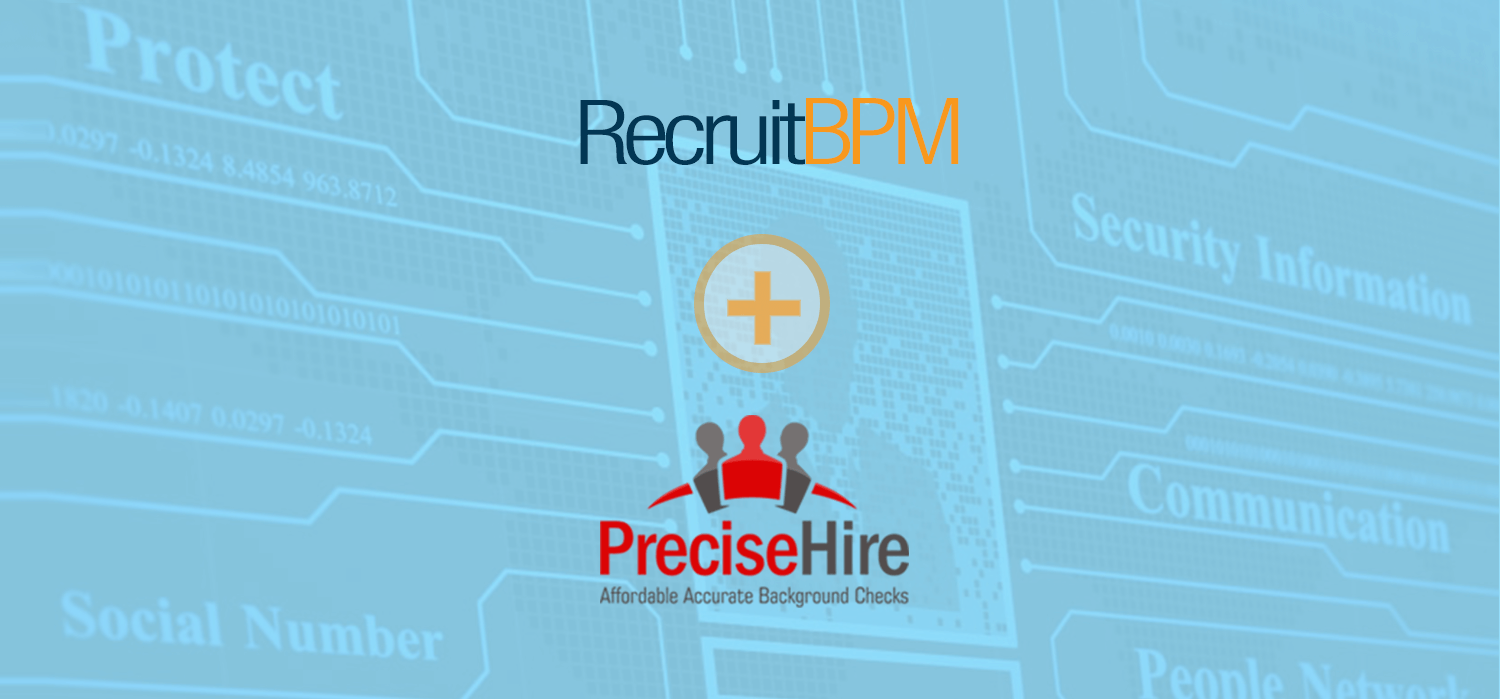 Quality Background Checks with RecruitBPM and Precise Integration
Luckily, many criminal background checks and background screening are out there to help the recruiters and HR professionals. The employers have the right to know more about the candidates they are going to hire. It necessary to ensure that prospective new hires don't have any hidden records in their past which could be harmful to the business. As this can result in a security exposure for the clients and other employees.
Good news for the recruiters and HR professionals that RecruitBPM now integrates with Precise Hire. Found in 2000, Precise Hire offers background check and screening services. Precise Hire top management team carries expertise in human resources, staffing, employment screening, general administration, internet industries etc.
It practically offers all kind of screening and background checks. The pre-employment assistance includes criminal and sex offender searches, employment and education verifications, vehicle records, credits records, reference and license checks. Additionally,  drug and health screenings, and Social Security number tracking are also part of background checking process. Precise Hire also offers new hire and post-employment screening including identity and immigration status verifications and casual drug testing.
Necessary Significance of Quality Background Checks
"Appearances are often deceptive" is a very common saying. However, it has very particular meanings in terms of the recruiting process. Regarding the matter of selecting the best candidates for your business, you must make it a routine practice to go deeper than just the face value.
Having a background check can help you to select the right candidate every time. Doing consistent background checks reduces the chances of potential problems for the company. It is crucial for the recruiters to ensure that an applicant meets all the requirements of every assignment. Moreover, the  ROI should be good for the clients receiving the applicants.
Why is it important, from a recruitment perspective? There are two major reasons it is absolutely crucial to have background checks on candidates. First, the candidate will be screened meticulously to make sure that all the credentials and experience history listed are correct and precise for the requirements of each job order. Secondly, the recruiters will be able to present their candidates to the HR manager with confidence and will be able to have a more effective negotiation as they will know for sure whom they are representing.
In a competitive job market, the individuals, for the most part, are more prone to exaggerate or conceal some specific details of their records. The purpose of doing so is to emerge as a more attractive candidate to the recruiters. Whereas a few such actions can be very obvious to the skillful recruiters, but not all of them will be as simple to notice without a background check. Your background check must include:
Verification of work history and educational qualification before the interviews
Drug screening test by a third-party officer prior to a job offer made
Criminal background check (civilian vs. government)
Get your applicant screened through one platform
The best part about this integration is that you can launch the candidates' and employees' background screening through RecruitBPM's platform and receive the results inside their RecruitBPM profiles. You don't need to go or log in to another website to do so. Request your free live demo with RecruitBPM today!