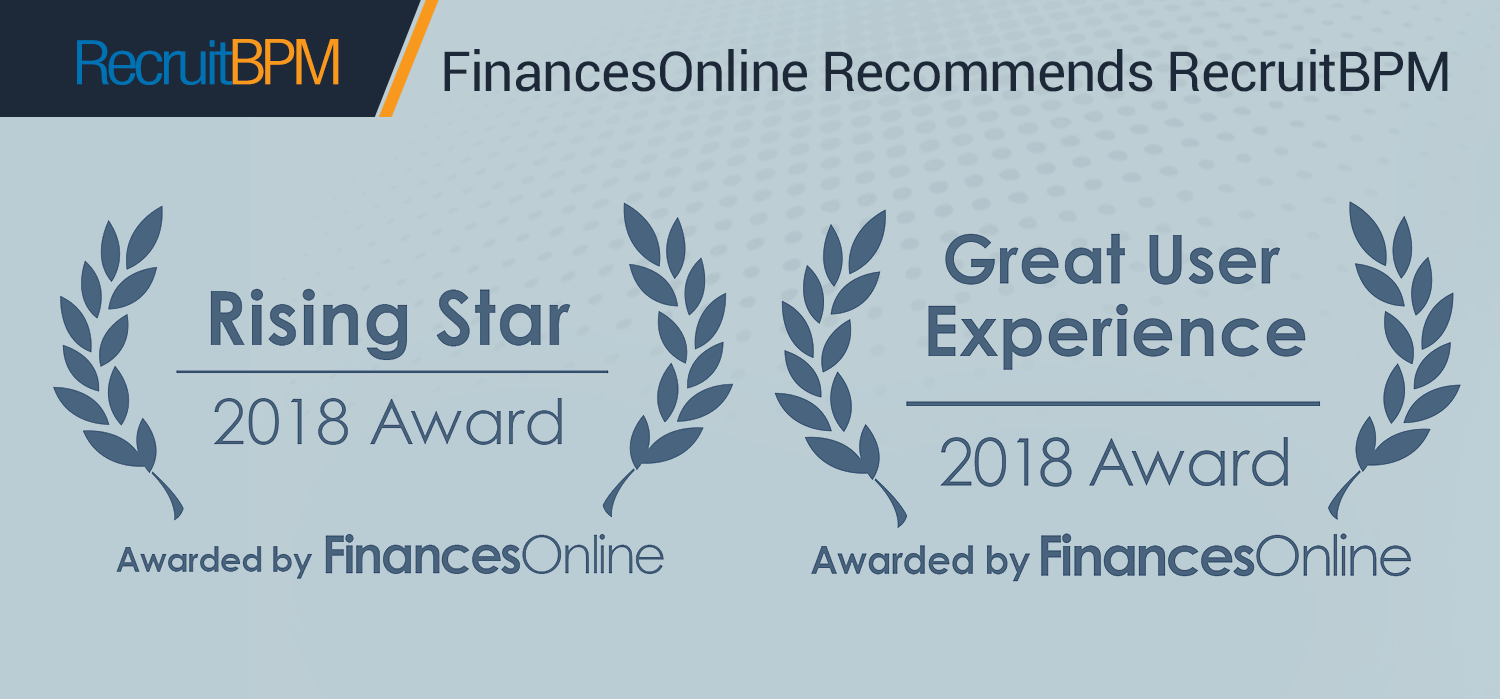 RecruitBPM ATS joins the top 100 Winning Applicant Tracking Software…
The RecruitBPM team is proud to announce that the software review website FinancesOnline has recognized RecruitBPM ATS as an Industry Winning applicant tracking software. FinancesOnline certified us with their esteemed Great User Experience and Rising Star awards for 2018.
FinancesOnline's experts included RecruitBPM in their applicant tracking software category and wrote a highly favorable review. This review states that RecruitBPM is quite a comprehensive software. Moreover, it offers a wide range of functions as well. Stating that our ATS features provide users with "all the tools and capabilities" for the entire recruitment process "while greatly reducing both time and expenses required to get the perfect candidate."
What Made RecruitBPM List Among Industry-Winning Applicant Tracking Software?
Highlighting features such as "powerful parsing engine", a feature which greatly impressed FinancesOnline's team that they included us in their applicant tracking alternatives. This feature allows users to determine candidates that are perfect to fill in a critical position.  Hence, there is no need to spend countless hours reading resumes. FinancesOnline's review team are also praising various other features of our system as well. Such as matching candidates with new roles, filtering for specific skill sets and work experience in a specific industry. In addition to this, leveraging social media to attract and engage talents are other features that FinancesOnline's review team applauds.
To learn how RecruitBPM stands as the best alternative. Check out our complete product comparison with other industry-leading applicant tracking systems.
FinancesOnline also awarded RecruitBPM with distinguished awards of Great User Experience and Rising Star. The former distinction is given to software solutions that have passed FinancesOnline's quality standards for ease; while the latter recognizes one's positive client reception that paved the way for increasing popularity on the market.
Make sure to read FinancesOnline's review for the full details and try our free standard edition that comes equipped with the core essentials for managing your entire recruitment process.
If you want to learn more about our exclusive ATS, sign up for a free demo at RecruitBPM right away.