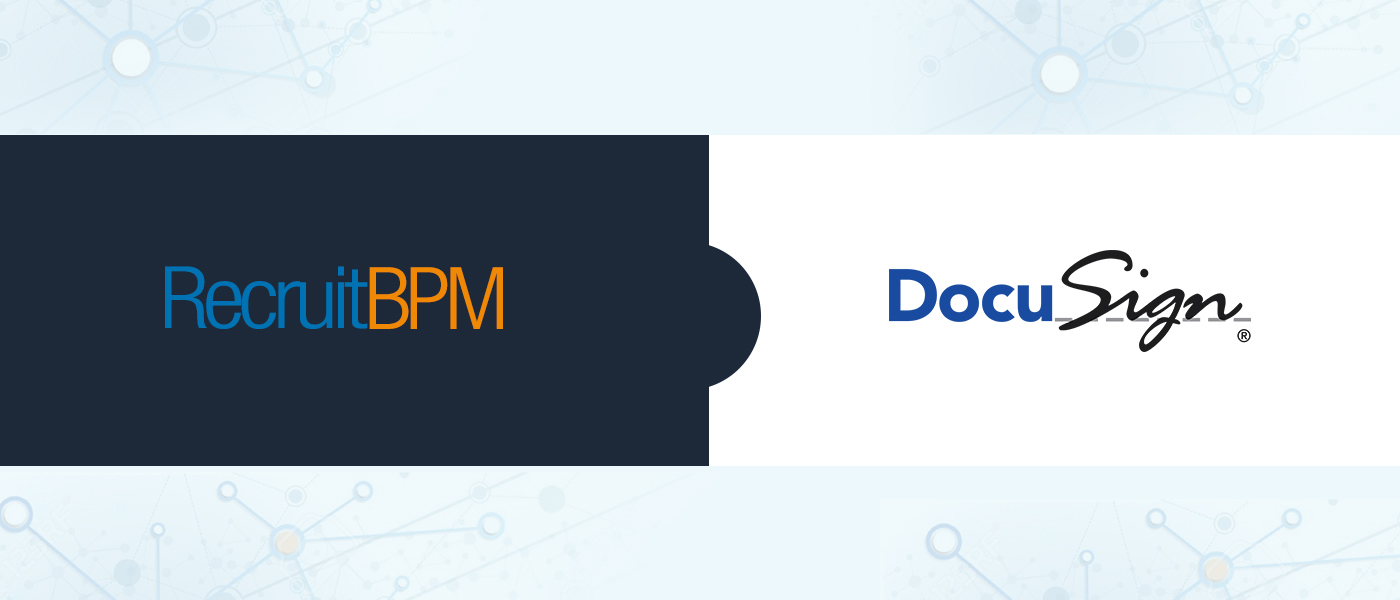 RecruitBPM has been helping many businesses to remain one step ahead in the job market, where throat-cutting competition prevails, to make their hiring process easy and simple. RecruitBPM continuously makes efforts to leverage the latest technology.  This allows businesses especially the small ones and startups in revolutionizing their recruiting setup by hiring the top talent. RecruitBPM now integrates with DocuSign to make the hiring fast and simple for both employers and candidates. Besides DocuSign, RecruitBPM offers other multiple integrations.
What Does DocuSign Do?
Firstly, let's get a clear idea about DocuSign; it's an electronic signature application. It allows more than 250,000 companies and over 100 million users to electronically sign, send and approve documents. It can allow any business-related materials and transactions using any device from anywhere and at any time. This innovative platform has become the benchmark of e-signature in the business world.
Expediting the workflow and approving of documents with DocuSign is completely secure digital signature technology. DocuSign has been changing the ways in which business activities had been done over the past few years. Now without wasting the time waiting for a paper contract anymore, businesses can increase their ROI quite swiftly.
With DocuSign's observance of international policies and security certifications, companies can keep their businesses digital. Cloud Technology allows easy, fast and secure sending, signing, managing, and storing the documents, while increasing business productivity.
Key Advantages of DocuSign
RecruitBPM with its analytics-driven and across-the-board recruiting platform speed up the recruiting process.  RecruitBPM applicant tracking system is easy to use. For instance, Social Recruiting allows you to reach millions of candidates on social media platforms like Facebook, LinkedIn, etc. Further, the dashboard reporting keeps you updated with recruiting analytics and your overall recruiting process. RecruitBPM's integration with DocuSign offers numerous benefits to the users:
 

DocuSign practically supports any type of documents whether its PDF, docx, doc, xls, xlsx or txt, etc. It is also integrated with almost all the business tools and systems that are widely used such as Microsoft Office 365, Dropbox, Google Drive, Google App, etc.

DocuSign is easy to use and exceptionally flexible as it supports all kinds of signing contracts from the easiest to the complex ones.

With its configuration, it saves businesses from modifying their workflows.

DocuSign's presence on the cloud platform allows users to integrate with the available business systems very quickly and easily, offering high levels of adaption, functionality, and innovation.

DocuSign complies with security policies ensuring that the documents, as well as the signer's identity, remain to be secure and confidential.

Moreover, being a global leader, DocuSign supports 13 sending languages for the documents, which are detected through the browser's language setting, or they can be configured by Administration tools.
So, expedite your entire recruiting process from sourcing to onboarding with RecruitBPM, making it easier, more effective, and more efficient. Also, get comprehensive analytics and insights for your recruiting process with RecruitBPM's Reports and Dashboard functionality.
If you want to learn more about RecruitBPM and our exclusive Applicant Tracking System, you can approach us and avail free demo version of our ATS for a run through of our recruitment strategies and ways.