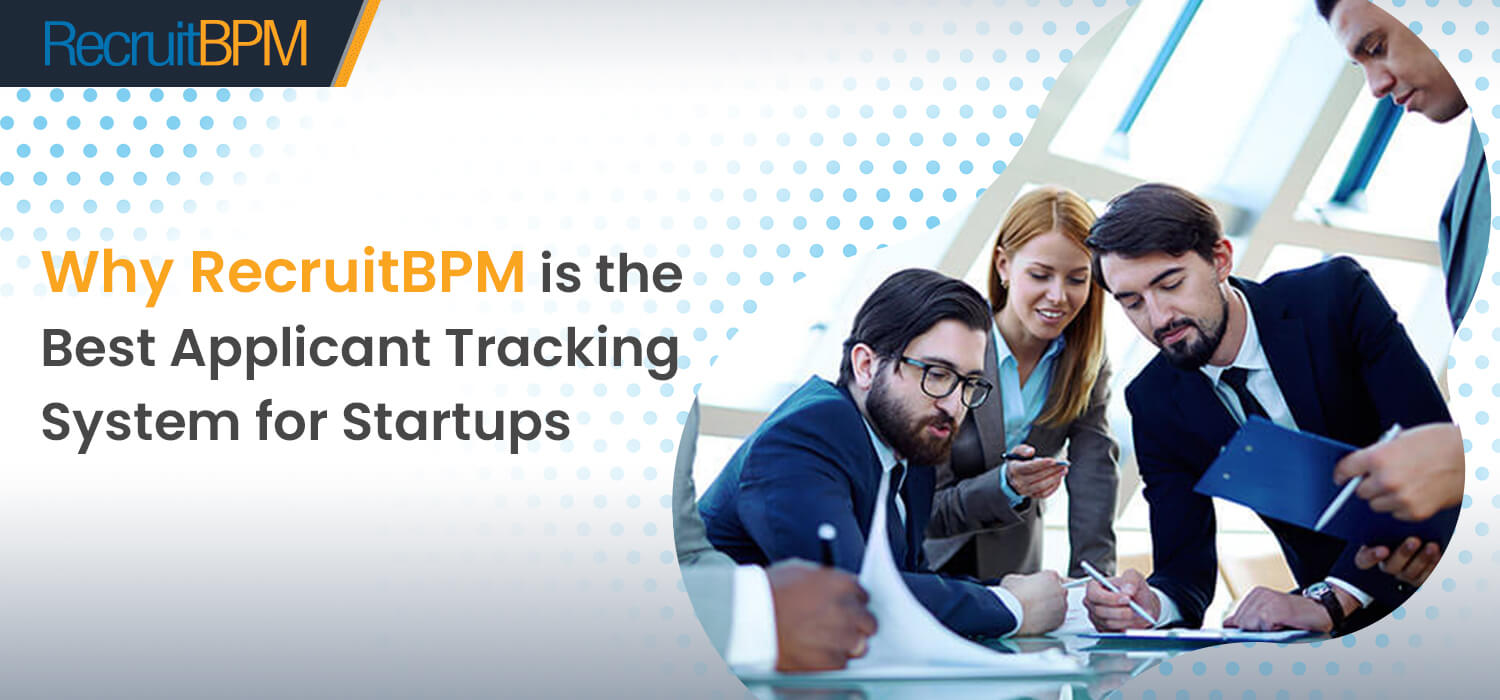 Resource Management is one of the biggest challenges for any startup and undoubtedly at the heart of it is, hiring. Getting the right people, at the right time, plays a significant role in how a startup progresses and evolves, whatever industry it may be in. Most startups aren't using an applicant tracking system (ATS) or never even thought of adopting one. However, RecruitBPM offers a uniquely positioned, integrated applicant tracking system for startups that enables you to hire the top talent and manage client relationships at a fraction of the cost.
Which is the best stage to buy an Applicant Tracking System for startups?
There are many ATS platforms that startups can use to assist their hiring process. The ATS marketplace has platforms that can vary from features, pricing, integrations, and so on. However, it's important to keep those factors in mind, here is why Recruit bpm is the best applicant tracking system and CRM for startups. Below are few questions that you can look into internally prior to implementing an ATS:
What is your current recruiting process?
Which ATS features are must-have for you?
What are your pain points?
How your recruiters spend most of their time?
What's your budget?
In addition to the above, as your startup evolves and your needs grow, there are several other factors to consider for an applicant tracking system for startups:
Projected New Hires
If your startup is in the hiring phase and your recruiting manager is going to be busy filling staff, then why wait? Consider an applicant tracking system to streamline your hiring process with RecruitBPM.
Recruiting Team
Hiring involves engaging with your HR teams and managing client onboarding. This will primarily involve a Hiring Manager who will be dedicated to hiring candidates by posting jobs and shortlisting qualified candidates. RecruitBPM's all-in-one integrated hiring platform can make life easier (at least for your Hiring Manager!) – covering the entire recruiting life cycle within the platform and integrating with your career portal as well. Moreover, the Recruiting Box feature instantly shows the various candidates and their stages in the recruiting phase – increasing visibility and insights for your HR team.
Think long term
An applicant tracking system for startups is going to be a decision made for years ahead rather than months. Your organization will change, but the platform will remain with you throughout your startup's growth. Hence, RecruitBPM has had long term clients who have grown as an organization with Recruit BPM assisting their hiring process in each step of the journey.
Return on Investment
As a startup, you may have an investor(s) onboard or you're self-funded, so it's important to consider an applicant tracking system that suits your budget and addresses your needs at the same time. RecruitBPM offers a low-cost Applicant tracking system subscription – "Startup Essential" plan that is at a fraction of the cost than other vendors in the market. With its recruitment marketing capabilities and integrated client communication channels, Recruit BPM provides great value for your ROI's bottom line!
When RecruitBPM's ATS is the best option for Hiring in Startups?
Why should you consider RecruitBPM?
RecruitBPM is designed to help startups recruit, screen, shortlist, communicate, and hire top talent. RecruitBPM is an all-in-one system to increase efficiency, reduce time spent on manual recruitment tasks, and increase the value of recruiting efforts. Further, here are few more reasons for RecruitBPM to be the Go-to applicant tracking system for startups:
User friendly & Adaptable

Low-Cost Payment Plans

No Setup Fee – No hidden costs

Easy integrations

Powerful Candidate Search Capability

Reporting & Analytics

One-Click job Posting

Sales and CRM

Recruitment & ATS 

Communication and Messaging

Candidates Sourcing

Job Posting and career portal

offers and e-signatures

Time, Expense & Invoices
Guide for Startups to manage hiring with ATS and Save time
RecruitBPM- an applicant tracking system for startups, will handle your entire recruitment and hiring process. But it's not just about optimizing your recruiting process. It can also help make sure employees are on-boarded in a timely and effective manner as your organization grows. Thus, implementing an ATS has profound benefits and with RecruitBPM, your startup can realize these and beyond:
Save time
Incorporating an ATS will save time to recruiters and hiring managers in screening, shortlisting, and communicating with prospective candidates. With RecruitBPM, you can nurture leads with multi-touch sequencing and optimize daily tasks by Integrating email and Calendar to focus on high priority tasks.
Increased productivity of your hiring team
Recruitment involves many different steps, with coordination among diverse team members. RecruitBPM offers powerful Boolean search functionality that instantly matches qualified candidates. Additionally, it aids with filters such as experience, education, and location/radius. Moreover, you can quickly identify candidates that fulfill your staffing needs and increase the productivity of your hiring team.
Improved Recruitment Processes
RecruitBPM's customizable and automated workflows mean your recruiters can focus on growing the talent pool dedicatedly. In addition to this, you can view meetings, job orders, client submittals, interviews, and placements all visible within an intuitive job card.
Enhance Candidate Experience
Keep candidates informed about their job progress by using our Intelligent Email system. This email support detects Email and Phone numbers and instantly adds new candidates to your Recruit BPM database. Integrate your preferred email and calendar with RecruitBPM (e.g., Gmail, Outlook) to send and receive candidate emails and contact information. More importantly, you don't have to leave the RecruitBPM platform during the whole process.
RecruitBPM's ATS makes hiring, simple. An applicant tracking system for startups that provides a solution as strong as the talent you recruit, RecruitBPM is an all in one ai-enabled and feature-rich staffing software.
Try a 7-day free trial today or schedule a free one-on-one walkthrough with one of our experts.