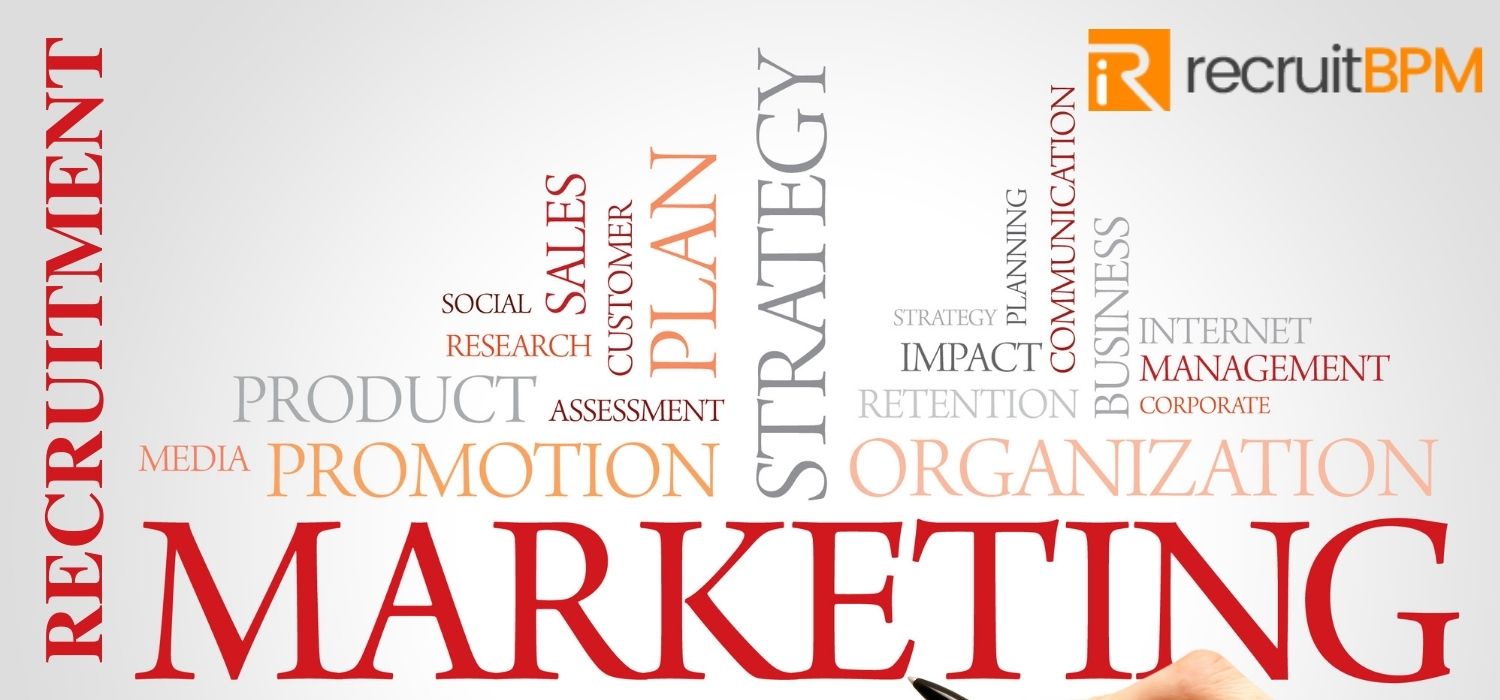 The art of recruiting has shifted to a new horizon in the past couple of years. Especially after the Covid 19 pandemic, the process of publishing job postings, subsequent hiring, and onboarding has changed significantly. HR departments have opened up new roles such as Social Media Recruitment Specialist or Direct Talent Acquisition. This amalgam of HR – Applicant tracking system and marketing departments has promoted the idea to Recruit like a Marketer.
Recruitment marketing or talent acquisition marketing is defined as a set of tools, and techniques to create social media job postings in such a way that it not only engages the job seekers towards your company but also takes them onboard consequently. Recruitment marketing is similar to customer-centric digital marketing. With the exception that in recruitment marketing, you sell your company brand to attract the talented pool unlike selling the products to clientele in conventional marketing. 
Advancement in digitalization and automation always brings along a number of techniques to optimize their functions. Similarly, Recruitment Marketing algorithms are optimized to attract the high-end pool of candidates. It is important to devise a strategy that is central to the interests of job-seeking profiles. This blog comprehensively describes the 6 most effective techniques to incorporate them into your company's practices so that HR can Recruit like a Marketer.
Best Practices to Recruit Like a Marketer
First things first, to recruit the top 1%, you have to stand out from 99% attracting the same talent. Now, what exactly would be "Strategic Creativity"? It could be an idea, technique, and/or strategy to inculcate a sense of curiosity or interest in the job seeker. For instance, you can post an intriguing fact or question in your recruitment listing. 
Once you have implanted an interest and driven them to your company, the next step of strategic creativity would be showcasing your organization/company such that it stands out from the greater chunk of recruiters in the market. For instance, you can tell them about your eco-friendly workplace culture or employee-centric work policies. The crux of strategic creativity lies in grabbing the attention of the talent pool at the first point of contact.
The content of your job listings plays a vital role in terms of retaining the attention of interested candidates. Most of the talented prospective viewers are already doing a job which means that they would only be reading your recruitment posts if the JDs are consistent with their background knowledge and experience. For instance, creating a job posting titled "Senior Content Writer Required" would attract a large number of unqualified or irrelevant personnel and consequently consume the time and resources of the HR department. In contrast, if your job post is crafted like "Content Writer with Focus on Technical Documentation and Proposal Writing Required", the probability of attracting just the right applicants best suited for the role would increase exponentially. By now, you should have an idea of how you can redefine the format of your JDs to engage and hire the most qualified and relevant talent pool.
The Art of Remarketing/Repetition
When the CEO of Coca-Cola was asked about their need to advertise their product anymore. He responded by saying that their product does not need an advertisement to be known in the market. The purpose of our marketing is not to advertise the product anymore but to maintain the product presentation to the consumers. The presence sells. If an organization wants to recruit like a marketer, then it is of fundamental importance for them to equip themselves with the art of staying on top of the minds of the talent pool.
Just like in consumer marketing where you have to advertise your product many times before getting your prospects to buy it, Likewise, you have to market your job listings repetitively and across multiple platforms to render it present all the time. 
There are a number of verified recruitment platforms on G2 for organizations to expand the reach of their recruitment marketing and attract top-of-the-line talent eventually. For instance, RecruitBPM is one of the most renowned recruitment software that has the functionalities to automate and optimize the lifecycle of your recruitment advertisements.
Concentrated Recruitment Marketing
Concentrated recruitment marketing differs from conventional marketing in a way that instead of posting a job advertisement and then scrutinizing the applications for the best-fitted candidates, you create a persona of the ideal candidate in your job description. A persona of the ideal candidate is a virtual image of the skillset and excellence you are aiming to look for in the talented audience. 
A well-crafted job listing with concentrated content to engage just the best-fit talent will not only reduce the time it takes to take a new employee onboard but will also reduce the direct and indirect costs of advertising and hiring an employee ranging from paid ad costs, collateral costs of scrutinizing and interviewing applicants and the onboarding costs as well.
If you want to recruit like a marketer, brand the company's image in the process of recruiting new employees. It is as simple as it gets. Provide your recruitment audience with the exposure, or insights. For example, how your company operates, what are your workplace values and how you make employees' workplace experience worthwhile.
All companies are ready to provide market-competitive salaries to the best talent. It is the workplace culture, contingent benefits, and a feel-at-home environment that matter at the end of the day. By showcasing or marketing your company alongside your job listings, you are not only attracting the "open-to-work" talent. You are also attracting the already employed talent as well. This is the hallmark of the idea to recruit like a marketer – Engaging the talent not even looking to switch.
Deploying the Recruitment Analytics     
We have all come across terms such as Google Analytics, AdSense Analytics, campaign analytics, PPC analytics, etc. But what exactly is Recruitment Analytics? Recruitment analytics is a set of tools and techniques which collectively inform the company/organization regarding the success of recruitment marketing. Recruitment analytics provide graphical and numerical insights to let your HR track and monitor the success of their job postings. A number of factors can be gauged such as:
Conversion rate across separate channels

The ratio of total applications to shortlisted candidates

Sourcing Channel Efficiency

Effectiveness of internal referral systems

Projecting the data of qualified applicant return rates. 
Setting up and analyzing the recruitment analytics is not as simple as it seems. There are a wide number of SaaS solution providers selling their recruitment analytics integrations to the CRM of different companies. These companies have also reported a significant rise in their efficiency to recruit like a marketer. One such recruitment software company is RecruitBPM. The company is a proven market leader when it comes to recruitment marketing, and recruitment analytics using Applicant Tracking System.