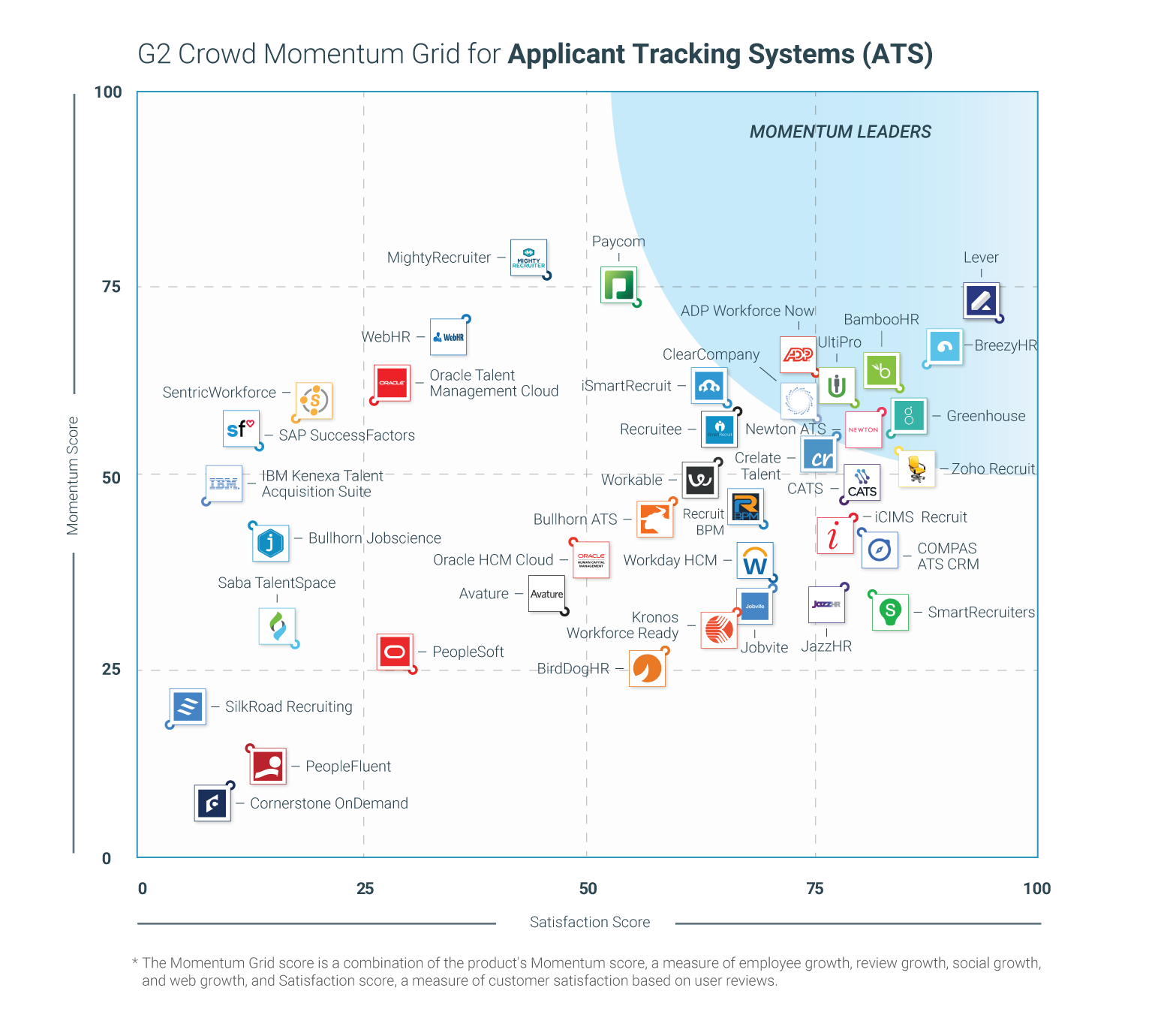 When it comes to top applicant recruiting systems on the market today, RecruitBPM's name is up there. According to the G2 Crowd's Momentum Report, RecruitBPM ranks at #18 in momentum. Moreover, RecruitBPM's rapid enhancements and continuous upgrades has led the brand from top 100 to top 20 ATS among the market leaders.
What Applicant Recruiting Systems means and why is it important?
The #18 ranking signifies that RecruitBPM's scores are improving tremendously as it now ranks in the top 20. In addition, Applicant Recruiting Systems based on the Momentum Score, comprises of combination of different factors including a measure of:
employee growth
review growth
social growth
web growth
satisfaction score
customer satisfaction based on reviews
According to the report, RecruitBPM's Moment Score is 44, while Satisfaction Score is 70 and Momentum Grid Score is 54 among the top 100 applicant tracking solution included in the report. Moreover, RecruitBPM's social growth and ranking is also increasing day by day. As according to Alexa Web Ranking report, RecruitBM receives 5,230,321 web traffic. Furthermore, you can get more details about the factors of ranking by checking out the G2 Crowd's reviews and Winter report 2019.
In addition to the above, the organizations that are in continuous search of high-quality applicant recruiting systems. They are inclining towards RecuitBPM as it goes beyond an ordinary ATS software in the talent management industry.
Momentum Grid Methodology
G2 Crowd has rated the applicant tracking systems based on reviews from their user community. Further, the reviews  data comes from online sources and social media networks. They have applied a unique algorithm (v3.0) to this data to calculate the Satisfaction scores in real time. The Momentum Grid for ATS is based on scores calculated utilizing the G2 Crowd Satisfaction algorithm v3.0 and the G2 Crowd algorithm v1.0 from reviews gathered through November 21, 2018.
What makes RecruitBPM different?
RecruitBPM is different from other Applicant Recruiting Systems due to its user-friendly and easily customizable features. Moreover, it's frequent updates and increasing integrations with valuable tools make it more adaptable for progressing companies. However, a majority of the users like the Standard Edition as it covers most of their hiring and recruiting needs.
"Finally, an all-in-one ATS & CRM at an affordable price. 19 years in the business made me understand the importance of technology for optimized recruitment. After months of researching, I had discovered RecruitBPM as a 100% scalable, affordable, and KPI-driven ATS."