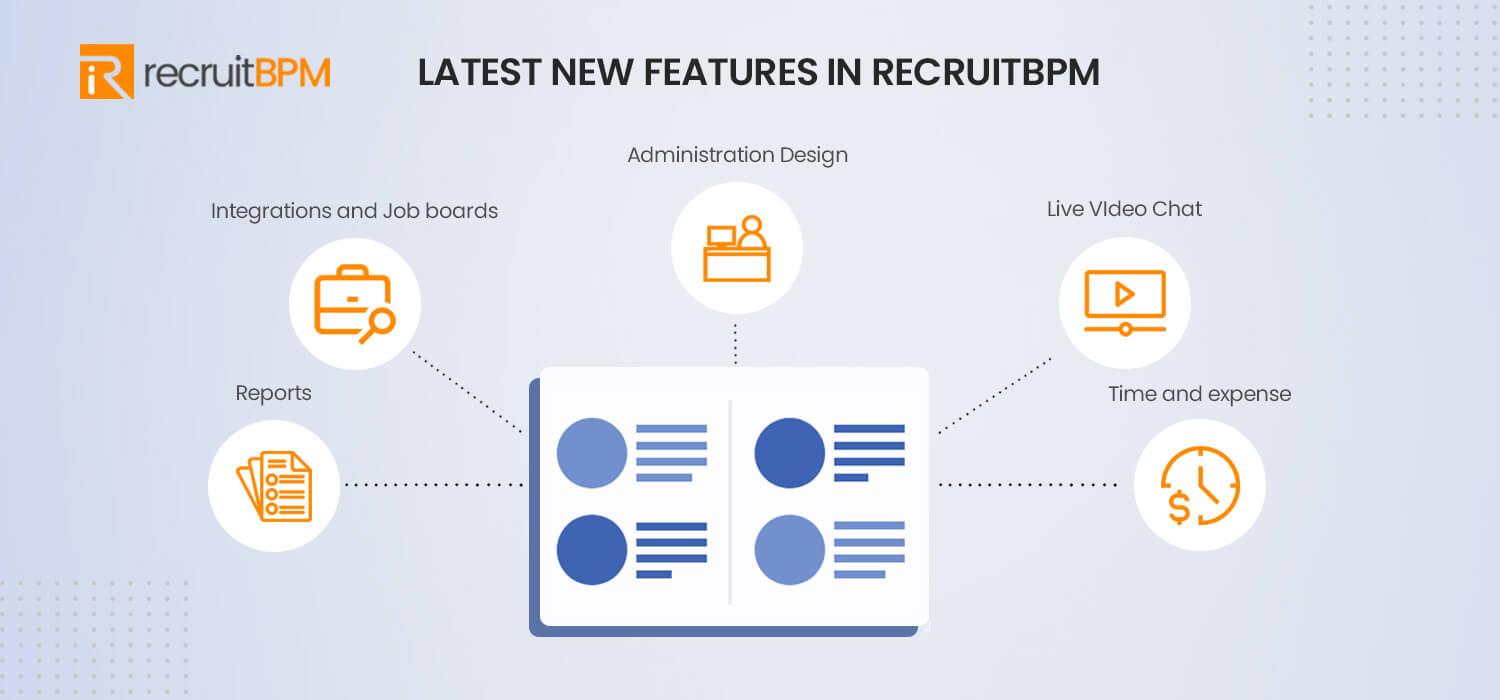 RecruitBPM, a leader in staffing and recruiting software, is happy to announce the newest release of its Applicant Tracking and CRM software – dubbed Version 6.0.0. This recent release is now available for all the new and existing users. 
Version 6.0.0 includes the following new features and updates:
Administration Design:
A new Administration design has been released to allow the users to perform their tasks hassle-free. Furthermore, the users are now allowed to navigate through the pages with much more ease.
Integrations and Job Boards
For an ATS & CRM system, having the perfect set of integrations is vital. We at RecruitBPM have ensured that our valuable users have access to the most popular and frequently used integrations on a single platform to perform their recruiting tasks. Not only this, with the recent update, our integrations and Job boards have been introduced with new designs and are extracted from the Administration panel.
Reminders Tracking:
In our previous releases, although the Reminder feature was still there but with the new release, our users can now track the overall timeline of all the reminders. It further allows the users to view the history of all the reminders as well. Hence, now our valuable users can navigate through the reminder's timeline and get an overview of all the activities performed.
Reports:
Reports generation and readability are critical for an Applicant Tracking System. With a vast variety of reports already available, we have improved our reporting capabilities and introduced three new report features in our latest release.  The users will now be able to generate the following new reports:
Commission report

Sales Report

Recruiter KPI's Summary Report
Reference Checks:
A candidate's reference checks are crucial as the references you contact can give you an indication about the person you are interviewing or willing to get on board. With the help of these reference checks, you can determine if the candidates are suitable for you or not. In our latest release, we provided our users with the ability to perform reference checks from an applicant's ex-colleagues, employer, or friends. This helps in minimizing recruiters' efforts to shortlist a candidate for a specific job position. To make this happen, we introduced the following modules to our Reference checks feature:
Custom Questions

Reference Email Templates

Candidate Reference Card

Reference Portal
E-Signatures:
With the newly introduced RecruitBPM's e-Signature feature you can now digitally sign all the documents securely without having to print them out. Further, it helps to manage the documents in an organized way. Hence, this not only saves valuable time but also increases employee productivity.
Improved Information Requests:
Our new release allows the users to make requests for any additional or missing document from their candidates or applicants with a single-click action. This way the recruiters can get the required information during the onboarding process. These updated information requests can be completely customized as well.
Live Video Chat:
Release 6.0.0 includes a whole new feature of Video Chat. The users can now make Video Calls and interact with the candidates while staying within the RecruitBPM platform.
Time and Expense Configuration:
The users can now configure the Time and Expense submissions on the weekends as well. 
Invoices:
After the success of our Invoice Beta Version and positive reviews by our valuable users, recruitBPM is happy to announce that we have stepped further and introduced the following additions to our Invoicing feature:
Confirmation of Invoice payments received

Editing invoices before ending to the receiver

Resend unpaid invoices

Tax implementation on the invoice amount
Mobile Number Parsing:
Now the users can parse Mobile phone numbers in both Candidate and Contact through Chrome extension.
Email Previews:
Getting an Email preview is always helpful for the recruiters. RecruitBPM's new release allows the users to get a preview of all the emails which allows them to quickly validate their email content using different contacts and screen sizes. Email previews further allow the users to view their messages as a recipient. 
Multiple Payment Packages:
RecruitBPM's new release provides the users with an advantage of multiple packages under one parent account.
Eskil Integration:
To be able to assess the capabilities and skills of a candidate is of great significance in the staffing and recruiting industry. The recruiter must know which candidate stands out from a pool of eligible candidates. To assist the users with this, recruitBPM has introduced a new candidate assessment tool with the addition of Eskil integration. 
Quick Search Enhancement:
With RecruitBPM, now the users can search for a candidate's records with the help of their mobile contact number. 
Import Email Templates:
With a variety of email templates already available on recruitBPM, we have further provided the users with the flexibility to import their own customized email templates. The user can not only import the templates but can choose between keeping those templates either personal or public.
Clone Candidates or Contacts:
The new release allows the users to clone notes and emails of candidate/contact records.
Export Data:
In this recent release, the users have been provided with additional functionality to export Timesheet, Expenses and invoices as well.