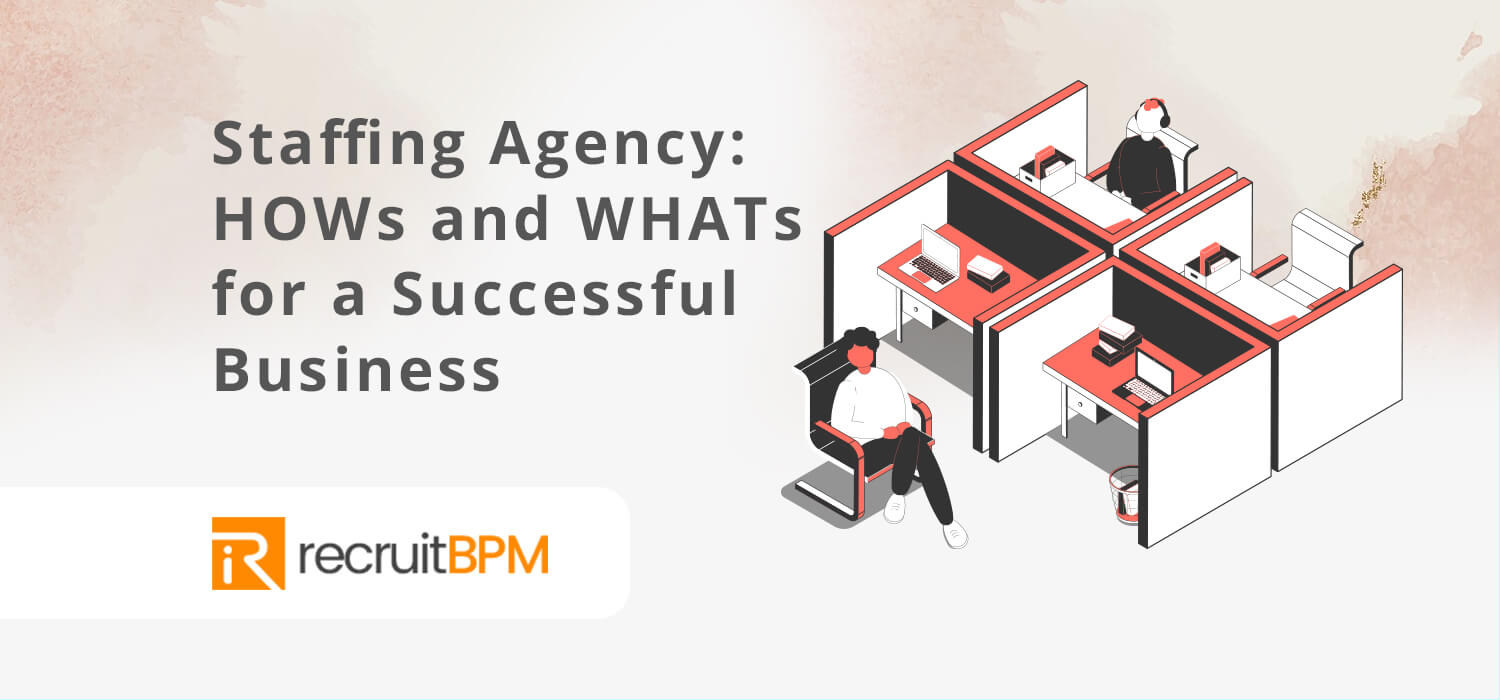 The size and organization of temporary hires have changed slightly, but the general goals are the same. That is, to provide companies with an army of skilled workers that can be used for temporary, seasonal, or contract work. With proper management, recruiters can grow rapidly and become highly profitable. For the right individual or group, they represent a great opportunity for a successful business. But to do that, you need a leader who knows where his head is. Business structure and budgeting, addressing tax and insurance issues and interviewing and hiring personnel, all require detailed planning for success. Thus, We have put together the ultimate guide to running a successful staffing agency. Think of this as your business foundation, since we will lay out everything you need to know.
How to get started with a staffing agency?
Choose the right category
Most recruiters choose a niche and focus on a particular industry. For example, medicine, hospitality, or management. This allows you to focus on the needs of your chosen industry and market more effectively. Consider the following when choosing a niche:
Local Level Supply and Demand – What types of the workforce are primarily available in your area and what is the demand for the workforce? If you can't provide the exact service your potential customers are looking for, you can't build a successful business.
Financially Healthy – Based on all of the above, is the niche you chose financially sound? If not, you may need to find another niche. After all, it's all about making a dime.
Background Experience – Do you have background experience in a particular area? The better you understand the requirements of your job, the easier it will be to evaluate candidates and market your staffing agency as an expert.
Find a niche within your niche – let's say you decide to focus on providing clerical and administrative roles. You may decide to take a deeper niche by focusing on your area of ​​expertise. For example, office work in the medical field. The more specialized you are, the higher the charges you can charge. Therefore, make sure you have enough supply and demand to make such a discipline valuable.
Streamline the entire recruiting process
Replying to emails, answering customer inquiries, and searching for job seekers can be exhausting. However, maintaining strong customer relationships should be the foundation of your staffing agency model from day one. Better recruitment comes from a better process. Hence, by replacing old and inefficient spreadsheets, paper resumes, and printed documents with more well-equipped technology, staffing agencies can stay connected with their clients more efficiently. Here are the tools that successful staffing agencies are already using to build more effective customer relationships.
Customer Relationship Management System (CRM) – CRM is a tool that allows all recruitment companies to better coordinate communication with their clients, build better relationships, and increase sales. CRM allows teams to easily respond to customer inquiries, collaborate on their preferred channels, and share information efficiently with prospective candidates.
Applicant Tracking System (ATS) – Recruiters need an Applicant Tracking System to quickly find applicants' files and keep them organized throughout the recruitment Your clients want results and that's why they hired you. Ask pass/fail questions and exclude unqualified applicants. Create a custom pre-screening question for each location. Track applicants through custom work channels. Duplicate applicants merge automatically. You can easily compare applicants. All of this is possible with a well-functional ATS.
Start-up costs planning
Of course, money is needed if you want to start your own staffing agency. Start-up costs can be divided into two categories: founding and operating. Setup costs for your basic staffing agency needs. These are usually one-time expenses and must be incurred before they officially begin. This could be:
Legal setup costs (legal foundation, contracts, etc.)
IT equipment (computers, phones,)
Software (HR, accounting, payroll, testing, training, etc.)
Office space
On the other hand, operating expenses are the costs you have to pay to find employees, customers and to deliver the first few months of work. Especially with higher level positions, they require higher costs because of their higher salary, more complicated selection process and much more. Thus, get to know your staffing agency well and it will be much easier for you to estimate and plan your upfront expenses.
Finding the right people
You cannot run a staffing agency without an efficient team. With your company structure established, you can now focus on finding the right candidates. Therefore, figure out what you're looking for in a candidate and start hiring. Some standard skills to look for include: –
Good problem-solving skills
Understanding the roles
Reliable, positive, and dedicated work ethic
Good at resolving conflicts
Professional appearance, well-spoken, dignified
Keep all your candidate information centralized in one database that you can easily search and categorize. Simplify the hiring process with automated documents and processes. Use performance reviews to provide feedback and track goals for your employees. All of this and much more can be achieved with RecruitBPM.
Website and marketing
Finding the right employees can be difficult, but not as hard as finding the right customers. Your first step with this is setting up a staffing agency website. This could be your first referral to a potential customer, so make it good. Hiring a qualified web designer can be well worth it. With your website in place, let's move on to creating your first marketing campaign. If you've found a good niche, you'll have a fun time with it. Also, be sure to consider social media marketing for recruiting companies. This is where you can build a relationship with your audience, and with your website, make it clear what sets your agency apart from the competition.
Applicable laws and regulations
We are not only talking about the laws and regulations related to your company, but also about the laws and regulations related to a particular staffing agency. They are not identical. If you are in Cleveland, what are the laws for Cleveland? If you are based in Cleveland, but place the candidate with an employer in some other state, what are the implications? Here are some other things to consider:
Commercial license Law
Equal Employment Opportunity
Business Tax Law
Once you've completed your research, determine how these different laws, rules, and regulations will affect your staffing agency.
Stay organized
If you want to run a successful staffing agency, you must maintain everything well-structured. For your staffing agency to be successful, several aspects of your business must run smoothly. Before running payroll and bills, make sure you're gathering all of the timecards in a way that ensures their accuracy. You'll have to do this every week, which means you'll have to keep track of any withholding concerns. Even if you're weary and ready to go home, keep your books up to date at all times. With a staffing agency, the to-do list is never-ending. Therefore, you'll have a successful experience if your goal is to become a taskmaster who can delegate key functions to the best people.
Focus on small companies
When running a staffing agency, everyone expects to catch a "big fish," but it's the relationships you form with smaller firms that will propel you forward. It's nearly impossible to get a foothold in Fortune 500 Firms because many of the services you can offer are already internalized. If there is enough interest, the huge corporation will expect you to have a large recruiting team to handle their requirements.
Build an online presence
You should consider having a reputable web presence when launching your staffing agency. An official website aids in the establishment of your organization by conveying a sense of legitimacy. As a result, this makes it easier for potential clients to locate you. Therefore, begin by registering your domain name and placing your agency's identification on the internet as soon as possible. Using a domain name registrar like DreamHost, register a search-friendly domain name.
Insurance factors
Insurance is a must-have for employment agencies, and it's something that shouldn't be disregarded. Since we aren't insurance experts, it's best to visit a knowledgeable insurance agency to ensure that your company is protected.
Here are some frequent insurance examples:
Policy for business owners
Property insurance
General liability insurance for businesses
Liability insurance for employment
Compensation for employees
Insurance for key employees
Insurance against liability
The considerations listed above are a wonderful place to start, but make sure you complete your homework to truly stand out from the crowd. However, one more bit of advice: stick to your charges. Offering free or low-cost services as favors to friends and family can be simple, or even appear to be the proper plan. for further details visit the bset staffing software pricing and feature comparison page. And this can quickly result in practically everyone receiving a discount. But the problem with this approach is that it only lowers the value of your services. Therefore, your firm will expand and scale only if you focus on customers who value your organization.