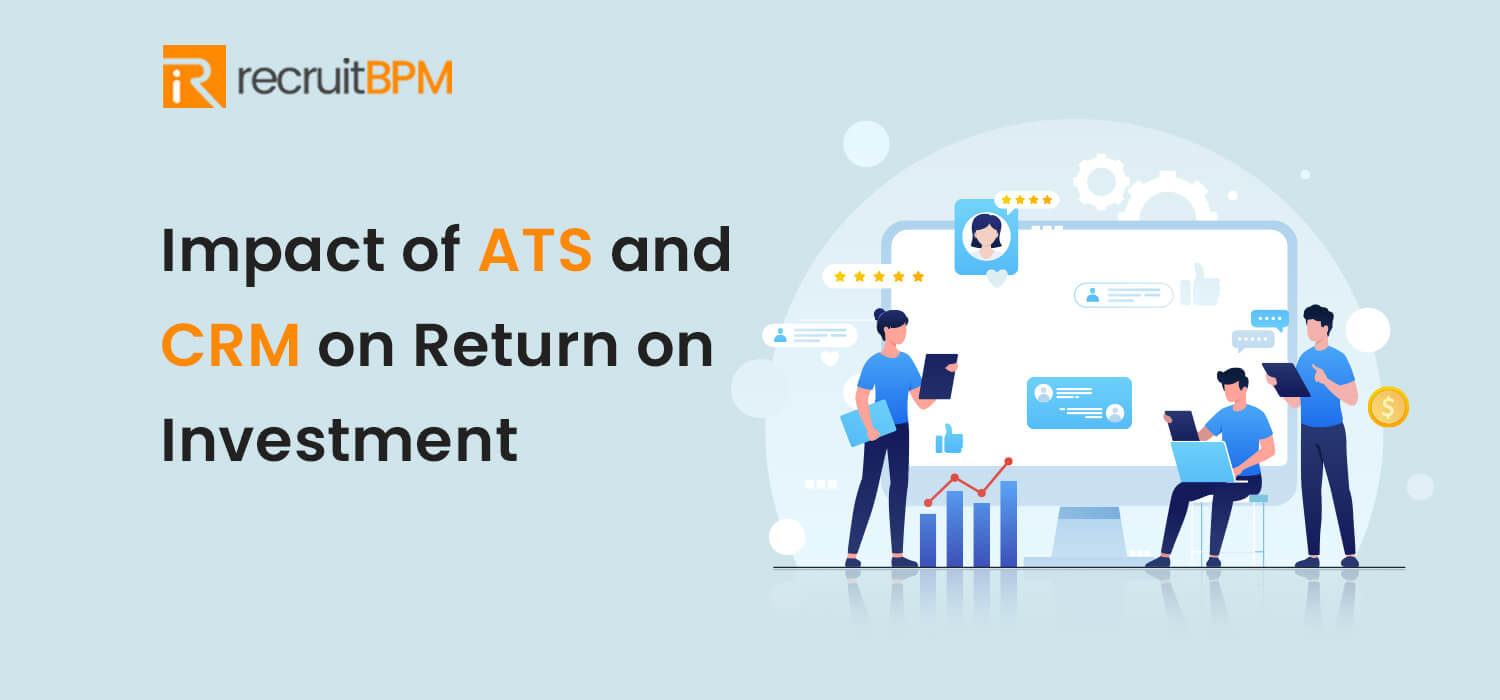 How ATS and CRM improves return on investment? But with so much disruption in every industry due to technological changes and other factors; the recruitment process has also been affected by these changes. The industries that have prospered have done so because they have evolved along with these changes. They have brought in tools and technologies that have given them the necessary platform from where they can take the next steps paving their way for success.
No matter which industry or sector you belong to people is always unwilling to embrace change. Yet the technological change once taken on board has the potential to bring in great benefits in relation to the investment that you have made. The cost-benefit analysis of any new implementation comes into question to gauge the impact of the new tools and technologies.
Recruitment firms and companies in order to improve upon their recruitment process took the initiative of implementing an ATS andCRM. ATS refers to Applicant Tracking System whereas CRM refers to Customer Relationship Management system. Let's take a look at whether these initiatives (ATS and CRM) have brought in the desired benefits to validate the investment made on these tools and compute the return on investment (ROI).
In order to understand how Some ATS and CRM improve upon ROI, we need to look at what benefits are accrued through the implementation of ATS and CRM. Some of the benefits are as follows:
Auto Distribution of Job Advertisements
Both these tools will help you to automatically post job postings at your company on various job sites or job boards coupled with real-time tracking of these postings no matter where you are.
Rich Candidate Experience
All the processes associated with the recruitment activities can be shared on your social media or through your mobile platform helping you keep abreast of the activities of top talent and their preferences.
Reduction in External Recruitment Costs
The use of ATS and CRM provides crucial analytics that goes a long way in helping to make sense of the recruitment data and how it can be best used to optimize the process that eliminates guesswork, attracts the desired candidates directly and helps in the utilization of talent pools for company's recruitment needs.
Increasing Candidate Quantity & Quality
One of the first benefits that you get through the implementation of ATS and CRM is that you are able to develop a far greater pool of candidates allowing you to not only find more candidates but also improve your chances of finding better candidates that match your desired skill set. This will help you in shortlisting those candidates that will be more focused and engaged in the goals and objectives of the company leading to an overall improvement in the retention rates at your company.
ATS & CRM Reducing Time to Hire
Implementing an ATS and CRM  automates some of the most time consuming and repetitive tasks. Thus, significantly reducing the time required to perform these tasks. Moreover, helping to make your communication process with various candidates a pleasant experience and far more efficient.
Generate Internal Efficiencies 
Apart from improving the overall candidate experience and making the communication process far smoother; the implementation of these tools significantly reduces the time spent by your hiring team on administrative tasks such as scheduling interviews etc.
So, after going through some of the benefits that make the use of these tools a no brainer, we need to gauge whether our business will also see a significant uptake when it comes to the return on investment. For this some of the metrics used to understand how the implementation of the ATS and CRM has improved the ROI are as follows:
a) Cost per Candidate
b) Cost per Applicant
c) Cost per Hire
Cost Per Candidate
With the combination of ATS and CRM as discussed earlier, the recruiters will have access to a far greater talent pool that will continuously grow as candidates apply through the ATS. Sync the record of these candidates with the CRM system. Thus, gradually increasing the number of candidates in the talent pool. The increase in the number of candidates will lead to a decrease in the cost of acquiring or adding a candidate to your database or talent pool. Hence, through the implementation of ATS and CRM, you will witness a significant reduction in Cost per Candidate.
Cost Per Applicant
Once sourcing activities increase through your ATS and CRM more applicants are likely to apply to your company for jobs, without an increase in costs. The resulting applications from inviting candidates to apply are basically free resulting in a decrease in cost per applicant.
Cost Per Hire
Your talent acquisition cost is the most substantial cost in the whole hiring process; therefore cost per hire is the substantial indicator that can shed some significant light on whether the implementation of an ATS and CRM really brings about greater ROI or not? These tools provide you with detailed insights into your potential hires helping you bring down your cost per hire.
The Potential Areas of Savings
The potential savings are in these following areas:
Lower acquisition cost per candidate is possible as you pay only once to acquire a candidate as after their inclusion in the system they can be nurtured and re-marketed to potential other jobs matching their skills and talents.
Increase source efficiency per candidate as the system will help in identifying the sources which result in most hires; which can subsequently allocate more budgets for candidate acquisition in order to attain far higher efficiency.
Lower cost access to candidates is possible as ATS and CRM greatly help in reducing recruiters' time of finding and vetting candidates. This is possible as the tools allow you to segment your candidates' database over time.
Source first strategy is possible as the greater database allows you to increase the hiring through your database decreasing the dependency to hire through external programs or agencies.
Increased quality of hire is possible as the system allows for more proactive sourcing of candidates helping you add to your database of quality candidates. A far greater pool of high-quality candidates will help to increase the quality of recruits that will lower turnover and improve the time required to bring in greater productivity.
The ROI not only improves through greater efficiency and reduction in costs associated with sourcing and hiring candidates but also by registering an increase in quality of hires that significantly reduce turnover and attrition rate all the while improving upon the time required to register an increase in productivity. Furthermore, ROI also improves by having far greater choices to pick from. As your talent pool expands exponentially as compared to when it was initially when both ATS and CRM were not being used.
Key Considerations to Maximize your ROI for your ATS and CRM System
In order for your organization to make the RIGHT choice for your organization regarding the best ATS and CRM, follow these key tips to get the best talent for your organizational needs:
Understanding your Business
Even though this seems pretty obvious but it still holds true. If you are not well aware of the needs and requirements of your business, you will never be able to plan ahead. Further, you will never be able to gauge what is best for the company. Whether it is something related to the financial decision or deciding which recruitment system is the best for its needs. Hence, you need a clear understanding of your business. Otherwise the decision taken would not be in the best interest of the company.
Recognizing your vendor providing the recruitment software
It is equally important that you are aware of all your qualities that a vendor can provide. Analyze their work history with various organizations. Not knowing what you are getting into with someone will only complicate things down the road.  So you don't want to be too late where you can't step back. For example, you might have already spent your budget on a system that cannot help your organizational needs.
Define new recruiting operations and processes
Understanding your business is just the first when it comes to buying a recruitment software that maximizes your ROI. You have to clearly devise your recruitment operations and processes that compliment your organizational and the system needs. On the contrary, you won't be able to reap the maximum benefits from your new recruiting solution. Moreover, it will cause significant problems in gaining the maximum return on investment from your recruiting solution.
Data
You have to take every necessary precaution to ensure that the old data migrates to the new system. Further, make certain that it is clear of any redundancies and discrepancies. So, the new analytics system can provide you with crucial insights in understanding your recruiting needs. Being unable to do so will significantly hamper your efforts to maximize your return on investment with the new system.
Training
Make sure to provide your staff with every training module that comes with the new system. This will ensure that the transition takes place smoothly. In turn, it helps to increase your chances of maximizing your return on investment.
Post GO Live
After installing the new software, it is crucial to ensure that you are able to fully review your staff's competency on the new system along with any needs and requirements that the new system might be unable to resolve. Furthermore, your team should build a good working relationship with the support team. Thus, ensuring that the system works smoothly. However, if any issue arises, the support should be willing to provide full attention to resolve your issues. Finally, try to build on your relationship with your vendor. It is important because you  need their continuous support. In addition, you might require some future tweaking in the system to meet your evolving needs.
The solution that will increase your recruiting performance
RecruitBPM not only has the potential but also delivers on its promise. As it helps various organizations get the right people to apply for the right jobs. RecruitBPM's software with recruitment marketing helps to put in practice all your recruitment strategies and fully optimize your recruiting performance.
RecruitBPM is the one-stop solution that will not only provide you with qualitative but also quantitative factors. These factors will highlight how your return on investment can improve by the application of RecruitBPM. Furthermore, this system is quite easy to use. Thus, ensuring that the gains derived from implementing the system can easily be accounted for. Likewise, it also helps you justify your initial outlay on the system. If you are looking to improve upon your return on investment and further optimize your recruitment process, get RecruitBPM as its the first step towards unlocking the door to greater savings and return on your investment.