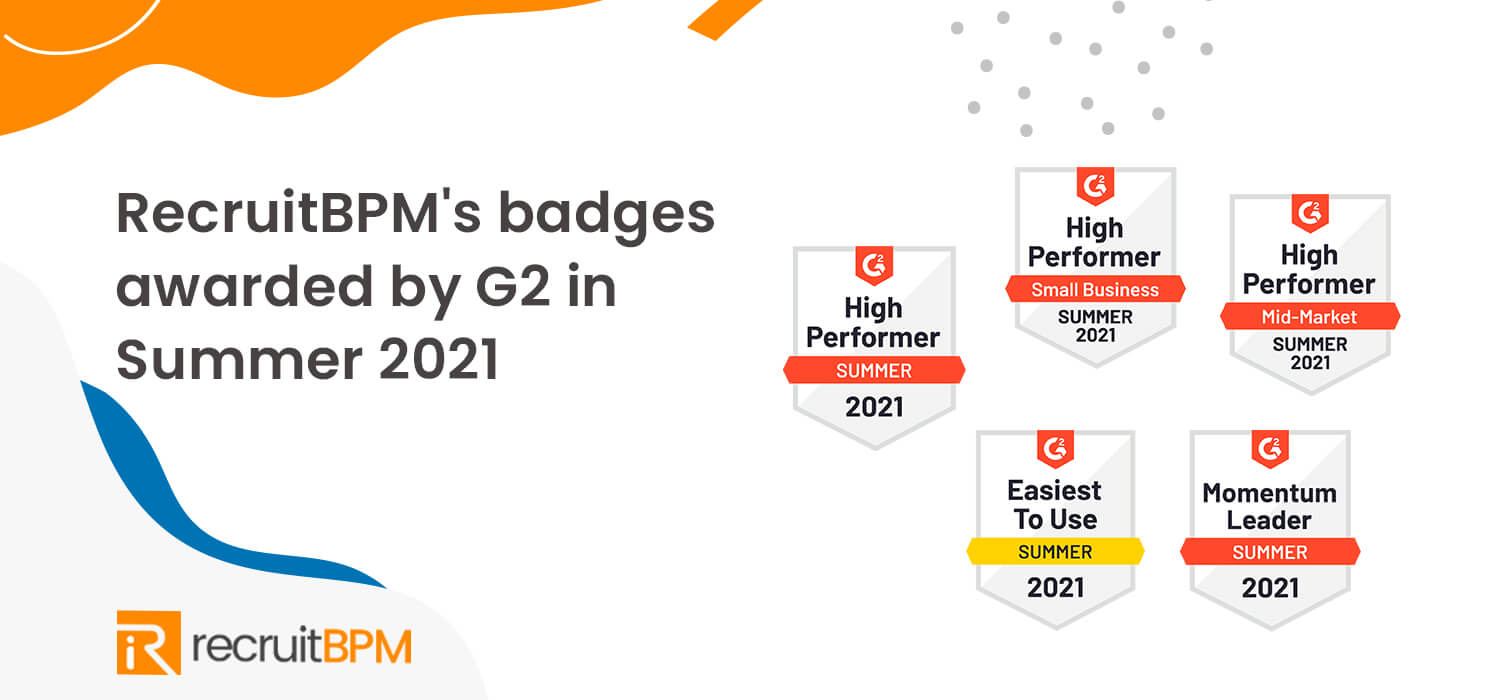 Due to the appreciation of our valuable members, RecruitBPM keeps achieving new and exciting milestones. After being awarded with a 'High Performer' badge in the G2 Spring 2021 Reports, we are pleased to announce that we have achieved another milestone in the G2 Summer 2021 Reports and received recognition as the "High Performer", again. Furthermore, we have been awarded with the "Momentum Leader" badge in the G2 Summer 2021 Reports as well.
RecruitBPM performed exceptionally well in the G2 Summer 2021 Reports with four badges. In addition, we have received a special badge recognizing the appreciation of our valuable customers, called "Easiest to Use". So, the grand total of our new badges for Summer 2021 rounds up to five. RecruitBPM has successfully marked its presence as a "High Performer" with three badges in 'Small Business', 'Mid-Market' and 'General' category. Our next momentous triumph with the G2 Summer 2021 Report is the badge for "Momentum Leader" in the Momentum Grid Rank.
Our customer-first approach and our passion for delivering customer-centric system for staffing and recruiting industry, has not only helped us gain a significant presence in the market, but also achieve high customer satisfaction ratings.
Satisfaction Ratings
1. Our valuable customers rated us 4.8 out of 5 stars.
2. We ranked above the industry averages across Satisfaction Ratings: Quality of Support (94%), Ease of setup (92%), meets requirements (97%), Ease of Admin (92%), Ease of Use (96%)
Highest rated product features
Sourcing
1. Automated Resume parsing (97%)
2. Candidate Search (97%)
3. Career Page Configuration (97%)
4. Social Sourcing (95%)
5. Job Posting (96%)
Candidate Management
1. Dashboards (95%)
2. Workflow Building (93%)
3. Hiring Process Tracking (96%)
4. Scheduling (94%)
5. Applicant Data Management (96%)
6. Candidate Evaluations (94%)
7. Automated Resume Parsing (97%)
8. Candidate Facing Statuses (95%)
Platform
1. Integration APIs (89%)
2. Internationalization (91%)
3. User, Role and Access Management (89%)
4. Performance (87%)
5. Mobility (89%)
What our Customers Say
Since our foundation in 2012, we emphasized listening to customer feedback and transform those feedbacks into product innovations. This methodology helped us deliver "customer-first" product features. We are committed to deliver features that are user-friendly and address the problems of our customers. Hence, making it easy for our customers to interact, hire and retain more candidates.
As summarized by our valuable customers, RecruitBPM helps many staffing and recruiting firms to deliver their staffing tasks hassle-free. Our approach to serve our customers by listening to their queries and solving their issues makes us feel honored to be recognized by G2 as one of the finest staffing solutions in the marketplace.
About G2 and High Performer
G2 is one of the most prevalent and reliable platforms where people share their views and experiences on different automated solutions. G2 issues an extensive and comprehensive report on quarterly basis that highlights the front-runner solutions in various categories available in the marketplace. G2 evaluates software solutions on the basis of their presence in the market and customer satisfaction ratings and recognizes high performers. Click here to request a RecruitBPM ATS Product tour