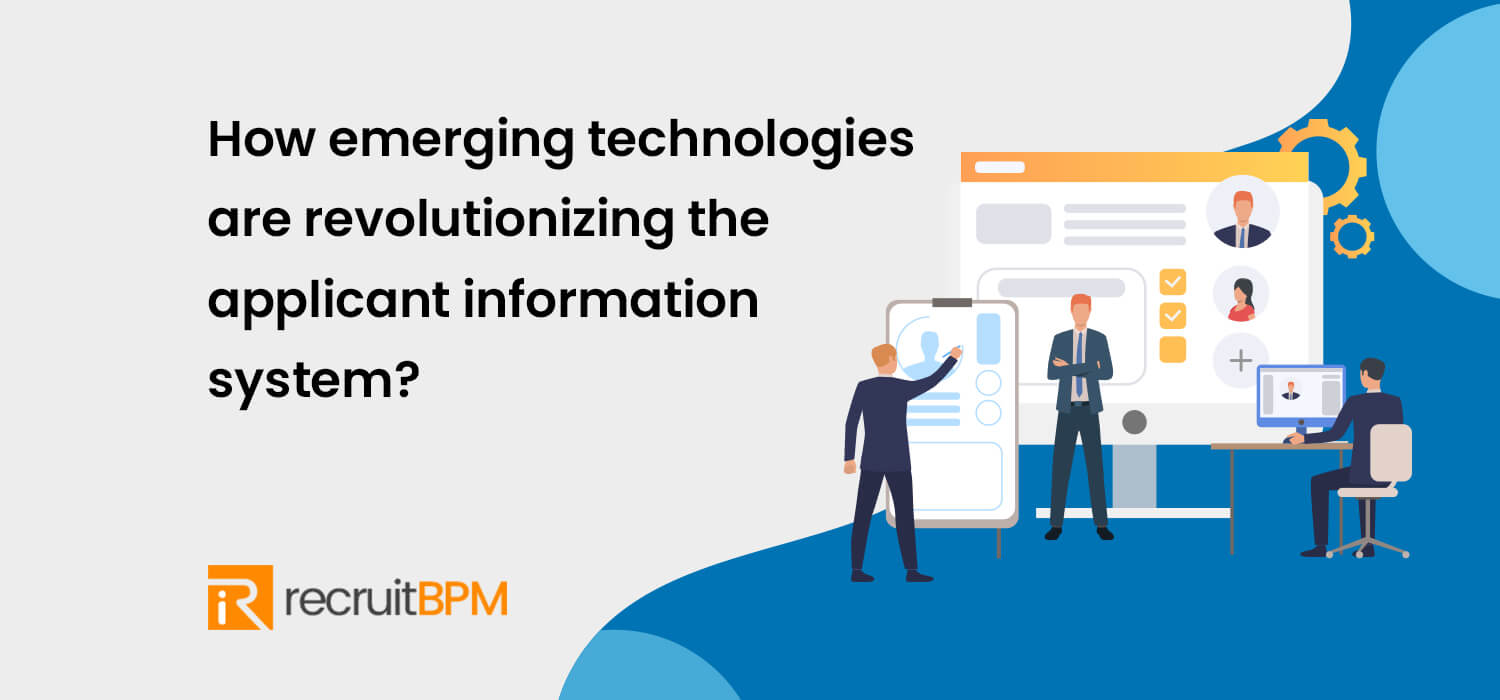 Automation has taken the business world by storm. Modern technologies are reducing manual efforts. Further, technological solutions significantly help to reduce costs, time, and the chance of human errors. The recruiting industry is no different as technological systems like an applicant information system improve the recruiting processes. As the technologies are steadily improving day by day, so are the candidate tracking systems. Ever wondered that how tech companies continue to enhance ATS hiring and its processes across all key areas of recruitment.
How AI-powered application information system helps recruiters?
Forbes reports that the worldwide recruiting market is worth above $200 billion. Whereas, talent acquisition technology is attracting huge investments as AI Technology can significantly improve the hiring processes. Incorporating AI technology in hiring reduces the cost per screening candidates and decreases overall turnover. For instance, RecruitBPM automates candidate sourcing using the AI candidate searching feature. It helps recruiters in candidate tracking through filtering candidates that are most suitable as per your staffing requirements. This means it will take a shorter time to recruit.
Technology is helping improve various functions of an applicant information system such as applicant screening, candidate outcomes, payroll, sourcing, and several others. Let's take a look at how technology improves these functions.
More Efficient Applicant Screening
Screening of high volumes of applications is a time-taking process and when done manually, it is prone to human error. RecruitBPM automates such manual tasks through AI technology brings higher accuracy.
Time-Tracking Solutions
Applicant information systems remove unnecessary complications. Easily manage timesheets with the help of automated time tracking solutions. RecruitBPM time tracking solutions minimize the chance of human error. The integration of Quickbooks allows easy handling of accounts payable and receivables.  Further, allowing organizations to streamline their accounting and payroll needs.
Better, Broader Pools of Candidates
Social recruiting has become an integral part of modern recruiting to access large talent pools. RecruitBPM integrates various job boards and social platforms such as LinkedIn extension, Zip Recruiter, Career Jet, etc. These career portals make the process of job posting easier for recruiters. Further, it also improves the candidate experience.
Positive Candidate Experience
Incorporating new technologies in applicant information systems enhances the overall candidate experience. Nowadays, candidates expect feedback and progress on their applications. When recruiters don't follow up or give feedback to the candidates (especially the rejected candidates), it develops a negative experience. Using the RecruitBPM ATS, you can easily set up auto task reminders, follow-ups and track the recruitment lifecycle of any candidate. Communication is made easy with the help of the contact parsing feature and speech-to-text available across RecruitBPM. This promotes a positive recruiting experience for the candidate as well as makes the job of recruiters more efficient.
Mobile Optimization
Is your applicant information system optimized for mobile? If not, then you are losing revenues as most candidates engage with recruiters using mobile devices. RecruitBPM is a mobile responsive and mobile-friendly user design and interface. Therefore, you can access candidate information and post jobs from any location using your mobile device.
Sourcing Tech
Sourcing has always been a great challenge. Think tanks at RecruitBPM have provided a solution to this through the incorporation of various job boards and databases. This helps recruiters find the right candidates quickly. Swiftly post jobs and access resumes of suitable candidates through our ATS database. Thus making the recruiting experience effortless as you can do multiple recruiting tasks in a couple of clicks.
Online interview technology
To save time, cost and effort, conducting an online screening are effective and feasible for both the recruiter and the candidate. Recruit BPM's applicant information system allows recruiters with speech to text, SMS, telephony, email and social media integration. This would enhance the recruiter's performance and eliminate the risk of human interpretation. Further, recruiters can record interviews to assess candidates on the basis of their responses. This would also help candidates to assess their responses to interview questions.
What the Future Holds for Applicant Information System Technology?
The big question is what the future hold for ATS within the recruiting industry. Applicant trackers are becoming a key source of hiring. ATS tech has become more important for recruiters in the post-Covid-19 world. We can expect that future recruiting software for agencies will become increasingly human in analyzing skills, qualifications and experience.  Below are some tech upgrades that you can expect in the coming years in the ATS platforms.
Improved Predictive Analytics for Candidate Outcomes
Finding the right fit for any given role is a challenge for recruiters. The best way to find a suitable placement is through accurate information regarding the candidate.
Advanced Analytics And Recruiting
With the help of advanced analytics, a recruiter can get valuable insights on the basis of historical data. Further, this would save a lot of time that was put in sifting through huge candidate data. Thus, enabling recruiters to focus on other key areas.
Assess Candidates in Real-World Scenarios
The future world of recruiting can incorporate simulations that could include real-world scenarios in assessing a candidate's ability. Simulation can assist recruiters to analyze the candidates more accurately relative to their response to specific scenarios. Clearly, technology will play a great role to incorporate gamification and simulations in the Application Information System platforms. If this happens, it will make life easier for recruiting professionals in assessing candidates.
What you can expect from RecruitBPM Applicant Information System?
RecruitBPM is already making waves within the recruiting industry with its robust ATS. It is the best ATS for startups due to the variety of ATS features included in it at affordable pricing. You can expect an ATS that is built for next-generation staffing firms. We understand that the better the technology we use; the better ATS product we will have.   Lastly, the RecruitBPM team is actively engaged in upgrading its ATS product to deliver a seamless experience to the customers and aims to transform the overall recruiting experience.