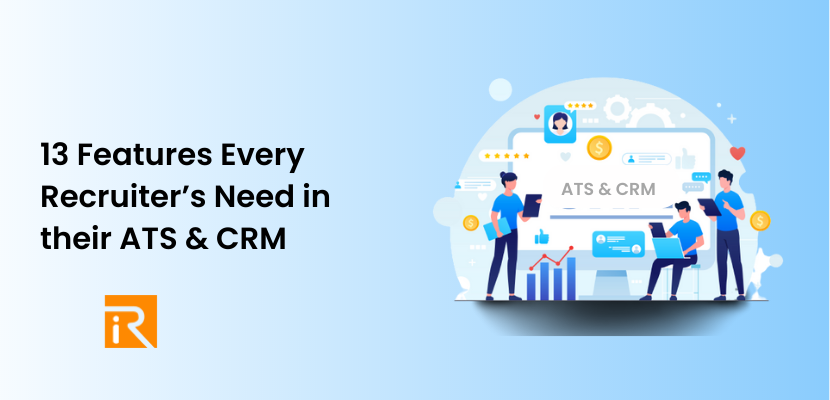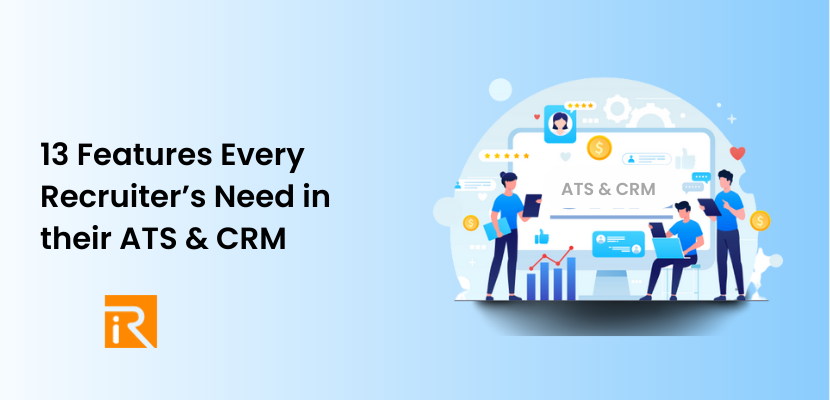 Applicant tracking systems and CRM have become every recruiter's need. It also has become a vital part of the hiring world. According to research conducted by the renowned Capterra, 75% of recruitment and staffing firms and hiring managers use recruitment or applicant tracking software. Amongst these, an irresistible majority of 94% of recruitment professionals confirm the fact that using ATS & CRM software has meaningfully improved their hiring process. A good Application Tracking System and CRM helps systematize numerous aspects of the recruitment process right from job posting, application tracking, and conduction of interview to onboarding. Here is a list of features you should look for when selecting an applicant tracking system and CRM for your firm.
Own Career Website
The career page available on the company website helps organization branding within the industry as well as increases the trust in candidates. Interested candidates are more likely to proceed and apply for a job opening through the career portal available on the organization's authorized website. Applications coming through your career website are better regarded and more valuable for your hiring needs. Incorporating QR codes into your Career Pages offers a convenient way for prospective candidates to access job applications and company information. RecruitBPM integrates an advanced featured and completely managed career section on your website where candidates can access your job openings and apply for a particular role. ATS collects such applications so that you don't miss such potential applications for your current job openings. You can perform all of this without any separate dedicated server or technical knowledge.
Job Posting Solutions
Due to the advancement in the job market, you must be one step ahead of your competitor to steal the best employee for your organization. We developed the best job posting solution with unique features which reduce your efforts to catch the best talent for your job openings. For this purpose, both Walk-In and telephonic interviews are for bulk-hiring where you can use candidates as your helping hand.
Application Tracking
Having applications of the best quality enhances your performance and reduces hiring time. Smart recruiters prefer these applications as conversion ratio is best to close job openings effectively.RecruitBPM allows the recruitment team to collect the best potential applications through multiple sources like career websites, email applications, aggregators, job sites, and referral applications. Recruiters can further refer to best matching applications for targeted job openings. To avoid trouble, you can manage all applications in a single place within RecruitBPM for your convenience. Not only this but you can also track applications as per their status and schedule.
Personalized Resume Database
Having your own personalized resume database is essential for successful, efficient, and effective recruitment. Recently, most recruiters maintain their personalized database to close their job openings within less time and reduced hiring costs. RecruitBPM has its own resume database management system to support every recruiter's need. As a resume database is confidential and restricted with your account, you can manage user access permission for your personalized resume database.
Job Boards and Social Media Integration
To make the most out of an ATS, it must fulfill the recruiter's need to integrate the job order to social media, job boards, etc. Broadcasting your existing job openings and disseminating it to multiple social media network, job boards and job aggregators is automatically handled by our broadcasting and submission tool. You never need to submit it personally. RecruitBPM provides top-notch integration tools to integrate with most common social media, job boards and job aggregators. This saves the recruiter valuable time with the least effort while scrutinizing and application management.
Advanced Search Options
Locating candidates in your own applicant tracking system, whether for a specific job or general sourcing, needs to be fast, relevant and as comprehensive as possible. It is a recruiter's need to be able to search by a wide variety of filters including statuses, types, resume skills, skill profiling, location (including radius and zip), availability, salary, contact history and custom fields your firm might need. The generated results must have the ability to be viewed, sorted, saved and shared with others, as well as displayed in a variety of formats from standard lists or as a geographical map showing the precise location of each candidate in relation to job or client.
Sales & CRM Integration
A sales CRM helps you build better client relationships, generate and qualify better leads, and manage your entire sales pipeline through to delivery. An integrated ATS and CRM not only tracks all actions from records such as calls, meetings, tasks, statuses, and associations; it also links every piece of information together so you are aware of which candidates have been associated with which jobs or clients, and in what way. Every module and piece of information should be linked together as well as easy to visualize and access.
Skill Parser and Screener
The ATS must enable scanning each application and individually parsing it for the requisite skill set. Applicant tracking systems like RecruitBPM provide the results in percentage match-making so that your recruitment team can quantify their recruitment decision-making and back up their decisions with data. Your ATS should also make searching for information within the database unified for your team. A mobile-friendly ATS & CRM adds a component of accessibility to it. Thus, fulfilling the recruiter's need of screening out applications.
Calendar Integration for Effective Scheduling
A comprehensive ATS plays a very decisive role not just in the early phases of the recruitment cycle but also in the interview phase too. It provides you with the accessibility of calendar integration. The calendar of your own preference ensures that you never lose track of the interview schedule. A feature-enhanced ATS allows the recruiting managers to reorganize and cancel interviews from within the system itself. It saves them from the hassle of altering between multiple applications. Moreover, it makes the whole hiring process much more streamlined and convenient.Some feature-rich ATS like RecruitBPM also give you the option of scheduling video interviews and recording them from the system itself making it a one-stop destination for your entire hiring process.
Recruiter's Need for Customization
Moving from one CRM software to another can be a tough task at times. Customization plays an integral role to meet every recruiter's need. The team should have assurances that the CRM can work and grow with the company. CRM has the key feature that enables you to customize it according to the team, customer and company needs. RecruitBPM ATS and CRM offer customizability from workflows, plug-ins and specific reports.
Document Management
A comprehensive CRM acts as a "single source of truth" for your organization. This means it allows you to keep all relevant documents in one centralized location that is accessible to everyone. According to a study by International Data Corporation on time spend on recruiting. It showed that recruiters spend 2.5 hours per day on average just to search for relevant information. RecruitBPM ATS & CRM allow the recruiters to store all critical documents and information in a centralized location within the system. This feature dramatically increases efficiency and gets rid of the mess that most organizations these days experience.
Sales Team Performance
Recruitment managers should know who is part of their team and what they are working on. You also want to know what is the progress of a particular application in the pipeline. Lastly, how your team is tracking towards meeting monthly goals at any given time. Your CRM must be efficient enough to be able to help you provide answers to these questions. RecruitBPM ATS & CRM provides you with statistics on your sales team's performance. It also shows you the areas where your team is lacking and can help to fulfill every recruiter's need. Being able to see this information upfront with RecruitBPM creates a better sales strategy for the company.
Collaborative Tools
Your business can convey better customer feedback by utilizing the contact history of every client housed in the CRM. This enables you to enhance client outreach that is dependent on factors like whether this is the principal cooperation with a customer or if the client called previously with a complaint.In addition, consolidating a CRM's communication tools with customer life cycle capacities empowers the delivery of customized messaging to customers. Rather than a one-size-fits-all message. Your business can send an email tweaked to where the customer resides in the customer life cycle. Customized communication improves response rates. So, this usefulness is critical to lifting execution of sales and showcasing strategies, for example, lead nurturing. Tools to work with customer correspondence are in the best CRMs like RecruitBPM. For instance, it permits you to send messages to customers. Furthermore, it gives email layouts to smooth out communication and collaboration.