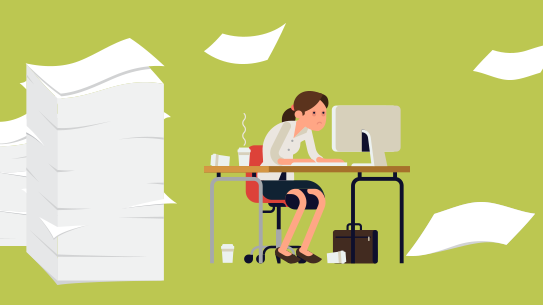 The utility of an applicant tracking system (ATS) depends much more on what lies beneath the surface than what meets the eye. Successful ATS resume tracker characteristics enhance productive output on different levels, from robust tracking to strong reporting capabilities.
ATS Resume Tracker Business Transforming Features
Today, we shall highlight three critical ATS features that can add potential value to your business activities.
Automatic Data Acquisition
The best way to enhance recruiters' productivity is to remove hindrances from their core tasks. Individuals are increasingly swamped with administrative tasks, losing sight of efforts that can actually add value to the process. Instead of sourcing, screening and placing candidates against available jobs, recruiters are busy completing tedious jobs including data entries.
In order to liberate recruiters from this menace, the ATS resume tracker comes with the ability to acquire and wield data to automate redundant tasks automatically. For instance, data from sales and recruiting activities are automatically captured and parsed. Thus, more time becomes available for recruiters to focus on their core recruiting tasks.
Another less obvious benefit of data capture functionality is that it allows for the understanding of ongoing workflow. For instance, it can help in creating the highly statistical report of employees turnover. In turn, this helps an incoming recruiter to start from where his predecessor left off.
Workflow Management
As discussed in the previous section, a proper understanding of workflow management can go a long way in improving firm's productivity. It becomes even conducive if the processes are distinct and comprehensive. Otherwise, frequent recruitment errors shouldn't come as surprising. An ATS can help with the curation of workflow processes and ensure errors are far & few.
Moreover, with the help of an ATS Resume Tracker, you can easily manage the overall recruiting process. A competent ATS ensures that you don't overlook critical details, job submissions, candidate placement, and/or other essential functions. For instance, RecruitBPM has an existing workflow for agencies to follow, allowing users to leverage industry best practices.
API and Integration Support
An ATS allows recruiters to be more productive without the need to leave the system to complete recruiting-related tasks. How it's done? RecruitBPM allows this with the help of API support and integrations.
Recruiters can view or send emails directly from the ATS or search candidates from different databases. Further, RecruitBPM allows candidate search from Indeed.com and resume parsing through Sovren. It also has Hotmail and Gmail support for sending emails and will enable recruiters to contact candidates on the phone through RingCentral. Lastly, the different API integrations available ensure that you remain productive and save time without leaving the ATS environment.
Do you want to learn more on how to streamline your company's business by efficiently managing candidates, jobs, and placements? Then you must check out RecruitBPM's ATS features.