One of the most functional useful features of RecruitBPM is its Resume parsing ability. Regardless of what type of company you are or who you're looking to hire, our resume parsing functionality is something you'll use every day.
Much like other modules on RecruitBPM, Resume Parsing is incredibly simple to use.
You just click on Candidates from the Navigation Pane. Within this tab, you will see a top row of clickable buttons labeled: Actions, Add Candidate, Parse Candidate, Status, and Hot List.
As you might have guessed, clicking on "+" will take you to the next step.
From the Parse Candidate screen, you will see three options. The first two Parse Resume and Paste Resume are free to all RecruitBPM users. You can upload a .doc or docx file to the Parse Resume option by clicking on Choose File and selecting the correct resume from your computer. Conversely, you can copy and paste the text from a Word document or other text document and paste it directly into the dialog box that appears when you select Paste Resume.
Premium Users have the ability to upload and parse nearly any resume, as the Advanced Resume Parsing option gives user the ability to import PDF, Rich Text Format, TXT, ODT, and more documents. Basically, if it's not an image or a spreadsheet, you can parse it!
After you choose an option, click on the Parse Resume button in the lower-right part your screen.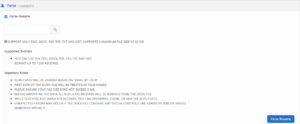 This will bring you to the Update Candidate page, where you'll see that you've successfully added a new candidate into your RecruitBPM database! Before you Save and Close your new candidate, be sure that all of the information is correct. If there are any changes to be made, go ahead and make those changes on this screen.