RecruitBPM Scorecard feature allows recruiters to score the candidate or get the scores from contact involved in the recruitment process. Scorecards make it easy to collaborate and rate candidates on customizable categories, like qualifications or skills. It simplifies the hiring process and let the hiring team to ask right questions to identify top candidates depending upon the skills required for a specific job.
Creating Scorecards
From jobs listing, go to a job that has already been created and click on dotted icon against that job. It will open a sliding window from where recruiter of contact can Add / Edit Scorecard.
Determine the categories you would like to score candidates on for this job based on the required skills by clicking Add Category (example: Personality, Qualifications, General, Technical etc).
Once you created a category, add skills within the category by clicking on Add Skill button. There is no limit to the number skills that you can add in each category.
After you have entered all of the categories and skills, click on save button to save all the categories and added skills.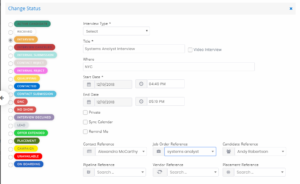 After creating the score card, you can select the job reference against the candidate when scheduling an interview. Then select the reviewer from whom you require approval.
Next, choose the check boxes above the email box to notify candidate and contact about the interview.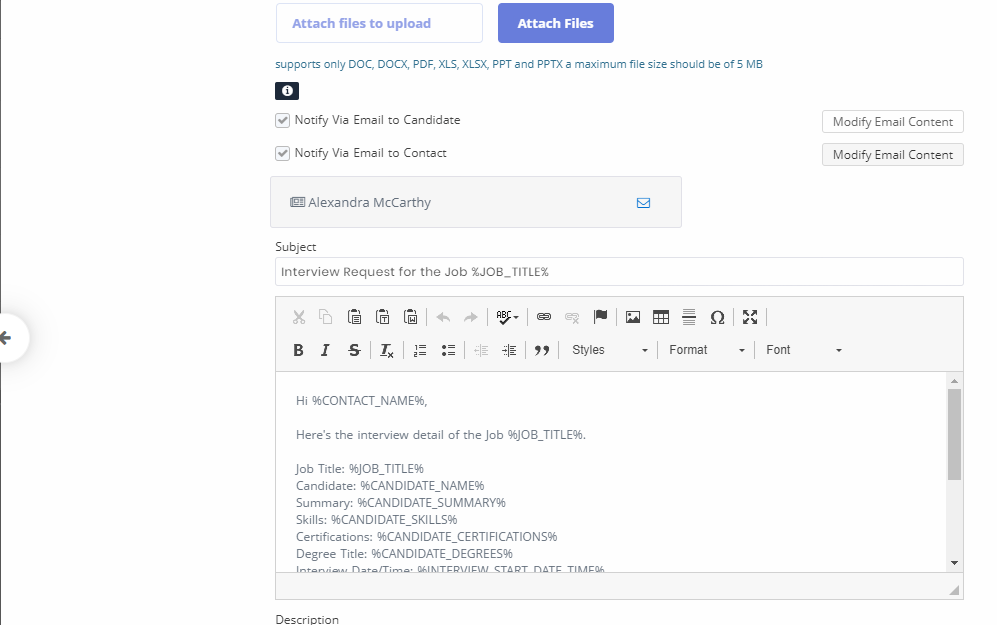 After completion of the Schedule interview form click Save button to set the interview and send scorecard through email to the interviewer/ contact.
An email will be sent out to the reviewer connected to the job as contact. Within the email, the contact should click the link when want to review the candidate.
He can provide his feedback about the candidate related to the identified categories of the job in score card.
Candidates are rated on a star system, from "Strong No" to "Strong Yes." Click on the star value that you would like to assign to the candidate for each skill.
If you would like to add a note next to a skill explaining your rating, simply click on the line next to the skill and type the comments.
After the form is completed, you will choose to either Approve or Decline the candidate.
On submitting the response the contact will send the feedback to RBPM about interview with the candidate and this review will be added to the job scorecard about each candidate.
Now you can see these reviews or scorecards in Interview section of a job on it's detail page.
You can view the detailed review by clicking on the Blue Star icon against each entry of the interviews done by the contact.