RecruitBPM tracks candidate complete workflow through workflow activity counters. The statuses of activity counters show the progress in the recruitment process of a candidate and keeps the history of all the activities been performed on the profile of any candidate. Although, users can find the activity counters and bulk actions applicable on the activities within the modules of companies, contacts, job orders, placements etc. but the most important module to track is candidate. All the counters are based on a particular step in the hiring process which you can attach with the candidate when a recruiting phase or activity if applied on a candidate. To view and access the activity counter navigate to Left Menu > Candidate> Activity Counter
Activity Counters
The activity counter show a quick view of the number of actions applied on the profile of the specific candidate. Six major activity counters are shown in this section. For example, C-Submission shows the number of times a contact is submitted to a job order. If you want to view the details of any of these counters, click on the icon and it will move you down to the TimeLine of Candidate which contains activity tab.

The Activity tab in the timeline of a candidate contains all the activities performed on the profile. Each tab in the list is a recruitment status that can possibly be applied during the recruitment of an applicant against a job order. Clicking on any tab shows the detailed listing of the actions taken place and allows users to apply bulk action of the listing.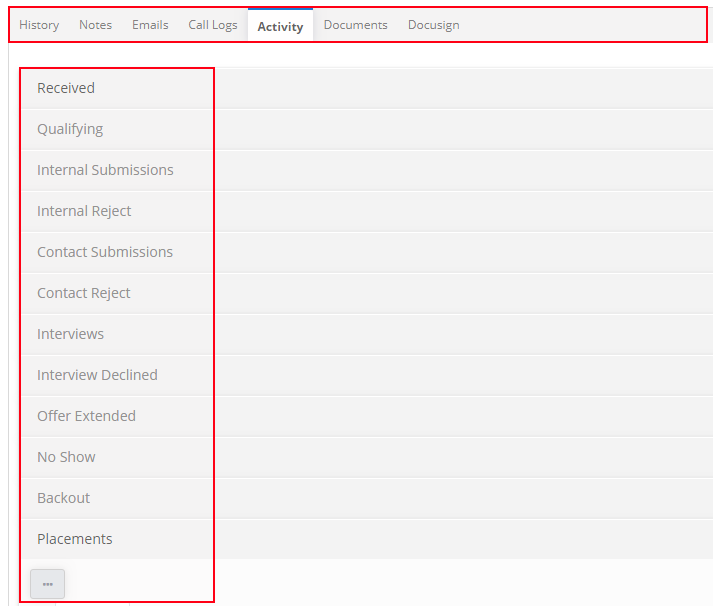 Bulk Actions
Every activity counter tab contains a list of actions been applied on the profile. When you select multiple records in the list, it will enable a tab on right top. If you click on the tab, it shows a list of actions that can be applied on the selected list.

For example, if you open Interview tab and select the number of activity records, in dropdown it shows two options Dissociate and Send to Contact. You can either dissociate the candidate profile from the job where you have submitted the resume or you can send the interview status to the concerned contact.

In the same way users can perform bulk actions of the activities to speedup and optimize the hiring process. The major counter descriptions are given as follows:
When a resume of an applicant is first received by the system, the status is set to 'Received'.
When a sourcer submit a resume to  recruiter within their own organization for review or approval, it's status is defined as 'Internal Submission'.
Status is set to 'Contact Submission' if candidate is forwarded to the contact for review or approval.
When a candidate is in the 'Interview' state during the recruitment for a job.
Hiring has been completed and candidate is placed to a client or job position.
Used when a candidate profile need to be removed from a submission to client or job.