In RecruitBPM platform, users can send sms to candidates and contacts in simple in easy steps. The best part is that users don't have to setup or activate this service as it is active by default for all the users in every applicable module. Here is the description of sending sms messages to candidates and contacts for better and quick communication.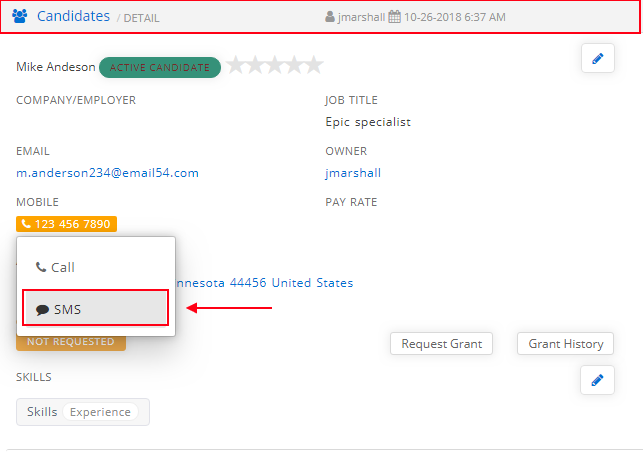 Sending Texts
You can send the text messages to a candidate or contact by opening the detail page and clicking on the Mobile number if available. It will provide options to call of SMS, click on sms to open a new window. All the sms will be sent by Ringcentral service or Twilio depending on configuration. if ringcentral is not configured all sms will be sent through Twilio service. You can write sms content in the text box and hit the send button to forward the message to the contact in real time.
Note: Texts can only be sent to phone numbers that are designated as a "mobile" type.
Texts are restricted to a 250 character limit for outgoing texts and templates, but have no limit for incoming texts.
Logging text activity
All SMS text activity in RecruitBPM are saved under the "Activity" section of each record's profile. Incoming texts are shown with a mobile phone icon, while outgoing text are shown with the same icon. RecruitBPM will also send you an email if a text message has gone unread.