The RecruitBPM application offers portal configuration and settings section for recruiters to view the recent updates and manage portal settings in more personalized way. Users can view the Portal Details from the left pane menu at third last position.
In this portal, there are three main sections that allow users to handle the backend of applicant career portal.
Recent Candidates
The first section provides listing of recent candidates added to the database who have applied through career portal. Users can also access this section from the Administration section. The listing shows main fields of the candidate's record. If you need to view complete details, click on name field which will open the candidate details page. Users can sort each field of the records similarly as other modules listings. This listing shows 10 entries by default on the Portal Details section, you can set the number of records to be viewed the bottom left dropdown. User can navigate to multiple pages of recent candidate listing from the pagination option given in the end of section.

Published Jobs
Next section of Portal is published jobs which provides listing of recently published jobs on career portal. It includes Job ID, Title, Type ,Recruiter (who published), and Published Date. If user wan to check the details, click on job title and it will open the Job Order page. Navigate from Next/Previous, First/Last buttons or page numbers to check more published jobs. User can also select the number of records from dropdown on left bottom of this section he want to view.

Career Portal Settings
The last section of Portal Detail is Career Portal Settings which allows the recruiters to customize the career portal according to hiring needs. User can also navigate this section from Administration > Career Portal > Portal Details. Each option given under this section helps hiring managers to set up job order details, career portal display, company website branding and design, career portal analytics and much more. User can click on each option to access the settings and change them as required for better usability.

Clicking on this option navigates user to section where user can pick what details are displayed when an applicant views a job and select the job boards on which user want to post the jobs.
Recruiters can customize the questions of application through which candidates apply on your portal. You can access the applications, edit or delete them from this section.
Recruiters can enable and configure third party job boards on which they want to publish jobs and also access the job order options that has been posted.
Career Portal Analytics Settings
RecruitBPM platform can be configured with web analytics tools to manage and track web analytics utilities on job portals. Select analytics tool and ID in the section and save to apply.
Emails templates option is provided to let the recruiters send emails automatically to the applicant in response when an applicant applies to a position, the administrator, or others contacts for better communication.
In this section, user can specify your company website where visitors should be sent when they click on a "Back to Website" link. User can also add company logo, internal links and social media links to flow user traffic to the company.
Click on this section to select a Career portal Design from the provided options. RecruitBPM gallery offers Default and Classic designs to apply instantly on career portal. User can also create a custom design option to edit the design for branding of your business.  User can also contact RecruitBPM to discuss Timeline & Cost for custom changes in the design to complement branding.

It allows the user to access published job orders on your website through embedded widget or XML. Check the details below in this article.
Career Portal
If you want to switch to the Career Portal, click on the top right tab, it will navigate to the applicant career portal where you can view published jobs for applicants with customized display you have configured in the sections mentioned above.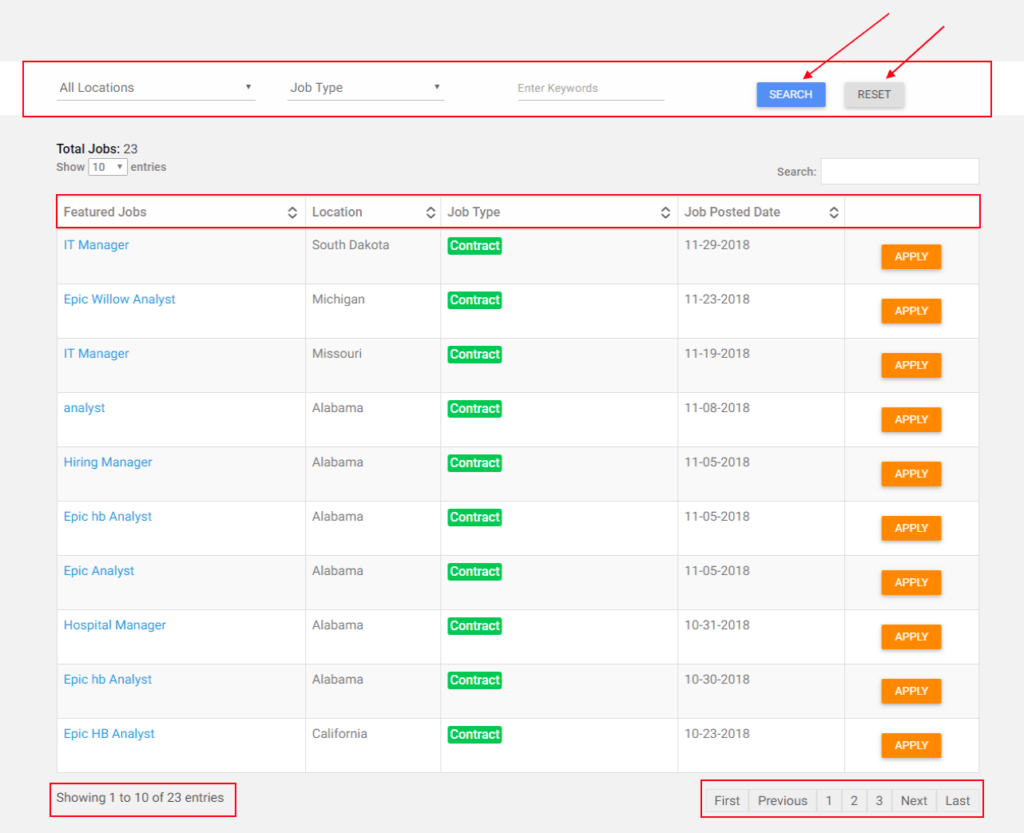 On top of career portal, you can see the search bar which allows users to find the desired job posted on the portal. User can optimize the searches on the basis of location, job type and keywords. It will dig out the most suitable match you are looking for. In search result, career portal will show a listing containing the fields you have mentioned in search bar. The job listing provides details of the job and Apply button to apply for the job easily and instantly. If user want to view previously posted jobs, he can navigate through the page from the pagination given in right bottom.