RecruitBPM facilitates it's users by providing the convenience to import mass data sets to the applicant tracking system to transfer previous data with ease. If you have been using any other ATS previously of even maintain large amount of data files, this feature will save you from troublesome task of adding data manually. In RecruitBPM, user can not only import data files but also can upload number of Resumes in a go.
To access Mass Import module, click on Profile> Administration> Mass Data Import
From the dropdown you can click on Import data to upload data file and start your hiring process.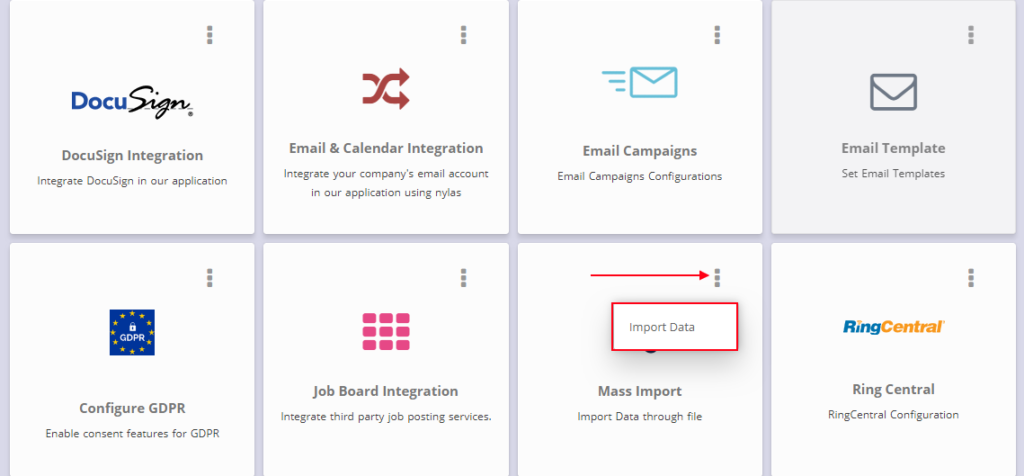 Import Spreadsheet
At the top left of the Import data page, you can see Import Sheet tab which allows users to upload spreadsheet in Excel or CSV format. On top of the import spreadsheet you can see a timeline to complete the whole process. Each step needs to be performed carefully to import required data in desired format and precision.
In initial stage, users can select an Excel or CSV file through Import Source File field and upload from another source or from computer hard drive.  Select module from next dropdown and click on import to start the process. The spreadsheet should not exceed the size of 5 MB. All the provisions about data files are given at the end of page. Do read these guidelines to get the task done properly.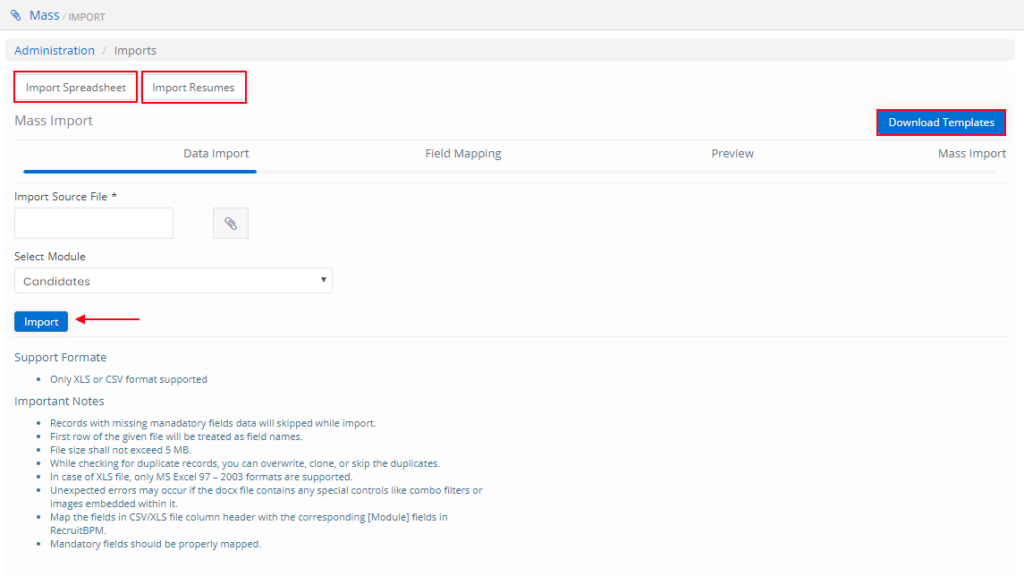 After you start importing data file to RecruitBPM, the process moves to next step of mapping all the data fields of uploaded file with the specified format of RecruitBPM. All the fields should have similar format and type. If there is any discrepancy left in mapping, exceptions will be generated against each issue. This section allows user to select the fields from dropdown to match ATS data file format.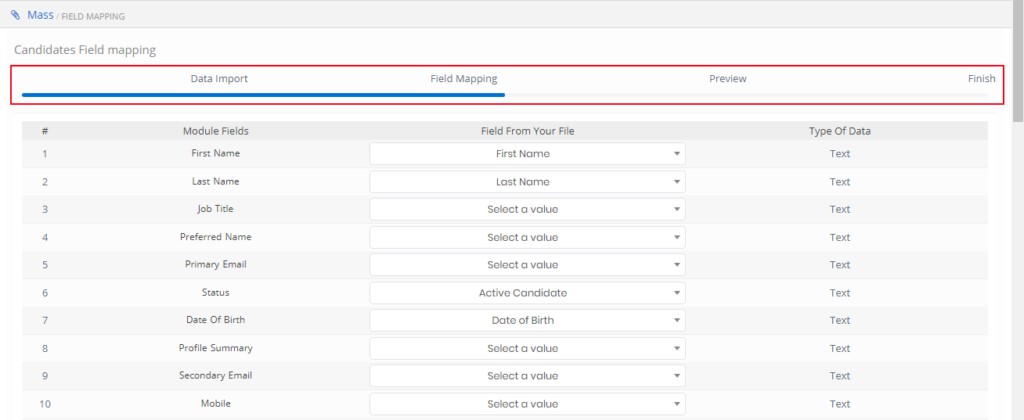 After successful field mapping, user can preview the data file to check the correctness of the data fields and format.
Finally this step will help you to complete the mass import and add the data to your selected ATS data set.
Download Template for spreadsheet format
In case you are not familiar with the RecruitBPM file format or do not want to spend more time on mapping fields while uploading. We have facilitated you with multiple sample templates which can be used to layout the data in required format. Click on Download Templates and get all the excel sheets for adding up previous data.