Bulk email is one of the most overlooked and underutilized aspects of a good Applicant Tracking System. Our partnership with Mailgun provides us with an extremely powerful bulk email tool, and you have access to it from day one. The qualitative features for creating professional personalized emails will satisfy both experienced users and beginners, alike.
Only a few minutes separates you from the delivery of your email. Creating email campaigns has never been easier. Detailed statistics will help you keep track of your email marketing strategies' results.
In order to send bulk emails go to the New and select Email from the list.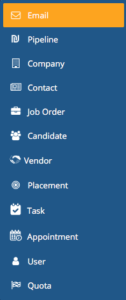 Inside the email form, select the second drop down and click Bulk email.
Selecting bulk email will open additional editable fields in the form, such as salutation and signature. You will be able to search and select many recipients for your message, and they will each be sent the email separately, rather than as part of a group message.