From your dashboard, click Job orders in the left navigation panel.

It will take you to Job Orders listing

Click on left side action button on any job you like to that will open actions against that particular job in the Job Order listing.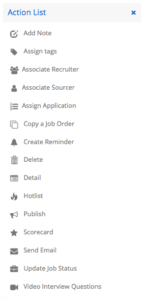 You can see Publish in actions list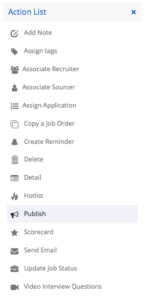 When you click on Publish it will take you to Job Order publish page or you can simply click on "X" on right top corner to close actions button. Once you are in Job Order Publish page you can post job on RecruitBPM career portal, Facebook, LinkedIn, Twitter, Monster, Dice or any other Job Board you have configured.