Let's start by looking at the dashboard: the first thing you see when you log into RecruitBPM's website.
In order to add, or create, a new Pipeline, you need to click on the New on left top corner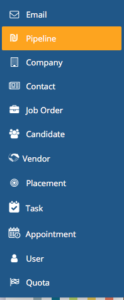 From there, you'll need to click on Pipeline. There are a number of fields to fill in on this page, but only a few of those fields are required in order to create a Pipeline.
You can also Provide details with Pipeline Value, Probability, Pipeline source  to expand the sections, simply click on More on the right top corner.
Once you're happy with the Pipeline that you've created, scroll to the bottom of the page and click Save or you can simply skip more details and click on Save on top right corner.
Your Pipeline now appears under the Pipeline tab in Pipeline module. It's as simple as that!