Applications can be created, customized, and assigned to specific job orders in the listing. To access, view, edit, or create new applications, users can go to:
Profile section > Administration> Career Portal>Applications
Creating New Application
To create a new application in the career portal, users clicks on Application option that opens Application listing page from where you can select Add Application icon from top right corner.

Adding application requires a name or Description. Only the system users can see application name, it will not be visible to applicants. In the body of Add Application form, you can add a header, which will be visible to applicants. To make the application a default application for all of your jobs or make it must to be used when candidates register on your career portal, select the checkbox after Header section. Clicking on Add Application at the left bottom will save your new application, and give you the ability to add or edit questions.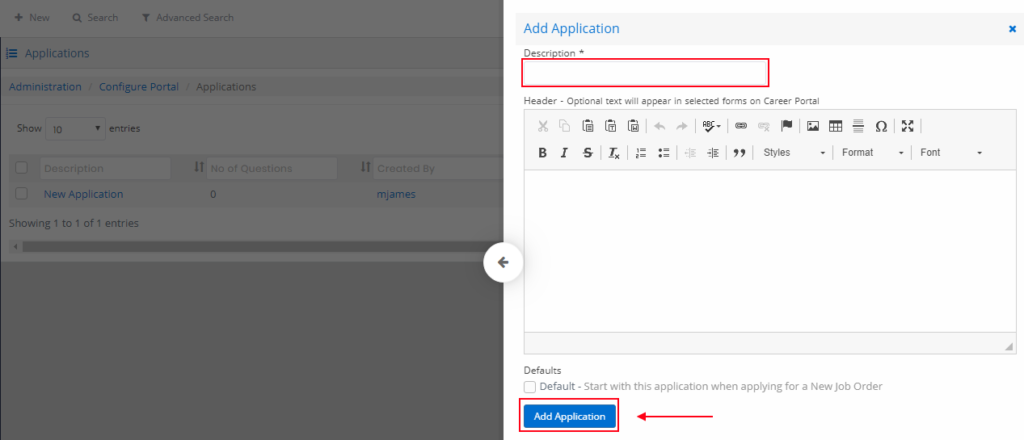 Adding questions
To add questions in application, go to Career Portal > Applications and click on the name of the application. It will open Application Listing page, from where you can click on Plus icon on top right to add the questions and specify default input fields. User can add Questions in 2 different ways:

Custom Question
User can add custom questions to acquire maximum information that can be effectively used to shortlist relevant applicants.
Field Title
The title field is the question that the applicant will see while applying to a job opening.
Comment
Comment field text will appear as smaller text below the stated question and is meant to be an addition or clarification to the initial question.
Required
The checkbox lets the user to make above added question a must to be answered for the applicants.
Field Type
User can select different field types from the given dropdown for specific questions. For instance, if user want consistent formatting for application answers, you can make the applicant select an option from the dropdown instead of providing a text box.
Text – One line text box to answer the question
Dropdown – Providing the applicant opportunity to select one option from a given dropdown list
Radio Buttons – Gives the applicant the ability to choose only one from the multiple options
Answer options can be added/edited by the user by typing in the Options field while selecting the Dropdown, or Radio buttons field types. Users can even edit/delete the questions, comments and chosen field type by editing the question from the application detail page.
Standard Inputs
Next to the Add Question tab, user can select Standard Input tab to add more input fields to the application.Two type of inputs are displayed under this tab, read-only and selectable. Read-only inputs are added to the questionnaire by default. Whereas user can add more inputs by selecting from the rest of the fields/inputs.

Applying Applications to Job Orders
To assign an application to job order, user can click on job order listing page and click on Dotted icon at extreme left of the job listing.

It will open an sliding window that offers list of actions. User can click Assign Application action and select an existing application to save against the specific job order.

On adding an application to a job order, you will see a notification of adding application successfully on the top right.