RecruitBPM offers multiple customization of the application statuses, label and custom fields associated with all record types. It helps users to personalize the workflow according to business needs.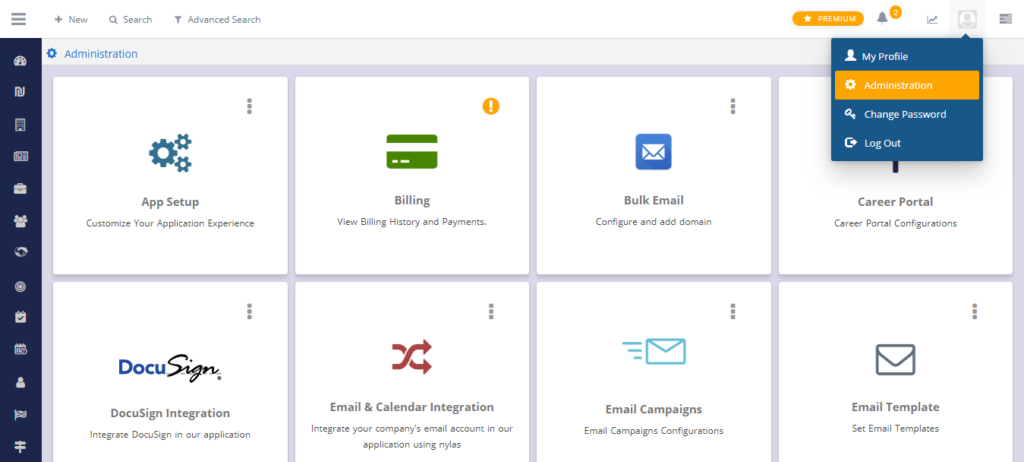 In Administration section you need to click on configure by hovering the mouse over dotted spot on App setup tab.
To begin, click on Profile Picture> Administration > App Setup> Customization
Under the Customization dropdown you can find multiple types of system customization. The four main options to customize includes Labels, Status, Fields and Localization. Each section provides relevant transformations and additions to system mappings to let you mold the application to business workflow.To edit any customization, click on the tab. There you can view multiple options to transform the workflow and system fields according to your requirements.
The first option among four is Label customization which allow the users to change the labels to desired names. You just need to click on Translate in label section to add new label and hit on tick mark to save. Furthermore, you can changes statuses in Status section and add or delete custom fields in Fields section.
Adding a status
To demonstrate an example to do customization, in this article we are focusing on the pipelines under the Status section. Users can also apply same method to make changes in labels, fields or localization tabs.
To add another status in pipeline, click on New Status. Add the required attributes of 'status Name', 'Background Color', 'Font Color'  and other options to add new status to default listings etc. Click save to apply the changes.

The new status of pipelines will appear in the list according to the attributes you have specified in the given fields. The other mappings ('Company', 'Contact', 'Vendor', 'Placement' and 'Job Order') statuses can also be edited in the same manner.
Adding Fields
Custom Fields are a powerful way to add up more specific fields in RecruitBPM to pipelines, company, candidates, job orders or placements. These custom fields can be of multiple types depending upon your workflow requirements or changing needs.
When you click on Add Fields it will open a window that allow users to create new fields in the system.

There you need to add Custom Field Name and multiple Custom Fields types. The custom field type box lets you specify the data type of the given field.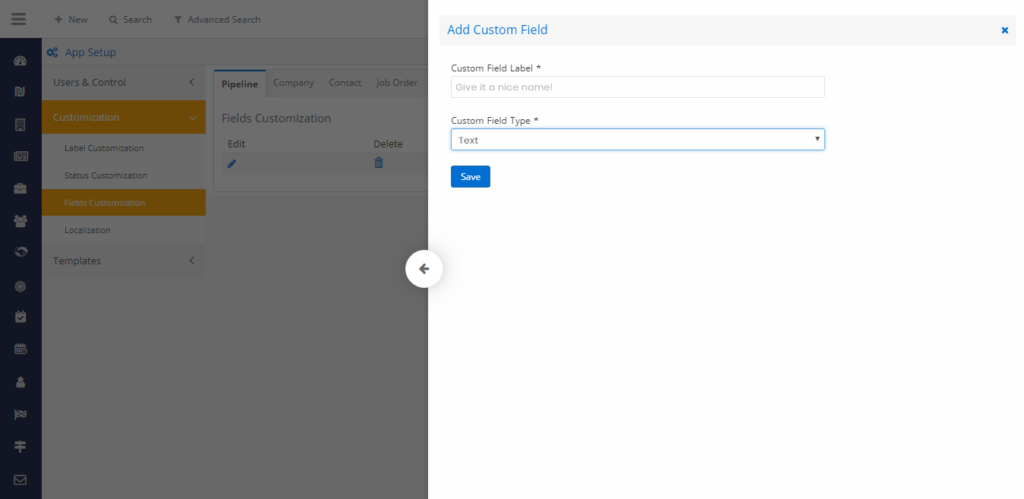 The new fields will show in the sections of Pipelines, Job orders, candidates and other modules which ever you have selected. You can also remove the added fields from the custom field listings by clicking on Delete icon.
Localization
The localization section in customization lets the users to setup their Country , Currency, Timezone, Date and phone format for scheduling the tasks like meetings, interviews and To-do tasks according to regional date and time.