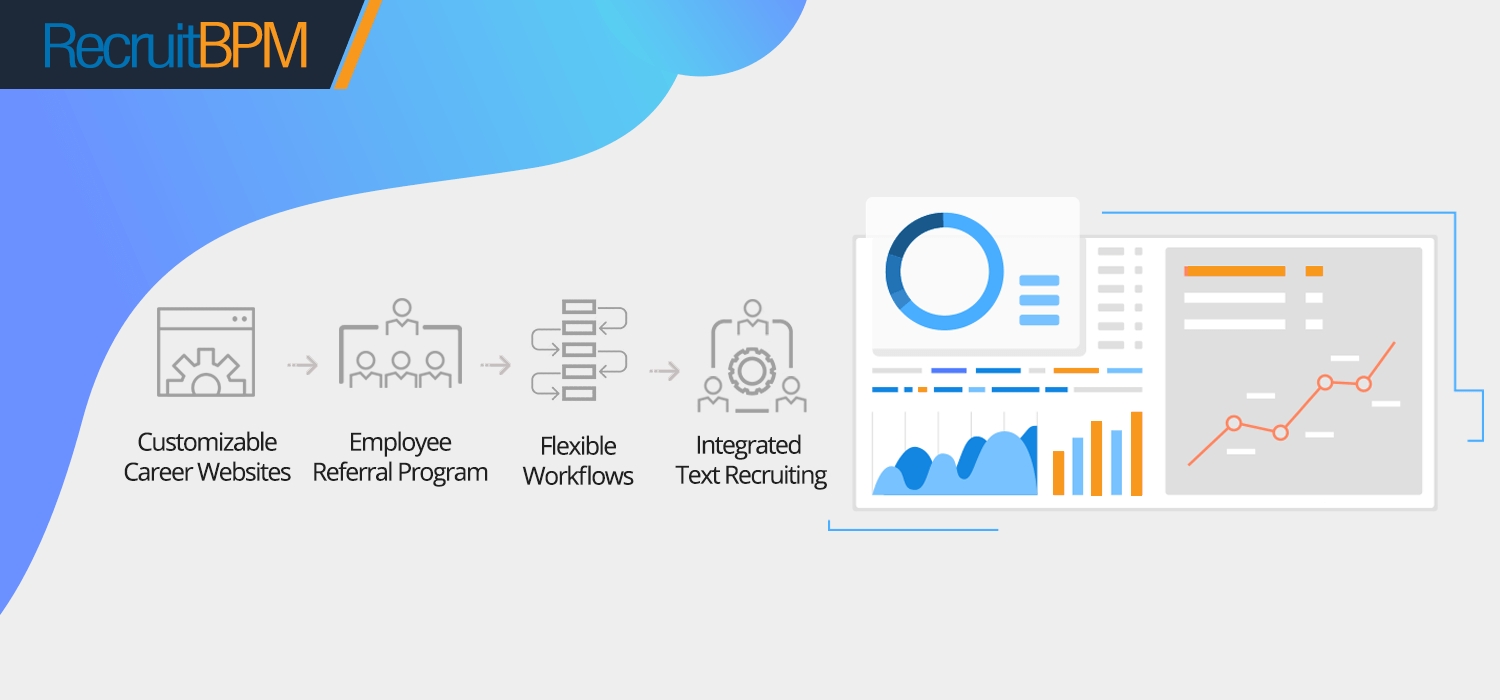 Talented job seekers identify and go for a practical and advanced recruiting process. As a human resources professional, you must have such recruiting software which has rich and best ATS features. It enables you to easily connect with the top talent. To engage your perfect candidates and grow your productivity as a recruiter. 
Best ATS Features
Here are the ten best ATS features that you must have in your applicant tracking system.
Customizable Career Website:
Your career website is one of the first places you have to display your company to potential candidates. Be sure that your applicant tracking software provides you with the ability to customize your career website's look and impression. It must also work just as well on mobile devices as it does on desktop computers.
Simple Application Process and Mobile Experience:
There shouldn't be any need for the candidates to jump through hoops to submit their applications to you. Make certain that the candidates are able to send you their information any way they want: submitting their resume, easily applying through LinkedIn, or even a picture of their resume taken from their phone. Your recruiting system must be able to decrease disharmony between you and your ideal candidates when you are on the go.
Employee Referral Program:
Undoubtedly, one of the best and most trusted sources of hires is referrals. Be sure that your applicant tracking system includes developing a seamless and easy referral program for all of your employees. Using an established referral program, employees can easily inform their connection where to look for open positions at your company.
Hiring Manager Collaboration Tools:
These tools help to keep everyone up to date allowing multiple internal parties to have a view of candidates' statuses. The software's intelligence automatically grades applicants and forecasts onboarding times. You can resourcefully schedule interviews with highly sophisticated ATS tracking features.
Complete Recruiting Process Integrations:
Your applicant tracking system is generally only a part of your recruiting and hiring process. From background screening to HRIS, you must make certain that your software ties your hiring data to the rest of your recruiting ecosystem. Built-in and customizable integrations decrease unnecessary data entry tasks and restructure your workflow.
Analytics and Dashboards:
Making certain that your analytics are uncomplicated and easy to customize has to be one of the main features of your applicant tracking software. Even if you begin with pre-built report templates or customize your metrics for a very precise request, your recruiting software must offer you these abilities. Added nice-to-have features are dashboards to display your current key metrics and help you keep a watch on the trends like time to hire or different barriers. Spontaneous dashboards make metrics visually usable at a glance so that you can screen and overcome hiring delays.
Integrated Text Recruiting:
Although, Text recruiting may appear as a trend. But its a trend that recruiters and HR professionals should jump on. As text recruiting has shown a 90%+ response from applicants. it's a trend that recruiters and HR professionals should jump on. The capacity to text to applicants in the recruiting process through your applicant tracking system and being able to tack and save the transcripts is an advantage to be kept in mind. Avoid overcrowded inboxes and voicemail and have direct communication with your candidates with an integrated text messaging feature.
Strong Candidate Search:
Undoubtedly, you have spent the maximum of your time, energy, and money to develop a huge database of candidates. Therefore, be sure that your recruiting software has a powerful candidate search. So that you can easily discover who you require for standard or even custom fields. Furthermore, you can enhance your searches by the filters you require, such as workflow, application, or area. You must also be able to customize filters to meet the specific requirements of your company. you can collect easily data from LinkedIn by using the most popular LinkedIn scraper. 
Flexible Workflows:
Each organization is different from the other. Sometimes the departments are different too. Make certain that your system comes with the best ATS features. Such as it lets you customize your workflows, modify your pre-screening questions, workflows, and more by the position. You must not be made to follow an out-of-the-box procedure. Your applicant tracking system should adjust easily to the requirements of multiple department managers. They must be able to add particular screening questions, launch recruitment workflows that fit their procedures and analyze interviews with a mobile application.
Video Recording:
Be sure that you are able to add another layer to your recruiting software with the ability to record short video responses directly within the system. This enables you to communicate with the candidates quicker by having applicants respond to your screener questions. Moreover, it provides them an opportunity to speak more directly to the hiring team.