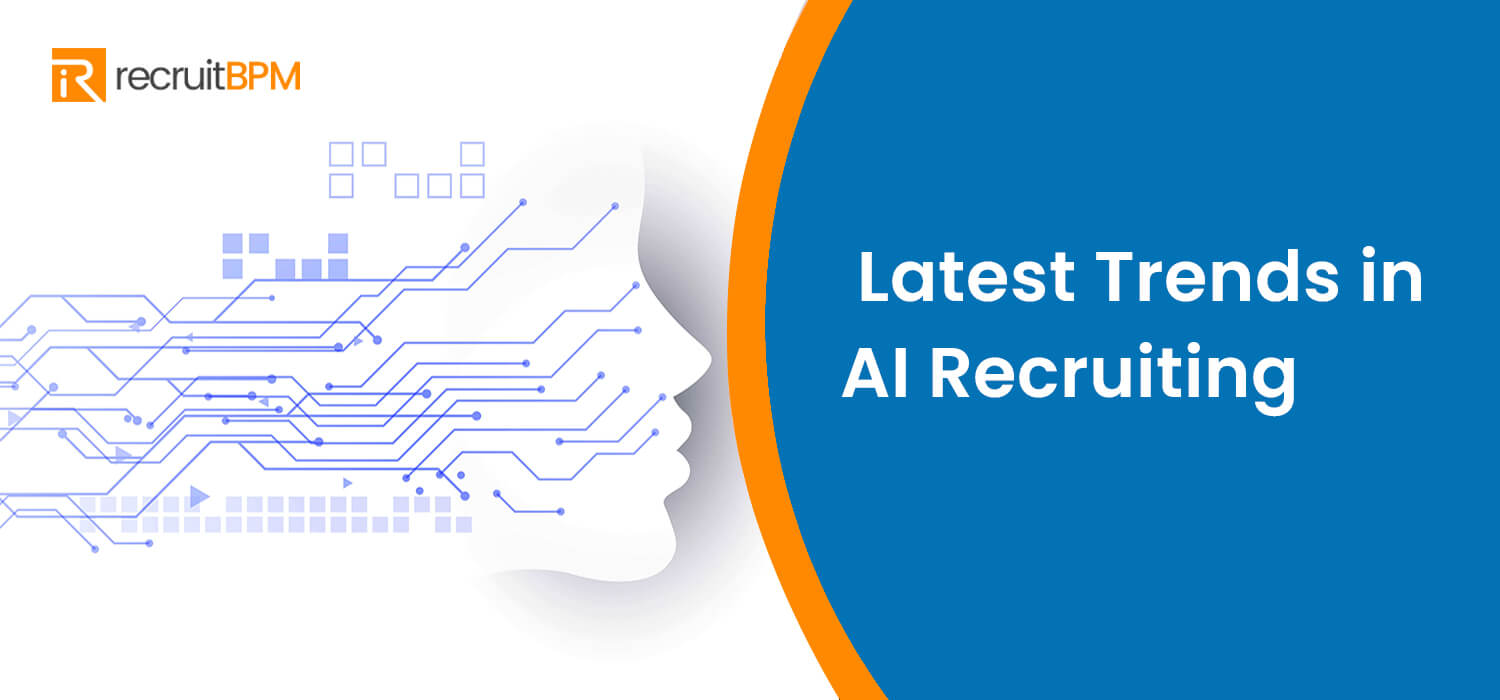 In the Black & White age of Human Resource procedures and recruitment, things used to be simpler than they are today. The reason being the demands, challenges, and options that HR managers had back then were very different as they are today. The recruitment landscape has evolved greatly over time. It is predicted to evolve even more in the years to come. The skill sets have changed as well and are frequently changing everyday. Candidates look at jobs and careers in extremely new ways now. Additionally, their priorities have changed and they are not even hanging out in the same places anymore. That is why traditional recruitment techniques stand miles apart from modern methods i.e., AI-based recruitment.  So the question arises what are these latest trends in AI recruiting?
Traditional recruiting methods lack in their range of interaction-platforms and sourcing of talent. All what conventional recruiters had were conferences/seminars, workshops, newspaper advertisements, referrals, recruitment agencies, in-bound company promotions, internal job-boards, and intra-organizational hiring. In contemporary times, the world is open and unbounded. You can find your desired talent anywhere – on social media platforms like Facebook, Twitter, LinkedIn community, via college events, with intelligent robots trawling the web, through AI-based resume-processing, via sharp data analytics and virtual tools. The interesting part is that, today, the candidates expect to meet a prospective recruiter in these cool places. Plus, recruiters now realize the value and tendency of performing workers and passive candidates. They might seem irrelevant at first but they can be extremely suitable to add the value and productivity that the organization needs in recent scenarios. To add to that, diversity and inclusion have become essential hallmarks of today's recruitment approaches.

Imagine the number of days HR managers in the past would take to assess a pile of resumes or wait for an employment agency to serve a pool of candidates in order to begin with interviews. Consider the monetary resource that would be spent for posting, looking , meeting, interviewing, influencing, and on-boarding these prospective candidates. When you compare traditional and AI-based recruitment methods, you cannot help but notice the vivid change. An AI algorithm can scrutinize through mountains of potential resumes or profiles in a matter of seconds. A bot can schedule the recruitment process with a single tap of a finger and even take away the burden of basic interactions and orientation of candidates. New recruitment methods can shrink the entire cycle of recruitment by using AI-based and technology-driven recruitment techniques.
The biggest difference in AI-based and traditional recruitment methods is the luxury of knowing whether a recruitment practice is viable to carry or not. There's no more ambiguity in recruiting with the influence of analytics and real-time information. Recruiters are now thoroughly aware if the hired candidate is delivering as per expectation, is suitable for the organization, productive, gauging their performance, competent, and adding value to the company. These tools help to measure the employee-side of the experience, supporting organizations to improve employee satisfaction, helpfulness, and retention rates. Data can be provided and administered even at every trivial stage of the recruitment cycle. Thus, allowing recruiters to adjust in accordance with the discrepancies. This data also informs an applicant about the current stage of their recruitment process. They can click a button and interact with chatbots to catch up on basic queries and supply routine assessments.
The recruitment technology is evolving, and AI is fast becoming a mandatory tool in every recruiter's toolbox. In the recent past, AI has proved that it is capable of doing lot more than is expected; its capabilities have been tested, and a lot of upgrades and improvements have come through since then. Here we will look at the biggest AI trends that are nurturing the recruitment landscape.
Programmatic Job Advertising
This type of job advertisement uses Artificial Intelligence to purchase, distribute, and enhance job ads. These job ads appear over the web without human interference. The Programmatic job analyzes the data captured through the market and the employer's historical background of ad tracking to discover how the ad will perform. Following this, it makes informed scheduling and placement decisions for job ads. To make it simple, the programmatic job advertising places the true job ad, at the right time, over the right platform, to reach the exact candidates.
Recruitment Marketing Software
Recently, there's been a steady and gradual shift from advertising to marketing in terms of staffing strategy. Nowadays, the recruitment marketing software focus on the two most vital parameters of a recruitment strategy – create tempting job ad content and build an employer brand.
In contemporary staffing and hiring industry, soft-selling works better in an attempt to appeal passive candidates. The recruitment marketing software converts hard-sell job ads' content into something more interesting, engaging, and tempting for the targeted candidates.
Interview Chatbots
Chatbots have been part and parcel of the recruitment industry for a few years now. However, their use was mainly to provide landing pages and encouraging candidates to apply for a certain job. In contrast, the advanced Chatbots technology has evolved and is performing tasks like pre-screening of candidates and even scheduling interviews.
These chatbots interact in a human-sounding text conversation with applicants to collect their information, response, media, videos, and documents. These chatbots are sympathetic, instinctive, and assumptive, and they can communicate via chat, email, and/or text.
Resume Database Filter
With the help of database filtering modules, you can use your ATS resume database to filter candidates who had applied earlier for a role at your company. After successful filtering of the candidates, it checks whether this pool of candidates is a match to your current open job orders or otherwise.
Once the right match is found, this particular AI recruiting technology establishes contact with those candidates via social media, email, or other channels. It also looks out for their social media profiles to look for new employment history and then adds it to the candidate profile.
Job Aggregators
The ever-evolving job aggregators are one of the AI recruitment technologies that use bots to sneak various career sites, social channels, job boards, etc. to advertise your job postings. However, to take advantage of job aggregators, a separate URL for each job listing is a necessity.
When interested candidates navigate these job listings, they are automatically directed to the original location of the listing for the candidate to proceed with the job application. Job aggregators also come in handy for checking your competitor's listings and comparing the salaries, profits, and job description content.
Enhanced Sourcing With AI Recruiting Tools
Application of AI recruiting tools helps improve the quality of candidates in your pipeline in a number of ways. In order to complete an application, a candidate must have suitable technical skills. After all, if they can't even suffice application requirements, it implies that they might not have the right set of skills to fulfill the position. Since AI recruiting performs biometrics analysis to evaluate the quality and authenticity of candidates' responses, therefore, it provides deeper insights on the likelihood of a good fit.
The second benefit is that AI-powered tools can filter candidates that conventional human recruiters may not even be capable of. As a result, recruiting teams can spend more time with quality candidates, working on relationship-building and evaluating for soft skills. AI-powered tools are efficient enough to improve the quality of the candidate pipeline by targeting passive candidates. According to a recent research, 95% of candidates that recruiters attempt to hire are not even looking for new jobs. This is where the significance of referrals comes in, using personal social networks to spread the word about available positions.
Personalized Experience
We've already mentioned the major significance of chatbots, but it doesn't end there. These days, candidates are more concerned about how they want to interact with potential employers as well. Many think the key to a great candidate experience lies in personalization. This goes past discretely addressed emails and outspreads to tools that make candidates feel special or unique. In traditional recruiting methods, only a human recruiter could offer such an experience. With the progress in outcomes in of technology, employers will be able to rely on AI recruiting to help recruiters accomplish the same goals. Some AI tools now provide 'real life' conversations in text as Google has already taken that to next level with its voice AI assistant that is impressive, to say the least. It mimics to the point of connecting on a human-to-human level interaction.
Reducing Bias
Conscious or unconscious, biasness is possibly one of the most common and hard-to-overcome difficulties to quality recruiting. These biases include stereotyping based on cast, color, creed, nationality, origin, etc. However, if various machine learning algorithms, analytical insights, and latest trends in AI drive the decision making, such errors are bound to reduce substantially. Consequently, it enables the recruiters to be more objective in fair hiring practices.
Fewer Errors
A thumb rule is 'lesser the human interaction, the lesser are the chances of human error'. The tasks performed with Artificial Intelligence and machine learning are prone to lesser likelihood of resulting in errors. Instead, they are there to improve the efficacy of the hiring process which they do. Furthermore, with intelligent recruiting practices, employers and recruiters can spend more time with candidates and less time doing monotonous tasks, ultimately leading to higher productivity and lower cost per hire.
New Employee Onboarding
Implementation of AI technology in recruitment industry can help in the reduction of administrative burden during the onboarding process. Employee onboarding software also allows recruitment firms to ensure a 24/7 onboarding. AI chatbots can answer specific questions and guide applicants through the various aspects of their onboarding. As a result, new hires can experience a faster integration to their company.
Rerouting Candidates
An interesting new feature of AI recruiting, that is relatively new in market, is the rerouting of candidates. This means, if a candidate is not a suitable for a particular job, they will be rerouted or directed to another company. Firstly, this will assist the companies to reach the right talent pool easily. Secondly, AI recruiting will open new opportunities for candidates looking for a job. This ultimately results in higher employment level. According to a recent survey, more and more companies are adapting to this recruiting approach. Whereas, many others are also expected to be riding the bandwagon very soon. In others words, the prediction is that the numbers are going to increase further in future.
In conclusion, the fate of hiring or recruiting landscape has greatly changed in comparison to the conventional practices. It is safe to say that in near future, almost all types of recruiting practices will be mechanized owing to the advancement and reinforced learning via AI Recruiting. If you're looking for an intelligent recruitment platform, RecruitBPM is here to you.
You can also avail a free trial and product tour with RecruitBPM's Applicant Tracking System here.