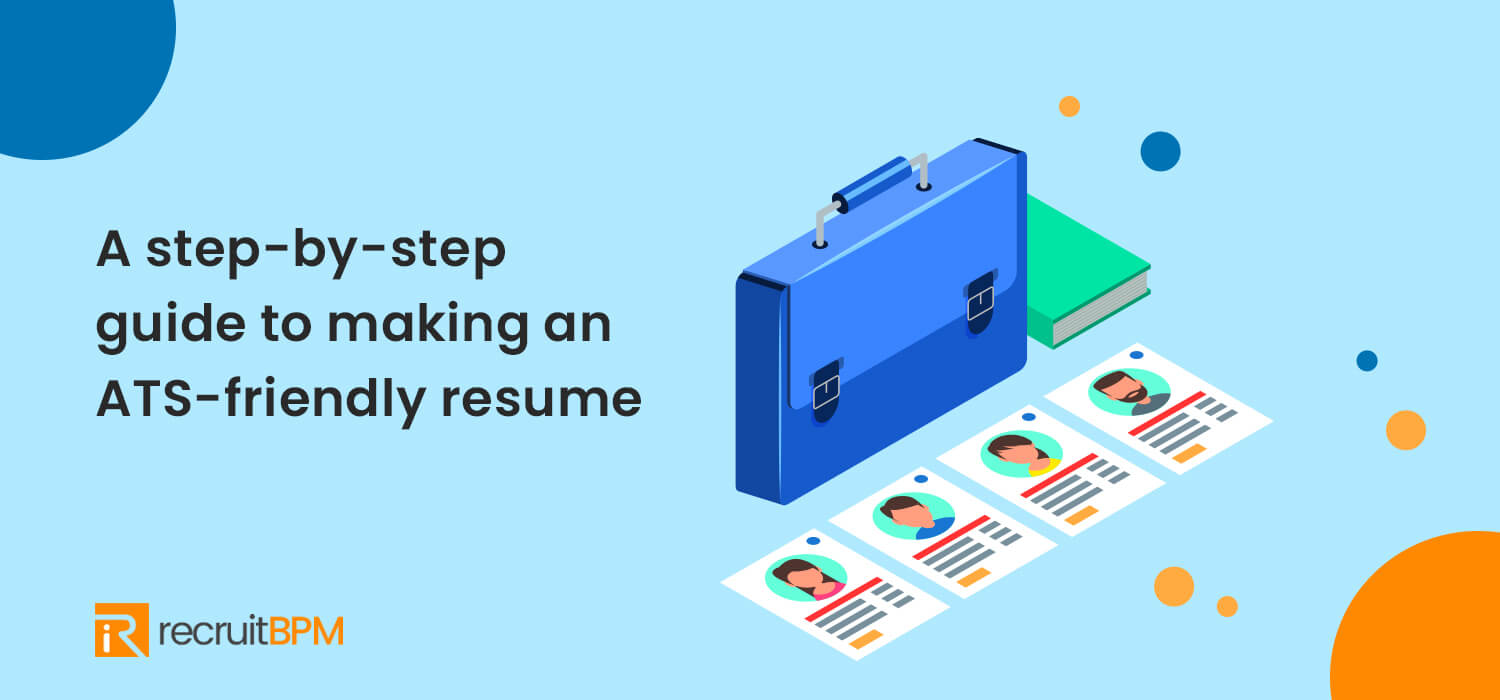 Why you need ATS compliant resume? 
It is because if you don't have a ATS compliant resume then expect to keep waiting to score a good job.
Does this ever happen to you that your job searching most of the time feels like you are throwing your resumes into a black hole? Or wondering if your job applications are being read at all. Possibly you've come to know that automated ATS-compliant resume scanners reject job applications before they even reach a human. And yes—at many corporations that receive a high number of applications, that's true.
The Job searching landscape has been completely transformed by the internet. The days when you would go in and speak to a hiring manager are long gone except for the small or local businesses. Rather, you apply online these days as you don't physically fill out a job application and send your resumes via mail anymore. Nowadays you can apply for a lot more jobs. But it's not only you, but you've also got almost everybody applying for a job application of your interest. This means that an open job position can receive far more applications than the companies can read.
To overcome this situation, the hiring managers and recruiters more often use an applicant tracking system—software that assists them to organize job applications and ensures that you do not  miss any application. If you've applied for a job in the past decade, it's highly likely that your application has passed through an Application Tracking System. Over 98% of hiring and staffing companies use an Application Tracking System, according to research conducted by Jobscan. Whenever you apply for a job through online platforms, your application is received and processed by an Application Tracking software. Sp, making a ATS compliant resume is the initial step to get called for an interview.
An ATS does not just track an application but does more than this. It filters applications, parses resumes, forwards the most relevant resumes to the hiring managers or the recruitment team. This is the resume-scanning technology you've probably heard about. 
Key Steps for a ATS Compliant Resume
Fortunately, getting past the ATS is way simpler than you might think. To create an ATS-compliant resume that will find its way to the hiring manager, please follow these important points:
Apply Only to Roles You're Qualified For
Application Tracking Systems get an impression as the "robots" standing between an applicant and the new job and when you hear that recruiters read only 25% of the applications they receive for most postings, it might strengthen that impression.
But we usually overlook the reason why recruiters read such a small fraction of applications? The answer is simple, most candidates are not qualified for the job the recruiter was filling. While others are completely irrelevant.
So, first thing's first, make sure you qualify for the roles you wish to apply for. Now, this doesn't mean you have to hit every single job qualification or apply to a job only if you have the traditional background for it. If you fail to have the core skills needed to perform a particular job, you better do not waste your time or a recruiter's.
Don't Apply to many Jobs at the Same Company
The recruiters can see all the roles a candidate has applied for at their company through an applicant tracking system. Many recruiters notice that the same person is applying to every single job opening the company had. This will have a negative impact as a recruiter can't tell what exactly is the interest of the applicant or even if the applicant is aware of their abilities.
You may apply for both if a company has two similar jobs open. Similarly, you may apply for two very different roles if you have a wide range of core skills required for those job openings and would be equally competent in both these roles.
At the same time, you shouldn't be applying to both an entry-level position and a managerial-level position. And you definitely avoid applying to every single opening a company has. That just shows you haven't taken the time to consider what the right role for you is—and a recruiter isn't likely to take the time to do it for you.
Include the Right Keywords
One of the many ways that the ATS narrows a talent pool is by searching for specific keywords for the job application. It's similar to a google search but on a smaller scale.
The recruiter can choose which keywords to look for—normally whatever qualifications, capabilities, experience, or characteristics are generally significant for performing the job. So, if you want your resume to make it past the ATS, you'll need to include those significant keywords in your resume. Clue: Look for the core skills that surface more than once in a job posting and are referenced at the top of the job requirements and duties. Core skills may include kinds of programming languages, technologies, methodologies, and different capacities that are simpler to evaluate.
Depending on the industry that you are applying in, certain qualifications and certifications might also be important keywords. For instance, in fields like nursing or in any other field where state licenses are essential. Employers expect to have all key information at a glimpse. For example, they want to have ready information whether you're legally clear to do the job or not.
At times, an ATS checking for keywords will just perceive and count exact matches. Lets suppose you might be having the right experience. But you composed your resume in a different language than what was actually required. In this case, the chances are high that the system would overlook you and your resume as the top applicant. For instance, if you write that you're an "ASW" but the ATS is checking for "Authorized Social Worker," it may drop your resume. Or on the other hand, you wrote that you're "an Excel master," however the ATS is looking for somebody who has "command on spreadsheets," your resume may never get to the employer.
Choose the Right File Type
In the incredible resume document-type debate, there are just two genuine competitors: Docx versus .pdf. PDFs are best at keeping your format safe. But the .docx format is the most precise ATS compliant resume format. So, if you need your resume to move beyond the ATS, use a .docx document. But if the posting requests a specific document type, offer it to them.
In case you're thinking about utilizing an online resume builder. Firstly look for is the file type that generates the resume. If you don't have Microsoft Word or another program that can change your resume to .docx or .pdf, you can utilize Google Docs to make a resume, then download it in one or the other format for free.
Make Your Resume Easy to Scan
Ensure that your resume has the correct substance for an ATS. Additionally, ensure that the ATS can figure out that information and deliver it back in a readable form. Luckily, ATS-compliant resume formatting is basically the same as ATS-compliant resume formatting. Like humans, the ATS will read from top to bottom and left to right, so remember that as your format. For example, your name and contact information should all be at the top. Whereas, your work history should begin with your latest or current position. This will ensure that you have a ATS compliant resume.
There are three normal resume formats. i.e. a) chronological, b) combination, and c) functional. ATSs lean towards the initial two. Recruiter or HR professionals likewise incline toward chronological and combination formats.
Avoid Fancy Formatting
It might torment you to hear this. Yet you probably need to dispose of that expensive resume format or heavily designed custom resume. To check your resume for applicable keywords most ATSs will change the document to a text-only file. So, any fancy formatting will be of no use. The ATS will be unable to pull out the significant information as it cant understand designs. So it may overlook the experiences that qualify you for the work due to fancy formatting. Therefore, focus on making a ATS compliant resume that does not have fancy formatting.
When designing a resume to go through an ATS avoid Tables, Text boxes, Logos, Images, Graphics, and visuals
Columns: Since the systems are programmed to read left to right, some will read columns straight across
Headers and footers: Header and footer get dropped by most Applicant Tracking software so include all the information within the body only.
Uncommon section headings: Use conventional heading like "Education," "Work Experience," and "Technical Skills," so the ATS knows how to process your information.
Less common fonts: Use a universal font like Arial, Calibri, Helvetica, Times New Roman, or Cambria. Do not download new fonts as the ATS may never parse the resume.
Useful elements for ATS:
Bold
Italics
Underline: Stick to using underlines in headings and for URLs only.
Bullets: Stick to the standard circle- or square-shaped only.
For a free demo of the RecruitBPM and Resume-Library integration, sign up here.