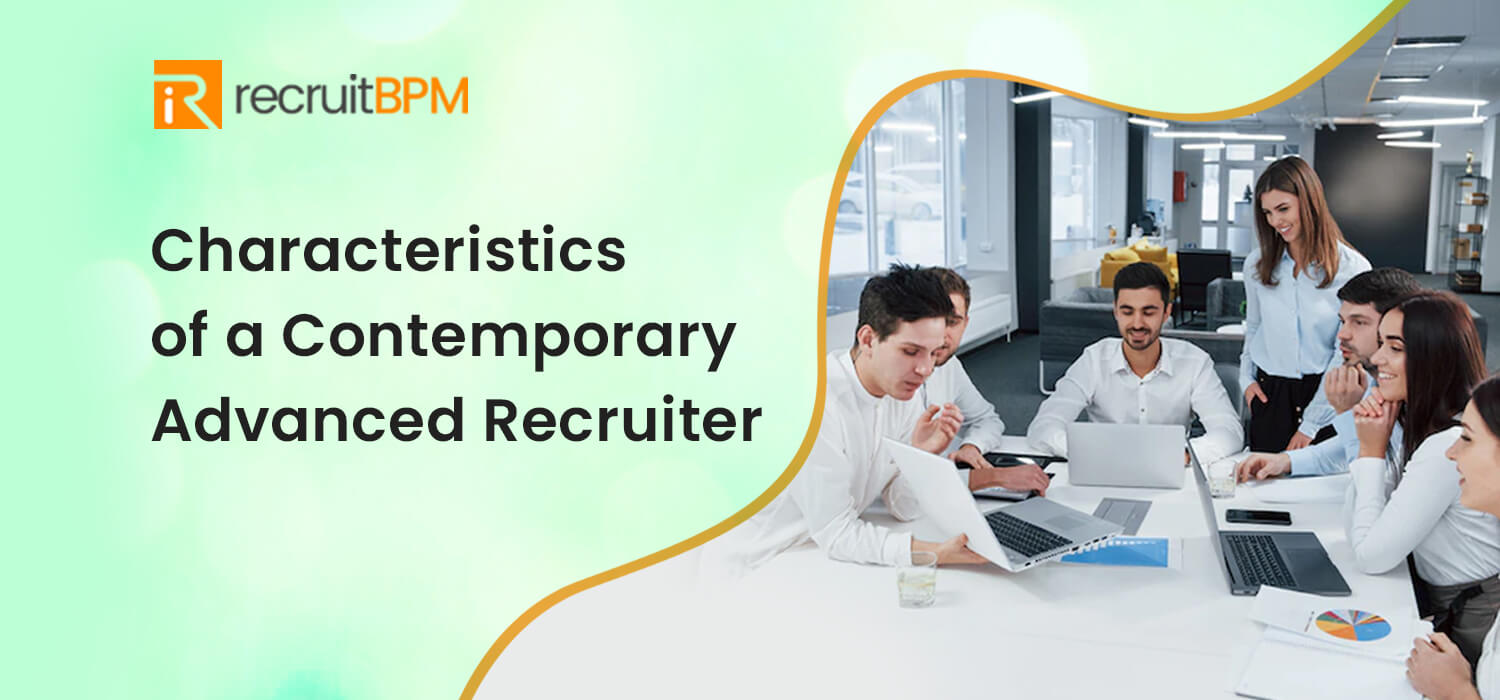 Ever since the inclusion of characteristics technology in the recruitment portrait, a lot has changed along the way. This exponential transformation has paved the way for new innovative approaches pertaining to hiring processes. Where there's been a systemic change in recruitment, the expectations from the recruiters have also greatly changed. Today, there are totally different skills and expertise expected of a contemporary advance recruiter than ever before. The contemporary recruiter differs greatly from the recruiter of the past when hiring used to be mainly intuitive.
Since the technology is growing swiftly, only those recruiters are going to be successful who can match the pace of technological advancement. If you are unable to aptly learn and wield innovative tools, chances are that your recruiting practice  might get lost in the ashes of time.
This article highlights the most basic characteristics of a contemporary advance recruiter that you need to incorporate into your professional profile in order to compete better.
Traits of an Advance Recruiter
Eloquent Communication


The first and foremost characteristic of an advance recruiter is eloquence in his communication. Since it is contingent for the recruiting job to interact with a number of candidates, having a set of good communication skills must be a prerequisite.  However, in contemporary times, the need for sound communication in recruitment has gained more significance. In the competitive talent acquisition process, recruitment firms continuously compete in providing best candidate experience to their applicants. As part of this, it is significantly important for the recruiters to maintain close relationships with their clients while not losing the brevity of it. Be it the active or passive mode, the recruiters need to proactively engage with their clients.

With the developments of communication lines, there are more and more available ways that recruiters can wield. Where this is a paramount advantage, the number of growing communication also poses a big challenge. To put this simply, a successful advance recruiter needs to aptly make use of nearly every communication line to enhance his reach. It is obviously a common understanding that the next best fit candidate could pop up from literally anywhere. Thus, if you want to see yourself developing into an advance recruiter, you must work on your visible representation as well as your eloquence.
Research Oriented


We all can second with the significant emergence and development of technology in pretty much any niche around us. Likewise, the recruiting industry shares the same fate. A lot has changed over the past few years when it comes to comparing traditional and modern recruiting practices. A traditional recruiter differs greatly in contrast to an advance recruiter in the technological aspect of recruiting.

Where the web enables swift dissemination of information, it also creates a responsibility for the recruiters to keep learning and deploying innovating practices. Many platforms including LinkedIn undergo research studies pertaining to recruitment. The outcomes of these studies are subject to avail by an advance recruiter to tweak and enhance his/her hiring strategy. For instance, it used to be a common belief that passive candidates are nearly impossible to hire. However, thanks to scientific ways in recruitment, today more and more talent acquisition teams are making use of case studies and are well able to onboard passive candidates.
Structured Decision Making

A contemporary advance recruiter needs to manage several tasks simultaneously. Some of those obviously require deliberation to details. Hence, it becomes contingent for any advance recruiter to have an organized and structured working approach. The recruiters can't leverage any laxity since it can cause them to plunge their ROI.
The present day recruiter makes use of several software e.g Applicant Tracking System. Main purpose of such software is to seamlessly run the overall recruitment process. These software tools provide useful analytics and insights regarding the candidates and the clients. In turn the recruiters are well able to identify and prioritize their tasks in a structural manner.

Automation

The application of automation is clearly and exponentially rising in every walk of life. Likewise, the staffing industry also welcomed automation quite a while ago. Certainly, a number of recruiting tasks like candidate screening & resume parsing used to be done manually in the past. However, an advance recruiter, with the help of an applicant tracking software, can can easily automate all such tasks. Tasks like candidate screening, resume parsing, scheduling of interviews do not need any recruiter to spend hundreds of hours to find a best fit candidate.Similarly, there are profound AI integration that further enhance the overall recruiting process. With the help of these integrations, recruiters can now perform smart screening of potential candidates, make use of chatbots to forgo waste of time, arrange online video interviews intelligently by use of automation tools.

Where automation helps an advance recruiter in enhancing recruitment strategy, it also provides them with improved talent acquisition KPIs. Thus, the application of automation serves mainly to expedite the recruitment process without exploiting abundant resources. 


Read also: Benefits of AI Integrations to Support your Applicant Tracking Software


Wield Social Media


If you are reading this article in the capacity of a recruiter, chances are that you must already be wielding several social platforms. Such platforms include but are not limited to Facebook, LinkedIn, Reddit, Instagram, Twitter and many others. 

Today, it is contingent for any advance recruiter to make the most out of social platforms instead of simply scrolling for the fun of it. The staffing industry is highly competitive and you can never anticipate the whereabouts of your next potential candidate. Therefore, in order for you to imitate a successful advance recruiter, you need to work on your digital social representation. Only then can you optimally source your best talent for your client's needs.

Flexibility


As mentioned previously, the contemporary recruitment landscape is continuously transforming, catching every next bandwagon of digitalization. Every once in a while, an advance recruiter finds him/herself experimenting with new trends, ways and/or tools to perform better. The recruiters who insist on sticking to old recruitment dogmas shouldn't be surprised later when they become lost in the sands of time.


About RecruitBPM
RecruitBPM is a market leader when it comes to optimizing candidate redeployment rates. Our ATS is cost-effective, and time-saving software. It is a data-driven dashboard that keeps all the essential information on track. Request a free demo ATS today to check out the features of our Applicant Tracking Software.